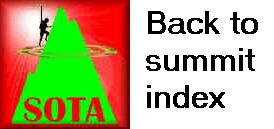 Jimmy and myself decided to undertake only our second SOTA activation of the year on 11th February 2007, in order to claim the five points each from our most local summit - Shining Tor G/SP-004 - before the end of the winter bonus season on Thursday. We took Baxters Haggis Broth soup out with us, to be used as a warming breakfast on the summit.

Usual parking spot, usual route (see previous years on http://tomread.co.uk) and we were walking in the very cold wind and low cloud by around 9am. They say "What comes around goes around", and sure enough, just before the halfway point of the walk-in, Jimmy found a mobile 'phone on the ground. We walked with it until it indicated network coverage, then had a snoop through the contacts list. Usefully, we found one that said "Home" and dialled it. Even more usefully, it was answered by a lady, who said that her husband and friend were doing a walk from Buxton to Leek today.

While we were setting up on the summit, the found mobile rang, and it was one of these two hikers. They had already passed the Cat & Fiddle and were en route to Shutlingsloe, but he fancied himself as a bit of a fell runner, and indeed made it back to the summit of Shining Tor in less than 15 minutes. There was a certain kind of symmetry to the incident where Jimmy lost his mobile on Kisdon G/NP-026 last year. It was found by a Geocacher/Sotacacher who acted similarly and got in touch with us. The main difference was that the 'phone we found today could have only been lying there for a handful of minutes, while Jimmy's faced the elements for a couple of weeks!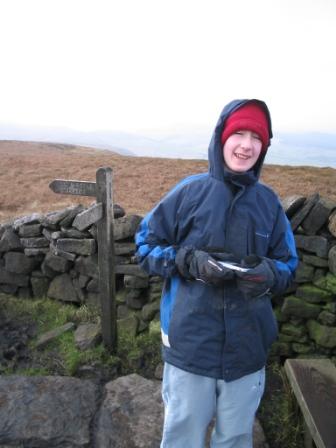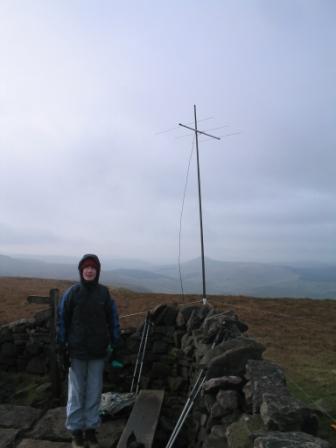 We set up using the new SOTA Beam and SOTA pole won by Jimmy in the 2006 SOTA Beams Challenge. Intending to work 2m SSB, I mounted the Yagi in the horizontal position, but as soon as I turned on the radio (which was set to 145.500 MHz FM) I found Steve GW7AAV calling me (by mistake as it turned out!). I dutifully worked him, and there ensued a traditional pile-up, so Jimmy and myself worked all calling stations before switching to SSB. This was all done with the H-pol which I didn't bother to change.

There must have been some VHF lift conditions, for Jimmy, using 500 milliwatts at the time, was called by a station in Devon, with 59 reports both ways! And this was on 2m FM, not SSB! Just after 1010 UTC, I did switch to SSB, and who did I work first? Andy G1DDU from Congleton, a fellow member of the Macclesfield & District Radio Society. Certainly pulls the DX in this SSB...

There followed a steady string of callers, including pleasing DX from G3RMD, G0LGS/P and G0RQL again - the Devon station that worked Jimmy on FM. Greg M3RXX, another member of the Macc club was worked, and summit-to-summits were enjoyed with Martin M3LUH/P on Thorpe Fell Top G/NP-025 and Ian G7KXV/P on Boulsworth Hill G/SP-008. As well as his initial four contacts, Jimmy M3EYP also worked both his fellow Macclesfield radio club members, and of course the two summit stations for his chaser points. This meant that he came off the hill with no less than eight contacts in his log; most uncharacteristic. I finished with 25 contacts across the two modes, but couldn't find any takers on 70cm.

On returning to the car and reinstalling the FT-817 as a mobile rig, I heard Richard GW4ERP/P on Great Rhos GW/MW-002. Jimmy and I both worked Richard, before making the short journey up to the Cat & Fiddle. Here, we met my XYL Marianne, and other son Liam for a drink and carvery lunch. It was very pleasant, especially the sticky toffee pudding for desert, which was awesome! A top tip though for this area - The Robin Hood Inn at Rainow does a gorgeous Sunday roast carvery - as we found out the previous Sunday.

A couple of hours mooching around Buxton (Marianne's request) and we were on our way home again. I dropped Marianne off at the Cat & Fiddle, where she had left her car, then continued down to Macc. Turning the radio on, I was surprised, and a little chuffed when I overheard two Cheshire amateurs, one reporting to the other about Jimmy's 59/59 contact into Devon with 0.5 watts on 2m FM!

Many thanks to all stations worked:
| | | | | | | |
| --- | --- | --- | --- | --- | --- | --- |
| M0AAS | Warrington | John | 2m | FM | 0.5 watts | T |
| GW7AAV | Connahs Quay | Steve | 2m | FM | 0.5 watts | T |
| G0PZO | Birkenhead | Charlie | 2m | FM | 0.5 watts | T |
| G4JZF | Walsall | Graham | 2m | FM/SSB | 0.5/2.5 watts | T |
| M0DWQ | Warrington | Roger | 2m | FM | 0.5 watts | J, T |
| G0RQL | Milton Damerel | Don | 2m | FM/SSB | 0.5/2.5 watts | J, T |
| M0JDK | Blackfordby | John | 2m | FM | 0.5 watts | J |
| GW0DSP | Connahs Quay | Mike | 2m | FM/SSB | 0.5/2.5 watts | J, T |
| G1DDU | Congleton | Andy | 2m | SSB | 2.5 watts | J, T |
| 2E0NHM | Warton | Nigel | 2m | SSB | 2.5 watts | T |
| GW7AAU | Connahs Quay | Helen | 2m | SSB | 2.5 watts | T |
| G3RMD | Cheltenham | Frank | 2m | SSB | 2.5 watts | T |
| G0LGS/P | near Cleeve Hill | Stewart | 2m | SSB | 2.5 watts | T |
| G0CER | Coalbrookdale | Dave | 2m | SSB | 2.5 watts | T |
| M0GIE | Royton | Phil | 2m | SSB | 2.5 watts | T |
| M3LQA | Royton | Phil | 2m | SSB | 2.5 watts | T |
| GW8ICT | Bwcle | Chris | 2m | SSB | 2.5 watts | T |
| G7NAL | Gorton | Harold | 2m | SSB | 2.5 watts | T |
| 2E0PUS | Royton | Phil | 2m | SSB | 2.5 watts | T |
| M3RXX | Macclesfield | Greg | 2m | FM | 0.5 watts | J, T |
| G0HDX | Accrington | Roy | 2m | FM | 0.5 watts | T |
| 2E0VOM | Gorton | Noel | 2m | FM | 0.5 watts | T |
| M3LUH/P | Thorpe Fell Top NP-025 | Martin | 2m | FM | 2.5 watts | J, T |
| G7KXV/P | Boulsworth Hill SP-008 | Ian | 2m | FM | 2.5 watts | J, T |
| G4USW | Barrow-in-Furness | Bill | 2m | FM | 2.5 watts | T |