Boulsworth Hill (Lad Law), G/SP-008 - 517m ASL - SD 929 356 - OS Explorer OL21 - 2 SOTA points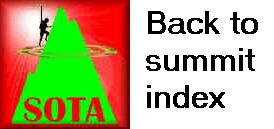 Friday 5th June 2020 - Pendle Hill G/SP-005 & Boulsworth Hill - Lad Law G/SP-008
It was now developing into a lovely morning. I parked at the end of the rough track to the south west of the summit. This track affords comfortable, easy and rapid progress for the first mile of the walk, and covers around two thirds of the total distance.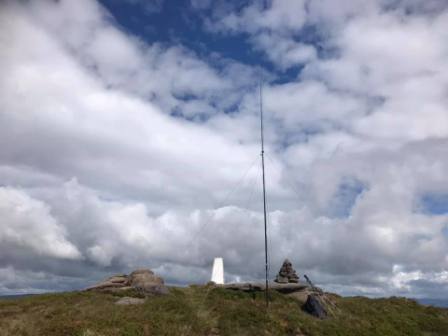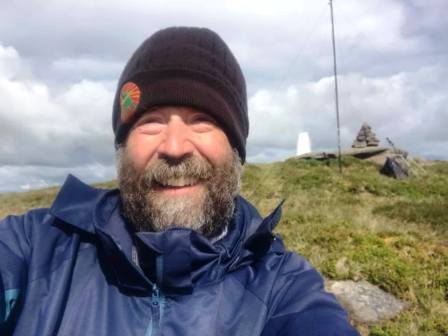 Once the track comes to an end at a large turning circle, a rougher path cuts across a watery ditch and then climbs steeply towards the trig point. The weather was now lovely, and the bands were in great shape. As such, I ended up lingering here for just over two hours, making 45 contacts on 10m SSB, 10m CW, 10m FT8, 12m FT8, 12m SSB, 12m CW and 2m FM.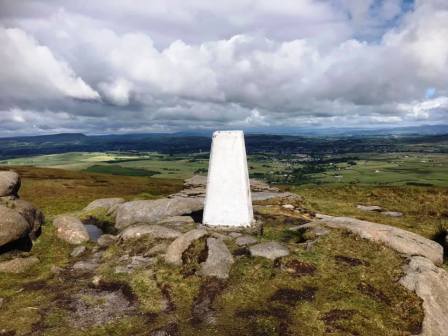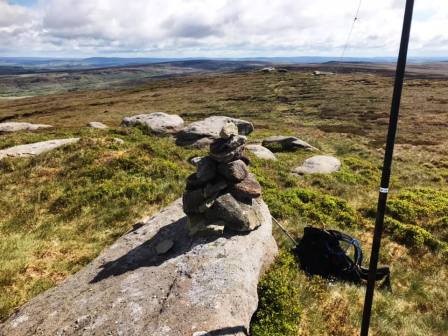 Notable QSOs included the Stockport Radio Society special call celebrating the 100th anniversary - G8SRS/100 - operated by Richard G3CWI, and the Switzerland SOTA Group special call celebrating 15 years of SOTA there - HB15SOTA - operated by Juerg HB9BIN from SOTA reference HB/ZH-011.
| | | | | |
| --- | --- | --- | --- | --- |
| Time | Callsign | Band | Mode | S2S |
| 09:06 | HB9DEN | 28MHz | SSB | |
| 09:09 | F5JKK | 28MHz | SSB | |
| 09:10 | OK2PDT | 28MHz | SSB | |
| 09:10 | DD5LP | 28MHz | SSB | |
| 09:13 | DJ5AV | 28MHz | SSB | |
| 09:18 | F8CZI | 28MHz | CW | |
| 09:22 | IK2LEY | 28MHz | CW | |
| 09:25 | HB9DQM | 28MHz | CW | |
| 09:25 | HB9MKV | 28MHz | CW | |
| 09:26 | G4APO | 28MHz | CW | |
| 09:27 | EA7GV | 28MHz | CW | |
| 09:27 | G4OBK | 28MHz | CW | |
| 09:28 | OK1DPU | 28MHz | CW | |
| 09:29 | OM1AX | 28MHz | CW | |
| 09:30 | HB9AGH | 28MHz | CW | |
| 09:31 | OK1MGW | 28MHz | CW | |
| 09:34 | HB9CEV | 28MHz | CW | |
| 09:38 | HB15SOTA | 28MHz | CW | HB/ZH-011 |
| 09:39 | DL7VKD | 28MHz | CW | |
| 09:41 | F5JKK | 28MHz | CW | |
| 09:51 | EA3VM | 28MHz | FT8 | |
| 09:54 | EB3JT | 28MHz | FT8 | |
| 09:56 | F4AGZ | 28MHz | FT8 | |
| 09:57 | F5JKK | 28MHz | FT8 | |
| 09:59 | G4OBK | 28MHz | FT8 | |
| 10:01 | F4GYI | 28MHz | FT8 | |
| 10:02 | DM2XIF | 28MHz | FT8 | |
| 10:07 | DO5SST | 28MHz | FT8 | |
| 10:21 | G3YBO | 24MHz | FT8 | |
| 10:24 | M1FHM | 24MHz | FT8 | |
| 10:25 | DD6UVO | 24MHz | FT8 | |
| 10:27 | S57ILF | 24MHz | FT8 | |
| 10:28 | EA5K | 24MHz | FT8 | |
| 10:29 | EA3VM | 24MHz | FT8 | |
| 10:30 | OZ7JZ | 24MHz | FT8 | |
| 10:32 | IK2QEB | 24MHz | FT8 | |
| 10:39 | DL8DXL | 24MHz | SSB | |
| 10:42 | SQ9RNW | 24MHz | SSB | |
| 10:43 | G8SRS/100 | 24MHz | SSB | |
| 10:48 | G3YPE | 24MHz | CW | |
| 10:49 | OE6GND | 24MHz | CW | |
| 10:49 | DL2YBG | 24MHz | CW | |
| 11:01 | G6HMN | 144MHz | FM | |
| 11:10 | G0XBU/M | 144MHz | FM | |