Tryfan, GW/NW-006 - 918m ASL - SH 664 594 - OS Explorer OL17 - 8 SOTA points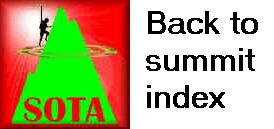 I awoke with a sense of trepidation on the morning of Monday 8th August 2016. A hugely ambitious itinerary had been planned (by Jimmy) that included four huge mountains across the Glyders. I seriously doubted that it was feasible - for me at least - but Jimmy insisted on at least keeping options open. My greater trepidation though was the prospect of the first summit to be attempted - Tryfan. An otherwise decent night's sleep had been interrupted by a couple of hooligans in their early twenties running up to my bed in the middle of the night and shouting "Shut up" at me (plus some profanities I have edited out of this report). Seemingly they were upset at my snoring, which made me wonder why they had chosen hostel dormitory accommodation at all. They also seemed to think it was OK to play music on their 'phones in the middle of the night, and bring their own alcohol for consumption at the hostel. Fortunately, they checked out. Good riddance.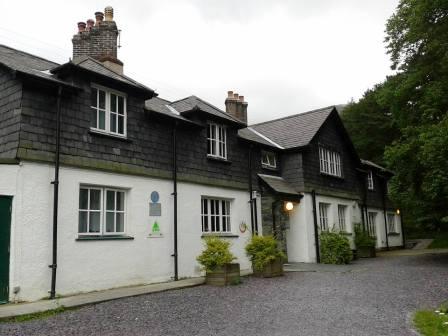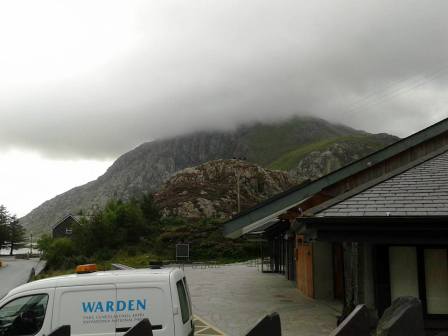 We followed the standard routine of preparing the flask of soup in the hostel, then breakfasting on cereal bars. Well we thought it would be the standard routine, but by the next day it would have changed! But more of that later. We emerged from the hostel to a gloomy cloudy morning, but the forecast was generally good, so it was game on.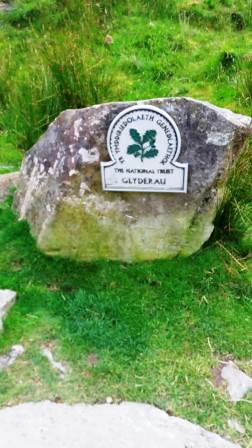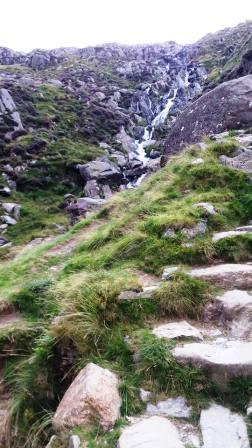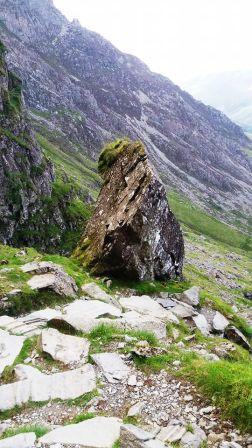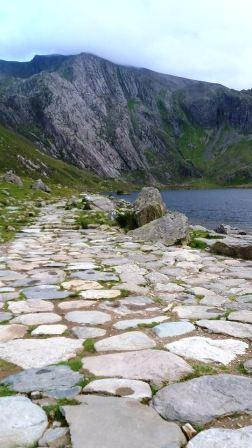 The walk began directly from the youth hostel at Ogwen Cottage, so we only went to the car to collect walking poles and rucksacks, but left it there in the YHA car park. I removed much of my radio kit from my rucksack, opting to go "lightweight" with just my Yaesu VX7R hand-portable tranceiver, coupled to a SOTAbeams Rucksack Special vertical antenna. Soon we were into some proper mountain walking as we ascended up to Llyn Bochlwyd.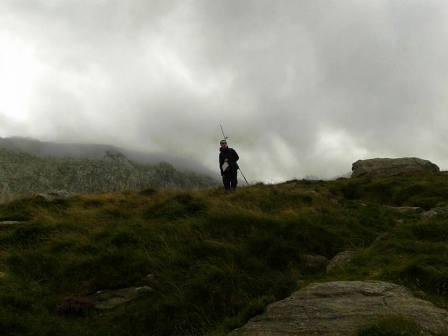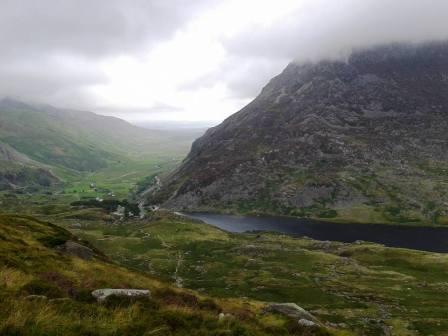 From the lake, we continued uphill until we reached the saddle between Glyder Fawr and Tryfan, and the substantial drystone wall that ran between them. From here Tryfan stood high directly in front of us, and my sense of trepidation increased as we climbed the path ever closer.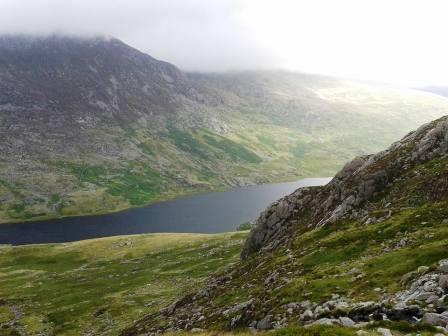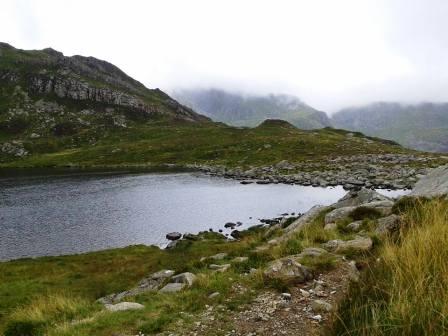 As we moved closer to our target, the gradient increased sharply, and some of walking up steep, loose, stony paths reminded us of the traverse between Y Lliwedd GW/NW-008 and Snowdon GW/NW-001. Just ahead of the summit was a large sloping slab. It was necessary to climb up this, but it sat directly next to a huge vertical drop! I managed to get myself up it by focusing my eyes only on the ground directly in front; I did not dare to look down, or to the right!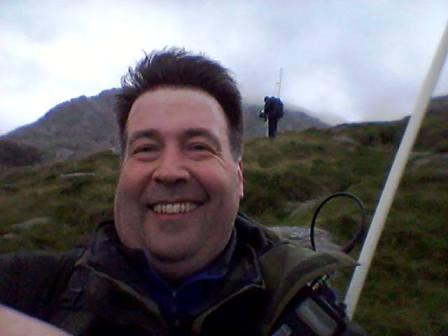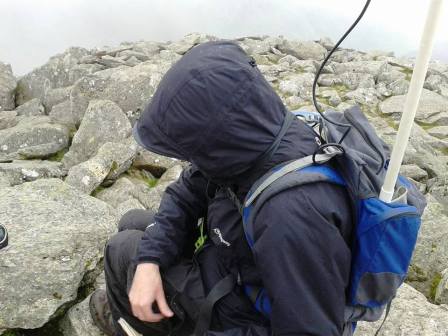 First job on the summit was the customary photographs. Having got myself here, I needed proof! Fortunately, the summit of Tryfan is marked by the distinctive and iconic rocks, known informally as "Adam & Eve". Apparently, the custom is to stand upon one, and hop across to the other. Well, no! That wasn't happening! And just in case Jimmy had any thoughts of doing so, I advised him he wasn't, as I didn't want the thought of him doing it making me ill!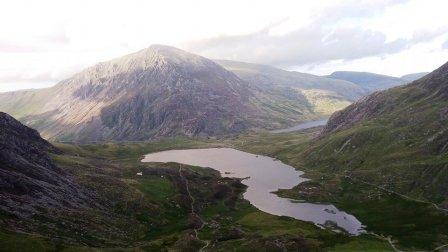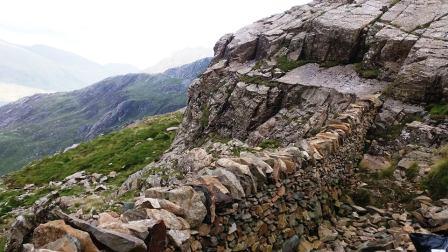 The radio part of the activation was straight-forward while unspectacular. We both made exactly four contacts each on 2m FM, and they were with the same four stations as each other too. But shortly I had to face the most difficult challenge of the day - to get back down that sloping slab perched precariously beside a high vertical cliff. Initially I froze and my legs stopped working - not a good start. I removed my rucksack and passed them and my trekking poles down to Jimmy below, who had negotiated the slab with ease. I sat down and edged myself one centimetre at a time until I could rotate my body and lower myself down a six foot drop on the opposite side of the slab to the exposed cliff.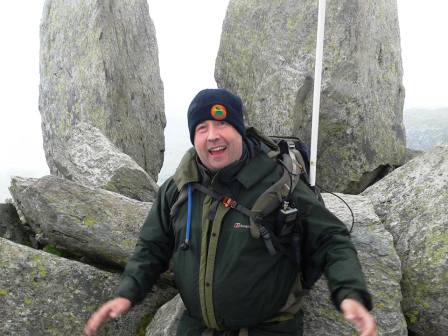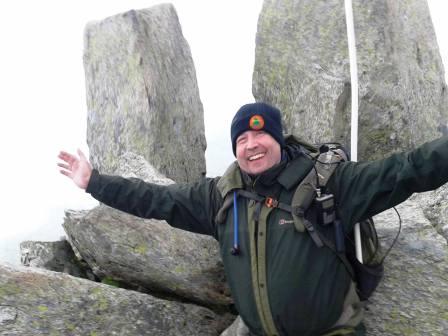 I now felt more confident, but had to rest briefly - the experience had knocked the stuffing out of me! The next section of walking was tricky as we mislaid the path down to the saddle and ended up on some difficult terrain. This occurred at the same time as a sharp heavy shower too, so was a miserable few minutes.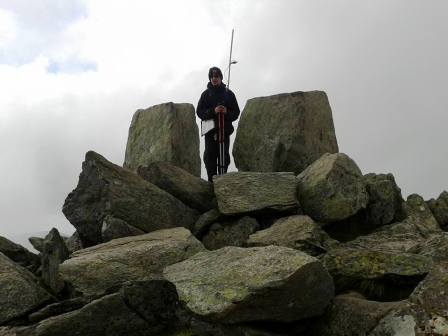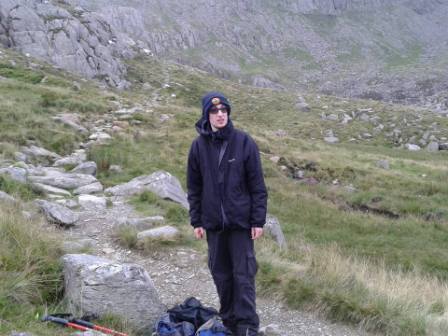 Once down at the saddle and over the wall, we sat down for some shelter and an energy bar snack. We then commenced our walk to Glyder Fawr GW/NW-003.
| | | | | | |
| --- | --- | --- | --- | --- | --- |
| Time | Call | Band | Mode | S2S | Op |
| 10:29z | MW0IDX | 144MHz | FM | | MW0HGY/P, MW1EYP/P |
| 10:30z | MW6SYL | 144MHz | FM | | MW0HGY/P, MW1EYP/P |
| 10:31z | M0CQE | 144MHz | FM | | MW0HGY/P, MW1EYP/P |
| 10:33z | GI4ONL/P | 144MHz | FM | GI/MM-006 | MW0HGY/P, MW1EYP/P |