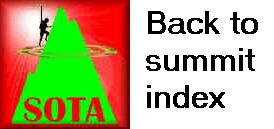 Even more unusual than getting to SP-017 on the omnibus could be walking up SP-010! Yes, of course, there needs to be a person-powered final approach for all activations, as dictated by the rules. But on Winter Hill G/SP-010, this is usually little more than a flattish walk of no more than a quarter of a mile along the tarmac roads between the transmitter compounds up there.

Indeed, this has been the case for M1EYP and M3EYP each year since 2003. The access road to the transmitters is strictly private though, and permission to park for however long you intend being up there needs to be sought from the offices under the biggest mast. In my case, it has always been granted without issue.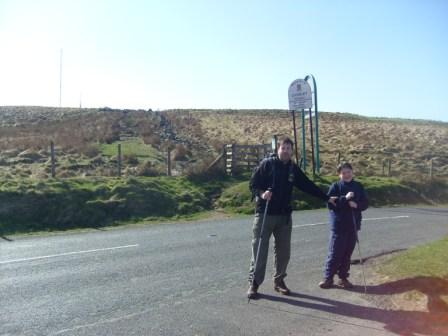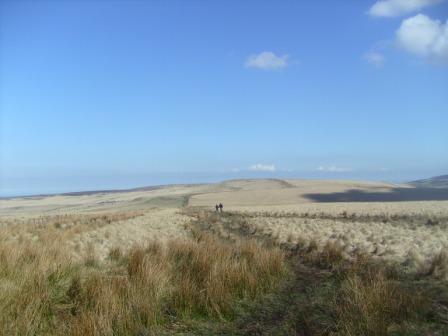 However, on Sunday 12th April 2009 it was time for a change. It was a late (9.30am local) start from home, after waiting in for Marianne to come home from her night-shift, have a Easter Sunday family breakfast together, and exchange Easter eggs. Marianne and Liam even hard-boiled and then painted (with food colouring) five eggs for us to take with us.

A breakfast stop unnecessary, Jimmy directed me up the A34, M60, M61 and A666 through Bolton. His route then seemed to head to the East of Winter Hill and around to the north of it. From Belmont, we drove onto the road over to Rivington, and parked up at the near highest point, SD655158.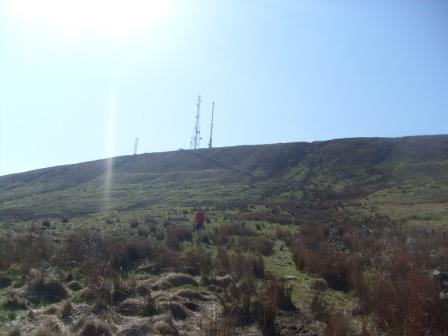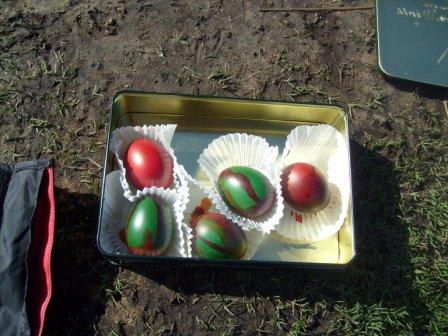 Jimmy, Liam and myself first applied factor 30, as it was a glorious hot and sunny morning. It was a lovely clear blue sky as well, and the main TV mast on Winter Hill was clearly visible from this start point, as indeed it had been for most of the car journey. Through the gate, we were into a rather soggy field. But that was nothing we weren't used to, and we followed the boggy path and tumble-down wall to the foot of a very steep slope up to the summit plateau. The path angled obliquely across this slope, which slightly reduced its steepness – but not much. It only took five minutes or so to climb it, although some bits were treacherously greasy underfoot.

Once safely through the gate, and in the shadow of several transmitter masts on the edge of the summit plateau, we sat down for a short break and traditional Easter activity. Two of the painted eggs were rolled down a hill, and both broke. Jimmy said that the rules dictated that these could not be eaten. We were all keen not to waste any more, and shared out the remaining three, one each for the first snack of the day.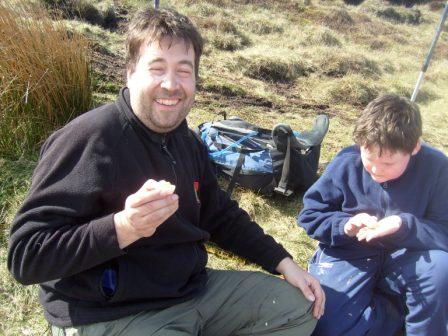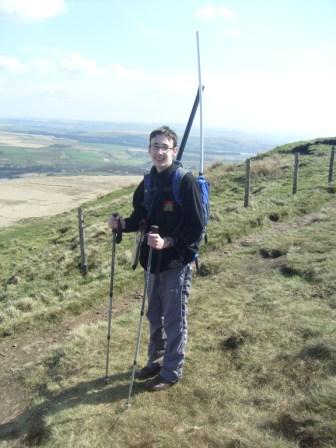 We were soon bitterly regretting the egg rolling Easter activity, for these eggs were delicious, and we all would have liked seconds. "Proper Easter eggs" remarked Jimmy.

The summit trig was now only a very short walk away. Jimmy set up for 2m FM using his VX-110 and RSS. I erected the Magic Moggy for 20m CW. Jimmy uncharacteristically struggled to achieve contacts, and after a while, we determined that his Yaseu handheld was out of charge again, and that the plug on the RSS feeder had come adrift. I pocketed the items that needed repair/attention at home, and Jimmy resumed, much more successfully, using my Yaesu VX-7R with rubber ruck.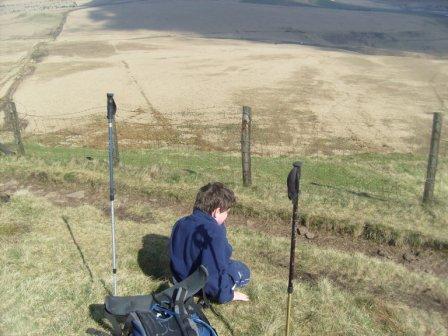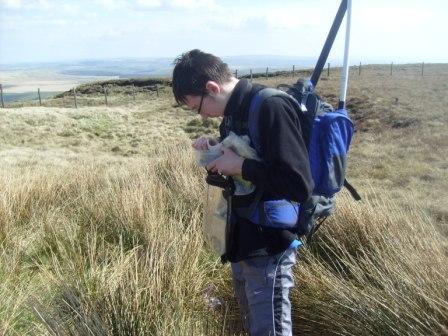 He made sixteen QSOs on 2m FM, including S2S with Keith G8HXE/P on Ward's Stone G/SP-003 and Keith G0OXV/P on Fountains Fell G/NP-017. Jimmy also called Lee M0LMP/P on Longridge Fell G/SP-014, but didn't make it through. The Spots informed that Lee was also using a handheld, so that was one that got away, and Jimmy instead claimed that summit as an SWL log.

Things were slow going for me on 20m CW. Initially, I wasn't exactly pushing it either, preferring to dawdle and natter with Liam in-between sips of Crab Bisque soup. We were frequently descended upon by swarms of midges, although Liam was well protected. Because of the bright sunshine, he was already using his coat as a tent, in order that he could see the screen on his Nintendo DS!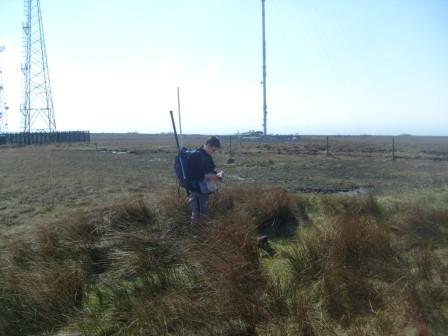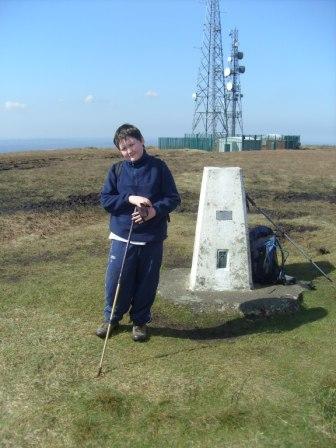 I worked a selection of European DXCCs on 20m CW, culminating in a FB S2S with S51ZJ on S5/CP-027. As I made a series of further calls on 20m CW, Jimmy and Liam decided they were ready to descend. I helped them pack up and saw them on their way, while I continued to call fruitlessly on 20m. A contest didn't help, but now even self-spots on clear QRGs were not attracting attention. Just 12 contacts it was, and DXCCs: OK, S5, DL, G, HB, 9A, HA, OH, EA.

I too packed away, and had a quick listen around 2m FM on the VX-7R before departing. I worked Keith G0OXV/P, still on Fountains Fell G/NP-017 and Chris 2E0FSR/P on Pen-y-ghent G/NP-010. Now I attracted some interest! A rapid run of six more callers were worked in short order, before I really need to get cracking to catch up the long-since departed Jimmy and Liam.

Catch them up I didn't. By the time I was at the foot of the steep section, they were both at the car. However, at this point, I was hearing Paul MW1EQD/P somewhere near Cyrn-y-Brain GW/NW-043 and Dave G6LKB/P on Whitfell G/LD-032 on my VX-7R. These were worked, and I completed the short walk back to the car.

As I was dropping down the steep bit, a group of teenage lads in shorts were rolling large rocks down the slope. But not away from the path, directly over it. One circular flattish stone, but large – bigger than an old vinyl LP – and with jagged edges came hurtling down the hill, and bouncing on the grass rather like Barnes Wallis' famous innovation. A frightened expletive was heard from above, as the stone bounced over the wall and missed a pair of father-and-son ascending walkers by less then two feet. The father told me that if he got his hands on them up there, he was going to roll them all down the hill. Idiots.

The afternoon was now baking hot, and the Read boys drove off in search of ice creams. En route, Nick G0HIK/P on Whitbarrow G/LD-056, and Rick MW0RCP/P and Thomas MW3OOL/P on Y Lliwedd GW/NW-008 were worked by both Jimmy and myself for chaser points. Ice creams were located in a shop near Bolton, and an hour later we were home tucking into roast lamb and drinking cava! A very nice Easter Sunday indeed; many thanks to all callers.
| | | | |
| --- | --- | --- | --- |
| OK2KR | 20m | CW | T |
| S51ZG | 20m | CW | T |
| DJ5AV | 20m | CW | T |
| G3WPF | 20m | CW | T |
| MW3WZZ | 2m | FM | J |
| 2E0VNB | 2m | FM | J |
| G8HXE/P on Wards Stone SP-003 | 2m | FM | J |
| G3CWI | 20m | CW | T |
| HB9AGH | 20m | CW | T |
| 9A7W | 20m | CW | T |
| 2E0TOG | 2m | FM | J |
| G4BLH | 2m | FM | J |
| 9A4MF | 20m | CW | T |
| 2E0RFX | 2m | FM | J |
| M3DLT | 2m | FM | J |
| G1CCL | 2m | FM | J |
| G3NPJ | 2m | FM | J |
| G0VOF | 2m | FM | J |
| HA7UL | 20m | CW | T |
| OH3OJ | 20m | CW | T |
| EC5KB | 20m | CW | T |
| S51ZJ on Ko˛ljek CP-027 | 20m | CW | T |
| 2E0VMF/P | 2m | FM | J |
| M1AVV | 2m | FM | J |
| GW0DSP | 2m | FM | J |
| 2E0IOG | 2m | FM | J |
| G0SLR | 2m | FM | J |
| G0OXV/P on Fountains Fell NP-017 | 2m | FM | J, T |
| 2E0FSR/P on Pen-y-ghent NP-010 | 2m | FM | T |
| G6MZX/M | 2m | FM | T |
| M3VYD/M | 2m | FM | T |
| M0EIQ/M | 2m | FM | T |
| M3NVJ | 2m | FM | T |
| M1CNY | 2m | FM | T |
| M3LIU | 2m | FM | T |