GM trip day 15 - Thursday 13th August 2009 - Ailsa Craig GM/SS-246

(also IOTA EU-123; IOSA CL05; WAB NX09)

Our final SOTA activation of the GM holiday would be biggest and best. Well, maybe not biggest in terms of height or distance, but in terms of effort - both logistical planning, and physical exertion - it was well up there!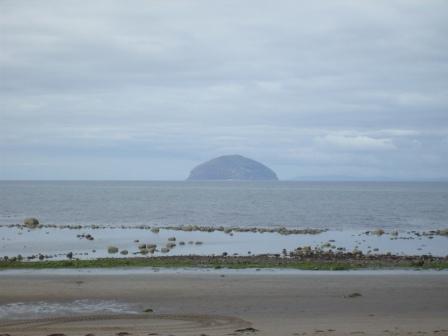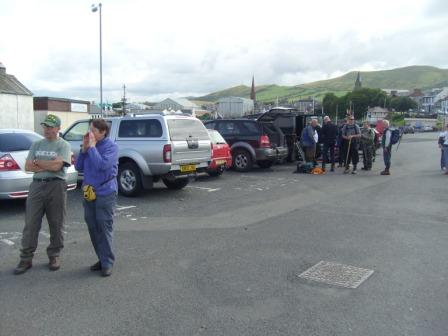 We really didn't want to pin this one down to a set day. It deserved a magical experience, and that demanded decent weather. Improbably, the boatman was able to be available for four days during the week, and go for the shortest possible notice. Furthermore, we managed to get a full boat quota of 12 participants, all of whom could be similarly flexible.
So, by the Monday, the date was confirmed as Thursday, and this turned out to be the best weather day of the week. Jimmy and I drove up the A77 from Stranraer to Girvan, and parked on the harbour. Here we met Christine GM4YMM, Ken GM0AXY, Robert GM4GUF, Allan MM1BJP and dad Jim, Phil G4OBK, Geoff G6MZX and wife Joan, Nick G0HIK and Jack GM4COX. All twelve were here, which meant that it was £25 per head for the sailing - the boatman Mark had quoted me a rate of £300 for the return sailing with three hours on the island.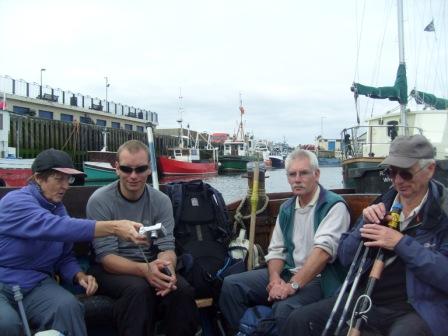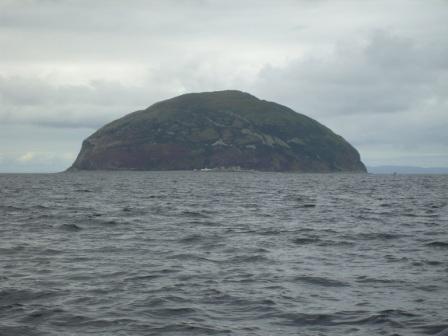 After all the meet & greets, and a few photo calls, we were descending the gangway onto Mark's boat, and eagerly anticipating the experience before us. We began the ten mile 75 minute sailing to Ailsa Craig, which gradually grew before our eyes from the little Christmas pudding it appears from the shore, to the awesome lump of granite in the middle of the sea.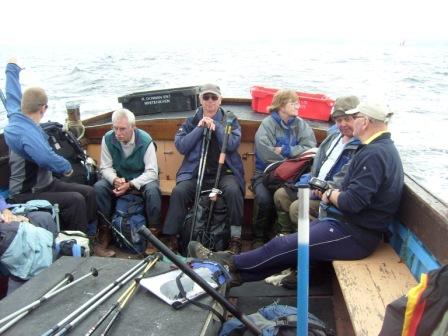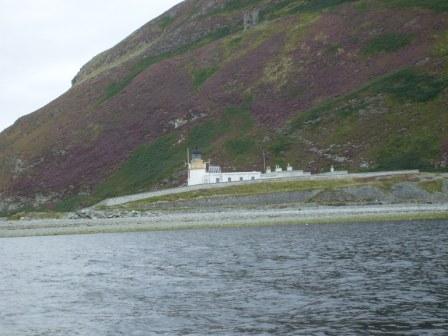 What we hadn't realised was that cabaret was included in the price. An altercation swiftly escalated between our boatman, and another who had tied his dinghy to the pier in the only place that would make it impossible for us to land! The keenest members of our party were soon sprinting off up the hill, while others hung back continuing to be enthralled by the pre-match entertainment.
Around the back of the disused buildings on the shore of Ailsa Craig, we needed to pick an indistinct path through vegetation and onto a better path that climbed steeply, and close to an edge, to the ruined castle. Here, we met some tourists from Washington DC who were on their way down.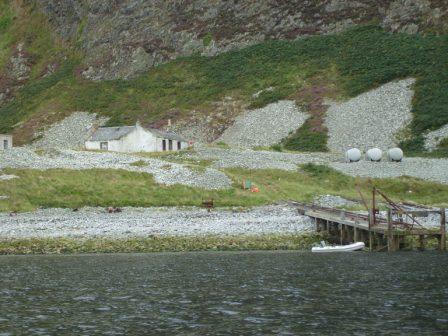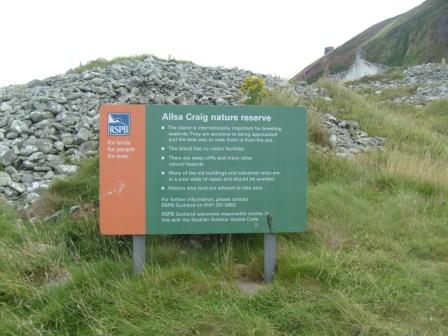 Continuing upwards, the route became brutally steep in places, demanding all fours scrambling, some of which was tricky with only grass and mud to grip! The going didn't improve much on the rockier sections, as the scree was very loose. As the path petered out, I knew I had to pick a line up through the grass and heather to make the summit. I could see Phil G4OBK's mast, so knew I wasn't far away.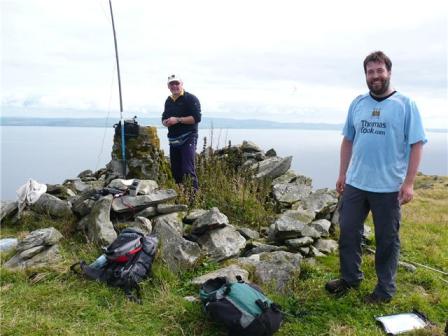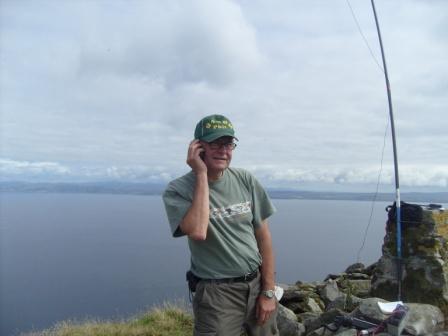 The summit wasn't a huge place, even when taking the 25m activation zone into consideration, so there were several amateur radio stations sited within a small space. Thankfully, careful choice of bands by each HF station restricted QRM to a minimum, while the 2m SSB horizontal and 2m FM vertical stations seemed able to operate simultaneously without difficulty.
My own results were 15 QSOs on 40m SSB, DXCCs F, DL, ON, G, HB, ON, LA & PA, and one on 2m FM, Eric GA0FSZ in Girvan making use of his newly issued NoV prefix for the Scottish Homecoming event. Jimmy MM3EYP/P became the first ever SOTA activator for GM/SS-246 when he worked Eric as GM0FSZ as he topped the rock, taking his 'first activations' total from zero the three in the space of just a few days! Jimmy went on to make three more on 2m FM, and one on 2m SSB, including S2S with John GA8OTI/P on Meikle Bin GM/SS-129 and Richard G4ERP/P on Blake Fell G/LD-031.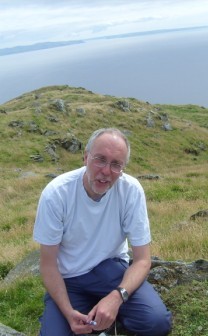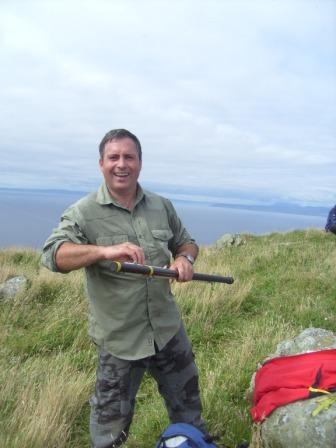 Views from the summit were spectacular, from the islands of Arran and Holy Island, around to Rathlin Island, just north of GI - from where Knocklayd GI/AH-002, Slieveanorra GI/AH-003 and Slemish GI/AH-007 were easily distinguishable - and round to Stranraer and the Rhins Peninsular. Not so spectacular on the summit were the many flying ants that came to visit. They liked Geoff G6MZX in particular! It had to be a special soup for a special occasion, so the EYP flask was today charged with Baxter's Luxury Cullen Skink, as purchased from Fochabers the previous week.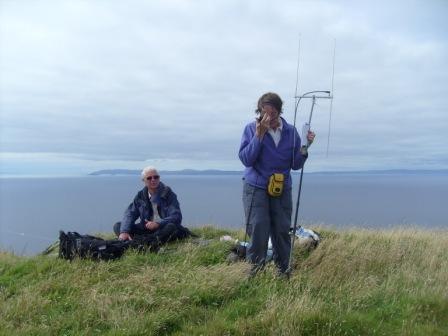 My legs didn't much care for the steep downward views on the tricky descent, and I took a little longer than I should to get to the boat. The boat trip back to Girvan was a joy on a very calm sea and mild conditions, leaving me to enjoy the full benefits of shirt sleeve order.

After thanking Mark the boatman for his outstanding service, we adjourned over the road to the Harbour Bar in Girvan for a drink, and for most of the rest of the party, fish & chips. We were going for a meal in Sandhead though that night, so passed on the fish supper and headed off after one drink.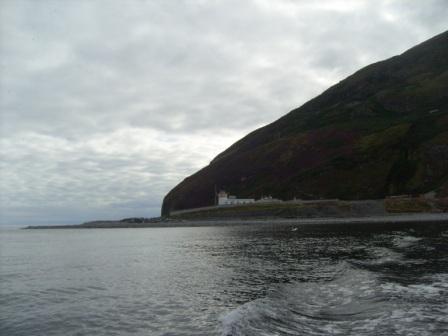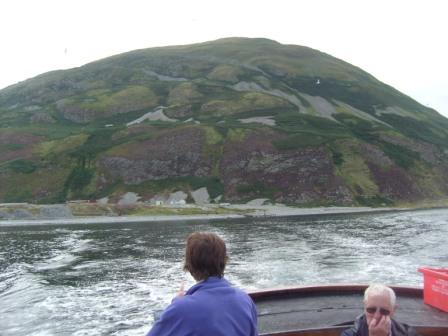 It was a fantastic experience, and everything ran like clockwork. Thanks to everyone for making it happen, and particularly to Jimmy for organising it all and handling all the communications with the participants. Thanks also to all the chasers who called us all in great numbers.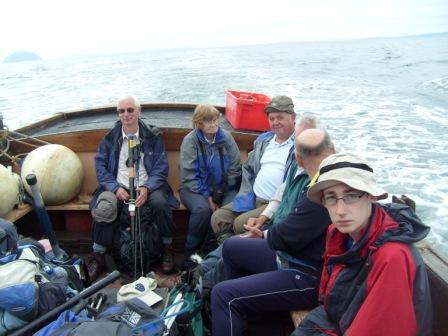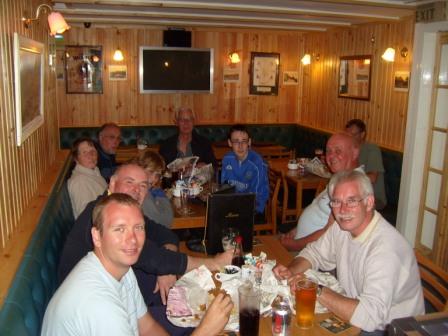 So endeth the GM holiday. Any thoughts of a final SOTA activation on the Friday were wiped out by the weather forecast of heavy rain for two days appearing to be spot on as we awoke on Friday morning. As the rain got heavier, we even took the decision to come home a day early. Thanks to the following stations worked on this activation:

| | | | |
| --- | --- | --- | --- |
| GM0FSZ | 2m | FM | J |
| GM6MZX/P | 2m | FM | J |
| MI0BOU | 2m | FM | J |
| GA8OTI/P on Meikle Bin SS-129 | 2m | FM | J |
| F5SQA | 40m | CW | T |
| DL4FDM | 40m | CW | T |
| F6CXJ | 40m | CW | T |
| ON5KL | 40m | CW | T |
| G0NXY | 40m | CW | T |
| HB9IAB | 40m | CW | T |
| HB9AAQ | 40m | CW | T |
| ON4BB | 40m | CW | T |
| LA1ENA | 40m | CW | T |
| G4ERP/P on Blake Fell LD-031 | 2m | FM | J |
| F2LG | 40m | CW | T |
| G4WSX | 40m | CW | T |
| PA0FAW | 40m | CW | T |
| G3TJE | 40m | CW | T |
| F6ABI | 40m | CW | T |
| ON7CC | 40m | CW | T |
| GA0FSZ | 2m | FM | T |