I tried C4FM from this one, but couldn't attract a contact, nor even any activity in the SOTA-LINK WIRES-X room, which I connected into via MB6AH node (Stoke-on-Trent).
Good old 2m FM analogue came to the rescue with several QSOs, including Martin M1MAJ and Caroline M3ZCB, both /M en route to Birkenhead for the overnight ferry to GI.
Before descending, I put out a call on S20 specifically mentioning that I would be calling on 144.6125MHz C4FM Fusion. This resulted in Vic M0VCS giving me at least one DV contact for the day. I would then operate mobile from the car as well as listen to Radio Caroline 648kHz MW as I continued the long drive south.
| | | | |
| --- | --- | --- | --- |
| Time | Call | Band | Mode |
| 10:41z | G0FEX | 144MHz | FM |
| 10:42z | M1MAJ/M | 144MHz | FM |
| 10:43z | M3ZCB/M | 144MHz | FM |
| 10:45z | M0TBQ/M | 144MHz | FM |
| 10:46z | M1CNL | 144MHz | FM |
| 10:47z | M0VTD/M | 144MHz | FM |
| 10:49z | M0VCS | 144MHz | C4FM |
Wednesday 28th November 2018 - Bardon Hill G/CE-004
Gig: Liam Read Band
Venue: Swan With Two Necks, Macclesfield
So we checked out of our digs in Archway, North London, and set off up the A1 in search of a suitable greasy spoon. We stumbled across Busby;s Cafe on Apex Corner and went in there for a big fried breakfast. Very nice it was too. Shortly after, we got a call saying that Joe was not so well that morning and the Hull gig would have to be rescheduled. Then followed instructions to meet the sound crew at Leicester Forest East services on the M1 in order to get our gear back out of the truck.
I would have probably activated Normanby Top G/TW-005 en route to the theatre in Hull, but now I was very close to Coalville and about to head home. Bardon Hill G/CE-004 it had to be. Instead of the usual Vercor Close, this time I parked on Dauphine Close, which links onto the same path. I grabbed my Petzl headtorch as it would be dark by the time I would be descending. The walk up the hill was mainly easy, and completed in around 20 minutes. I did slip on a greasy patch on the final climb though, and ended up with the knees of my trousers caked in mud!
At the summit, six QSOs were made on 2m FM using the Yaesu handheld transceiver. This was a repeat activation in 2018 for me, so no points available, but t was a (largely) enjoyable walk nonetheless. Being unexpectedly at home meant that Liam and I could go to the local open mic night and cobble a band together for a short set of Radiohead, Jamiroquai and Joy Division.
| | | | |
| --- | --- | --- | --- |
| Time | Call | Band | Mode |
| 16:36z | G4WKY | 144MHz | FM |
| 16:39z | G6MRN | 144MHz | FM |
| 16:41z | M6XWM/M | 144MHz | FM |
| 16:42z | 2E0IVM | 144MHz | FM |
| 16:44z | M3LBM | 144MHz | FM |
| 16:45z | G0JEI | 144MHz | FM |
Saturday 23rd February 2019 - Bardon Hill G/CE-004
Gig: Serious Hat Band
Venue: Hill Top Farm, Rutland
Rutland is hardly SOTA country, though the venue was indeed on top of a hill. A little hill, but in these parts, probably a fantastic potential VHF contest location! The choice for SOTA en route was obvious. Not much to report. A bad traffic jam early in the journey gobbled up most of my slack time, so by the time I was parking up on Dauphine Close, Coalville, I'd resigned myself to 2m handheld only.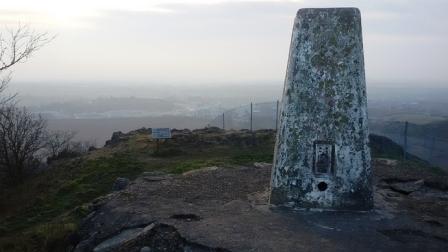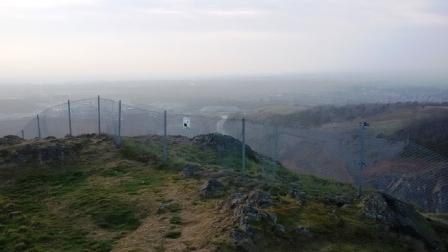 It was a pleasant walk up under clear blue sky and warm sunshine as the unseasonably high temperatures persisted. I operated leaning against the trig point. The summit felt like it was even bigger than previously, with the surrounding quarry seemingly deepening with every visit!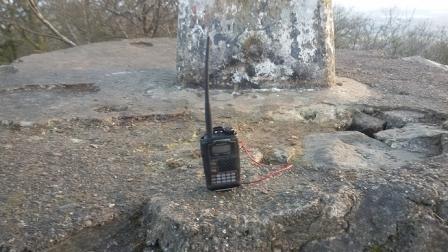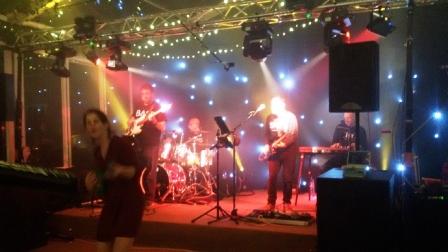 Four QSOs, all 2m FM, then back down and onwards to Oakham. This was a dep gig with a bunch of guys I'd never met before, but a great band and top musicians. Great fun - but after 5am by the time I got back home!
| | | | |
| --- | --- | --- | --- |
| Time | Call | Band | Mode |
| 16:32z | G4DPZ | 144MHz | FM |
| 16:33z | G1ZGZ | 144MHz | FM |
| 16:36z | 2E0KAH | 144MHz | FM |
| 16:39z | M3SBS | 144MHz | FM |