Coity Mountain, GW/SW-012 - 581m ASL - SO 231 080 - OS Explorer OL13 - 2 SOTA points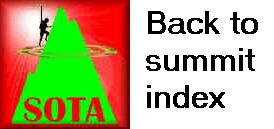 South Wales SOTA Trip - Day 1 (part 2) - Sunday 24th May 2015
From Myarth GW/SW-035, we drove south on the A467 through Blaenau before turning back north through Cwmtillery. We parked close to the end of the cul-de-sac ahead of the Cwmtillery Reservoir. Our walk began climbing the stony track up the valley in an easterly direction, until a large intersection of wide paths at the 504m spot height at SO232067.
Here we turned left, noting the tall white posts which would be a useful landmark on our return. Soon we saw a less distinct trodden path angling uphill to the right, so followed this to its highest point. As this began to drop again, we turned left and heather-hopped uphill to the summit itself, which wasn't far away. It was a big flat and featureless summit area, with nothing at all to mark any "official" summit point.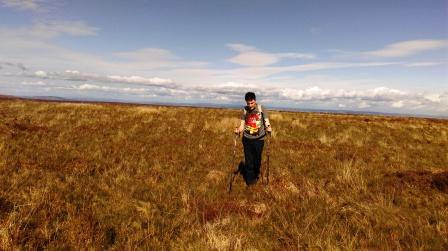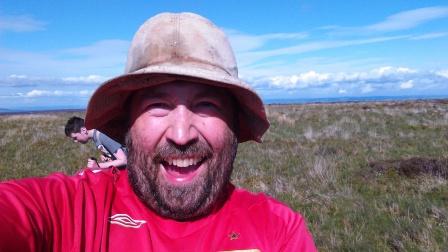 This time, Jimmy had no difficulty on 2m FM and was into double-figures before I'd even made my first contact. That was inhibited of course by going for the Challenge multiplier as a priority. It was proving elusive, so it was a relief when relatively nearby Frank G3RMD (Cheltenham) worked me for a local groundwave contact. I retuned the antenna for 40m and qualified the activation with a handful of CW contacts.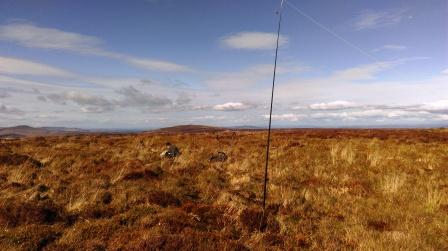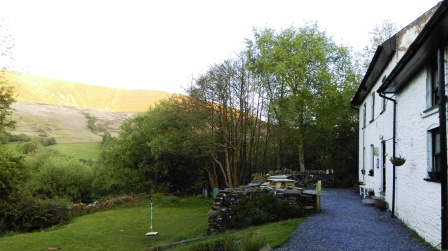 We descended and drove up to Brecon Beacons YHA, which is positioned a couple of miles East of Brecon on the main A470 road. The hostel enjoyed a spectacular view across to Pen y Fan GW/SW-001, and was a traditional stone building in a tranquil spot down a steep driveway from the main road. We checked in and ordered our evening meals of fish and chips, before getting a shower and making our bunk beds. The first day of the trip had been successful, and we looked forward to Mynydd Carn y Cefn GW/SW-014 the following morning.
| | | | | |
| --- | --- | --- | --- | --- |
| Time | Call | Band | Mode | Op |
| 16:28z | G0LGS | 144MHz | FM | J |
| 16:29z | GW6OVD | 144MHz | FM | J |
| 16:30z | 2E0MDJ | 144MHz | FM | J |
| 16:31z | GW0IRT | 144MHz | FM | J |
| 16:32z | G4TRA | 144MHz | FM | J |
| 16:34z | MW0HDF/P | 144MHz | FM | J |
| 16:35z | MW0HJV/P | 144MHz | FM | J |
| 16:36z | 2W0HFU | 144MHz | FM | J |
| 16:37z | G3RMD | 144MHz | FM | J |
| 16:44z | 2W0CGM | 144MHz | FM | J |
| 16:49z | M6DCL | 144MHz | FM | J |
| 16:51z | G3RMD | 28MHz | SSB | T |
| 16:54z | G4WTF | 144MHz | FM | J |
| 16:57z | LA1ENA | 7MHz | CW | T |
| 16:57z | ON6ZQ | 7MHz | CW | T |
| 16:57z | G7JMZ/M | 144MHz | FM | J |
| 16:58z | F6EAZ | 7MHz | CW | T |
| 16:59z | DJ5AV | 7MHz | CW | T |
| 17:00z | G4APO | 7MHz | CW | T |
| 17:00z | GW0JTU | 144MHz | FM | J |
| 17:05z | 2E0CEZ | 144MHz | FM | J |