Creigiau Gleision, GW/NW-028 - 678m ASL - SH 729 615 - OS Explorer OL17 - 4 SOTA points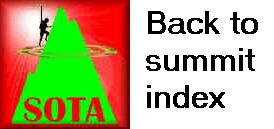 With Marianne taking Liam to the pictures, Macclesfield playing away at Luton, and the weather forecasters promising Utopia on Saturday 21st March 2009, all the conditions were set for a proper mountain expedition. Furthermore, an opportunity for Jimmy to further narrow the gap to his father's uniques record.

Only four summits remained in North Wales that I had activated but not Jimmy. Jimmy had been present on all those expeditions, but before he got his Foundation licence. We selected the pairing of Creigiau Gleision GW/NW-028 and Pen Llithrig y Wrach GW/NW-013 (The Fertile Rock and The Slippery Witch).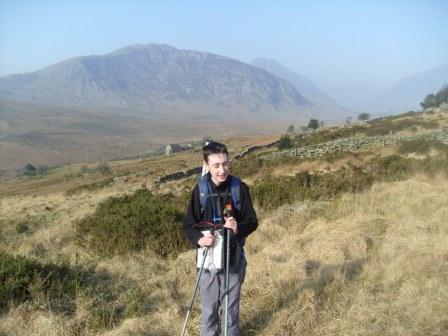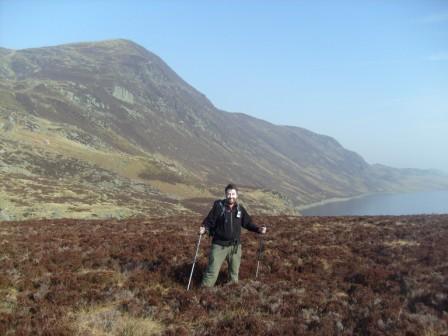 Previously, we had done this on a 19km circular route with Richard G3CWI, using the same initial approach as that often used for Carnedd Llewelyn GW/NW-002. However, this involves climbing to Pen yr Helgi Du 833m (not SOTA as it is parented by Carnedd Llewelyn GW/NW-002), then a near 200m drop to a col at 637m, before climbing to the summit of Pen Llithrig y Wrach GW/NW-013.
Instead, Jimmy devised a route that had us attacking both summits from the south. As recommended by Roger MW0IDX (who was to feature significantly in both my activations), we turned off the A5 at SH716591. This took us onto a very rough and loose stony track. As it got steeper, my wheels started to spin, my car started to smell, it stopped going forwards, and Jimmy with his typical flair for the understatement remarked "I think the stones are too loose for the tyres Dad".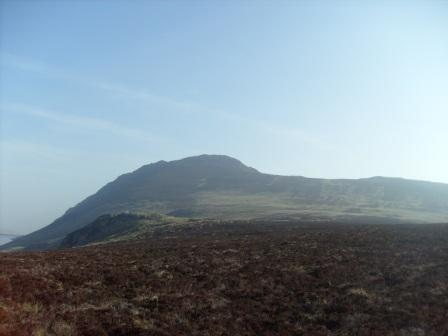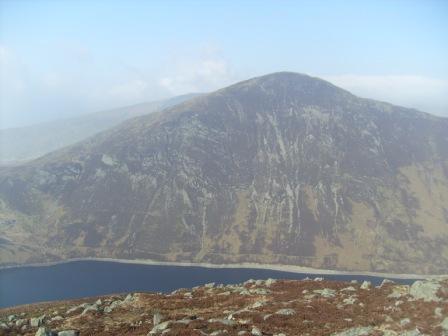 I started to gently reverse back down thinking I would instead park by the roadside and walk up. However, I decided to have another go, and drove with a little more purpose and determination. We got up the hill this time, only to get stuck again on a sharp bend. Again, I dropped back, regrouped, and then hit the bend at a different angle with a few more revs. Success, and we were soon pulling into the small parking area for the Tal-y-waun farm and bunkhouse. And this was alongside three other "normal" cars, so it looked like Penelope Picasso had made hard work of things again.
As we started to don poles and rucksacks, the heat of the sun was striking. It was the beautiful morning as forecast, no need for coats, but a covering of sunblock was in order - the first of the year. At 8.50am, we set off and climbed the bridleway around behind the bunkhouse, where a group of climbers were preparing ropes and packs.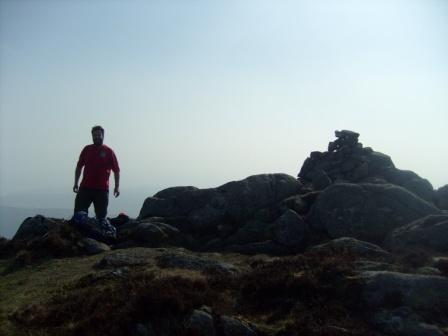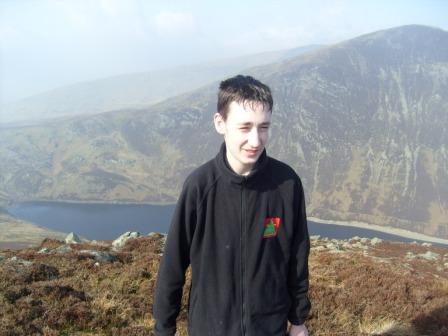 We walked down to the large footbridge at the foot of the south tip of the broad ridge to Pen Llithrig y Wrach GW/NW-013. Here, we turned right and headed due East, yomping through soggy trackless heather. Not until the heather thinned out on the steeper flanks did any evidence of pathlines appear, and we followed the grassy trails to the lowest point of the ridge.

Now, to the left of us, was the rocky lump that was our target. We bypassed to the left of it, then doubled back to follow the steep stony track to the summit cairn. Initially, it was down to just T-shirt for me, the heat of the sun combining with the heat of my post-ascent body to require additional ventilation. There was a chilly breeze though, and despite sheltering behind a good rock, the fleece was soon on again. Jimmy added his coat and hat.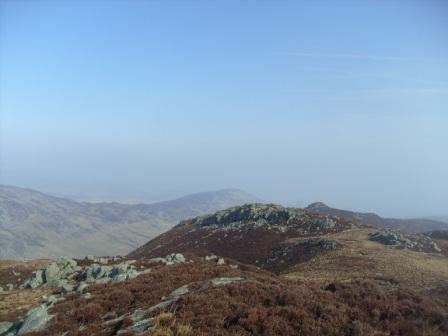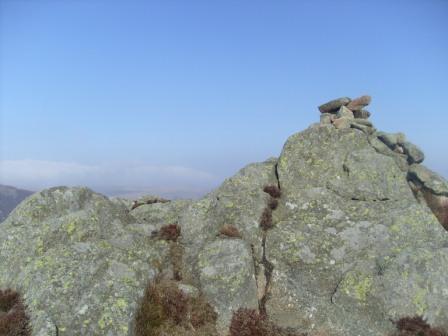 I started the activation on 2m CW, working three stations before things dried up. There was to be no repeat of my 2m CW pile-up on Cracoe Fell G/NP-032 recently. With me stranded on the dreaded three contacts, Jimmy took over, making 10 QSOs on 2m SSB. I went back to 2m CW to look for the elusive fourth, but it was not to be.

Leaving the SOTA Beam horizontally polarised, I called on 2m FM, to be immediately answered by Roger MW0IDX. Three more were worked, including S2S with Simon M1AVV/P on Gun G/SP-013. Jimmy MW3EYP/P took over and worked five of his own on 2m FM.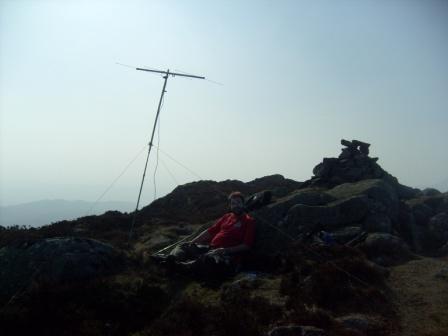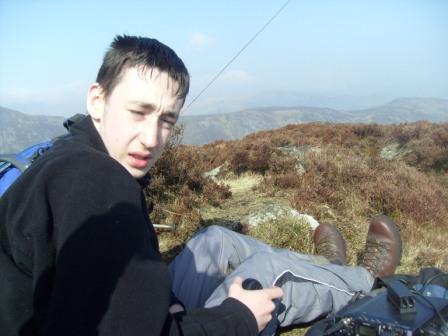 It was now pretty cold, and we needed to get cracking with the pack-up and descent to warm up again. It was a very quick and easy descent back to the footbridge, from where we now tackled the higher and imposing Pen Llithrig y Wrach GW/NW-013.
Many thanks to the following stations, worked on this activation:
| | | | |
| --- | --- | --- | --- |
| G3OHC | 2m | CW | T |
| G4BLH | 2m | CW | T |
| G4RQJ | 2m | CW | T |
| G7SKR | 2m | SSB | J |
| GW4RWR | 2m | SSB | J |
| G6LKB | 2m | SSB | J |
| G3OHC | 2m | SSB | J |
| G0TRB | 2m | SSB | J |
| GB1WAB | 2m | SSB | J |
| GB40WAB | 2m | SSB | J |
| G4ZRP | 2m | SSB | J |
| G8OEP | 2m | SSB | J |
| 2E0BMO | 2m | SSB | J |
| MW0IDX/M | 2m | FM | T |
| M1DAP | 2m | FM | T |
| M0JFE | 2m | FM | T |
| M1AVV/P on Gun SP-013 | 2m | FM | T, J |
| G3NPJ | 2m | FM | J |
| M0PIE/P | 2m | FM | J |
| G3UQK/M | 2m | FM | J |
| 2E0RSM/M | 2m | FM | J |