Dodd Fell Hill, G/NP-016 - 668m ASL - SD 840 845 - OS Explorer OL2 - 4 SOTA points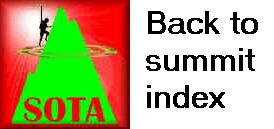 Tuesday 1st August 2006, Pennine Way Day 8
The first day of our second week on the Pennine Way - Day 8. It proved to be a challenging examination of our ability to show mental toughness, and think clearly under pressure. Jimmy did it better than me for the second day in succession.
We awoke to the alarm at 7am in organised mood. Keen to avoid more than one trip on the endless flights of narrow twisting stairs in the Crown Hotel, we prepared with the aim of not having to return to our room once we had gone down for breakfast. We arrived in the lounge bar fully laden and lined up our packs, poles and map by the door, before adjourning to the adjacent dining room for breakfast. I was happy to dawdle around during the sluggish check-out process, hoping that the weather outside might improve.
Eventually, we reluctantly stepped out into the gloomy, grey and drizzle-soaked streets of Horton, full waterproof gear donned from the start. Within a few steps we were heading out onto the fells and moors on a walled green packhorse track. The guidebook advertised impressive limestone scenery to enjoy during the early part of today's walk, but the rain and thick mist stole any such treasures from us. Instead it was a case of heads down, feet forward and get some distance covered. From behind us, Toke and Bobby emerged from the clag, similarly dramatic to contestants on 'Stars In Their Eyes'. We used them as pacemakers, enabling us to record a few more kilometres in short order as we chatted and caught up on the last couple of days. The Lads from Louth had spent last night in a camping barn near Horton-in-Ribblesdale and let slip the shocking revelation that they had walked AROUND Pen-y-ghent, rather than followed the Pennine Way route OVER it. I now felt very grateful to have had a purist like Jimmy with me to talk me out of such a sacrilegious cop-out.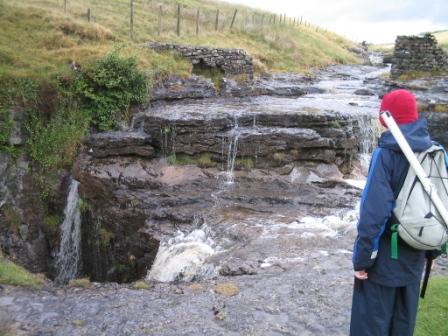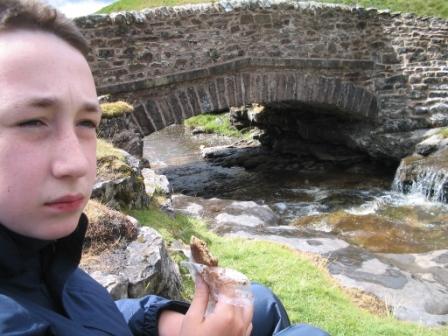 Bobby and Toke strode ahead of us on the slight descent down to Old Ing Farm, so it was back to just Jimmy and I again as it would be for the next few hours. The rain continued fairly constantly, but this did mean that the stream plunging in its entirety into a deep pot hole to the right of the track was at its spectacular best. Jimmy and I speculated as to the location of the re-emergence of this water. The first rest stop of the day was by Ling Gill Bridge. Our reaching this point conveniently coincided with a sudden and rare dry, bright interlude to the day's weather. A sit down and a chocolate flapjack contributed to a pleasant few moments relaxation by the rushing waters.
A long steady climb up Cam Fell absorbed us for the next hour and a half. The sense of anticipation increased as we ascended further uphill, expecting to see Kidhow Gate around each successive corner. Alas, our cue for Dodd Fell Hill G/NP-016 successively did not present itself, but we continued apace, convinced it would be around the next corner or over the next false summit! Jimmy's 'phone rang and it was time for our next link-up with Silk FM. A decent enough interview ensued as I gave a detailed account of our long trek over Malham Cove, Fountains Fell and Pen-y-ghent the previous day. Jimmy had been concerned to grab his own five minutes of fame, so I prompted Andy to invite Jimmy onto the airwaves. For a few minutes I walked alongside Jimmy, continuing to clear Cam Fell, while I listened to one half of a conversation to which I knew my wife, mother and friends were hearing both parts.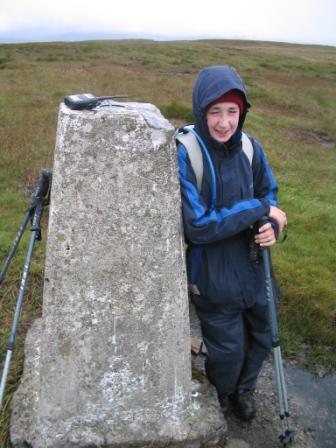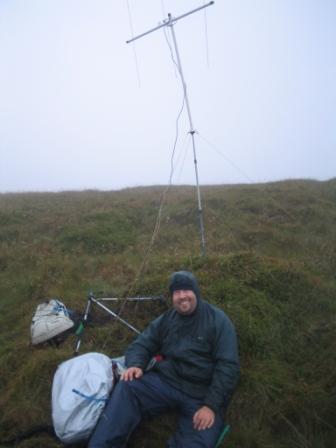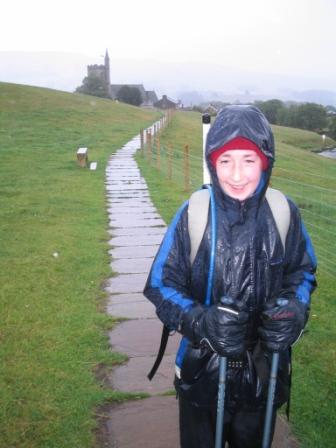 We passed Kidhow Gate at last and continued on the old packhorse road to Hawes. Mr Wainwright had informed me that "This is all very, very good" during my bedtime reading session last night. I wasn't quite that enthusiastic, but realised that the track underfoot would have been much less eroded and uneven in his day, and he probably had decent weather with good views on the day he researched this leg. We were looking for a stream and nearby cairn on the right of the path as this would be our cue to leave the Pennine Way to ascend to the summit of Dodd Fell Hill. The steep, slippy, grassy, peaty, energy-sapping pull up the fellside did not feel like 'reward' for correctly locating the diversion point. However, we remained within our time-schedule for this section, so we pressed ahead with our plans to undertake a SOTA activation on this summit just 500m East of the Pennine Way.
Once set up, contact was immediately established with Mike G4BLH/M, maintaining his 100% record of working us on each Pennine Way summit. We completed the four contacts each, in just under twenty minutes, even though it seemed like a lifetime as the rain became very heavy in the swirling wind. Further CQ calls were unanswered, so we packed up and got on our way. Many thanks to the following stations, all worked on 2m FM with 2.5 watts:
| | | | |
| --- | --- | --- | --- |
| G4BLH/M | Colne-Skipton road | Mike | T, J |
| G4CPS/P | Colne-Skipton road | Mike | T, J |
| G0UNK | Church Accrington | Terry | T, J |
| G4FQW | Accrington | Brian | T |
| 2E0HJD | Clitheroe | Mick | J |
We set off from the summit of Dodd Fell Hill in increasing wind, heavy rain and very low visibility. Within seconds, Jimmy and I had become separated. I pressed on in seemingly the right direction, but he did not come back into view. I thought I had better turn on my handheld radio shortly, but felt sure that he wouldn't have thought to have switched his on. I continued to attempt to descend the hill, but in vain. I was totally disorientated, and I wasn't convinced that my new compass was actually pointing to North - it seemed it was giving a far more random indication than that! I reluctantly retraced my steps to the summit, then used the map to try to walk more carefully back towards the Pennine Way. As I began to descend I switched on my radio, and made a call for Jimmy M3EYP/M. Jimmy did not answer, but G3VUS in South Cumbria did to inform me that Jimmy had been calling me for quite a few minutes. What an idiot I had been not to switch on my radio earlier. Straight away, Jimmy did reply, and sounded very stressed. "I think I'm going to die up here" he told me in exasperation. I assured him that now we were in radio contact, we were safe. We continued trying to pick out a way down to the Pennine Way path, maintaining a radio conversation in order to keep each other informed as to our progress.
Jimmy's voice lifted as he told me he was following a wall downhill, and then moreso as he reported he had found the Pennine Way, albeit a few hundred metres south of where we originally left it. I was confident I had found the stream back down to the path, and slowly picked my way down it. About halfway down, I could see Jimmy's figure, silhouetted in the mist, walking along the Pennine Way track in front of me. The rest of the day's campaign was simple - walk down the Pennine Way to Hawes!
The descent to Hawes we anticipated was not quite upon us. First we had to ascend to Ten End, a very exposed part of the ridge in terms of the weather, and probably commanding superb views when visibility is more than a handful of metres. The descent to Gayle village was seemingly endless on the soggy sloping pastures with the rain driving into our faces, no longer afforded meagre shelter by the prospect of Dodd Fell. We were more than pleased to reach the paved final approach to Hawes, as per the cover photograph of the Pennine Way South National Trail guidebook. Jimmy presented as the stereotypical 'drowned rat' as he managed to smile and see the funny side of his drenching.
The first job upon reaching Hawes Youth Hostel was to load the drying room with our considerable collection of soaking wet coats, fleeces, shirts, socks, boots, gloves and hats. And rucksacks. It was difficult to find space in the drying room, which was already filled to near capacity with the drenched gear of a near full hostel occupancy of guests. Then we joined the queue of several to check-in. The queue could not diminish while a desperately arrogant individual unleashed his demands and expectations on the unsuspecting warden. The new resident demanded a room to himself, but did not want to pay for two beds, despite the fact that a two-bedded room was the smallest on offer. He was appalled that his room did not have a television. He scoffed when told that the doors would be locked at 11pm, and intimated that this was ridiculous for a modern day hotel chain. At least this incident suppressed my own misgivings about the current direction of the YHA as I found myself feeling increasingly defensive of the ethos of hostelling. Eventually, the difficult guest who seemed to have mixed up the words 'Hostel' and 'Hilton' retreated to his private en suite room, allowing the weary travellers behind him to get checked in.
After a quick shower and change we were back downstairs for our evening meal. We were back in the company of Bobby and Toke as we dined on vegetable goujons, battered haddock (Jimmy), fishcake with spring onion & apricot (Tom) followed by syrup sponge pudding & custard. Bottles of Morocco Ale and Black Sheep Bitter were tonight's relaxation-enabling tipple. In the bedroom upstairs, I was horrified to see that only top bunks remained. However, Bobby offered to swap with me, a kind gesture which I accepted gratefully. I dislike top bunks nearly as much as I do exposed cliff edges! Here we met Daniel and Mick for the first time. They were walking the Pennine Way from Hawes to Greenhead, and we would meet them again several times over the next few days.
Retiring to bed later, I reflected upon the day and wished that tomorrow would be less complicated, less challenging, less wet and less cold. I should have known that wishes don't necessarily come true.