Great Knoutberry Hill, G/NP-015 - 672m ASL - SD 788 871 - OS Explorer OL2 - 4 SOTA points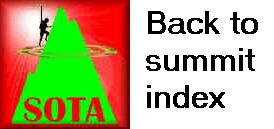 I slept soundly right through the night at Ingleton Youth Hostel, as did the boys, waking at 6.30am. I prompted Jimmy and Liam to wake up. Jimmy was reluctantly cooperative. Liam was not impressed. I left the two of them to get up and dressed while I went down to do the soup and the bladders. Eventually, we were away before 8am, and Jimmy directed me via Dentdale to the parking spot NW of Great Knoutberry Hill G/NP-015.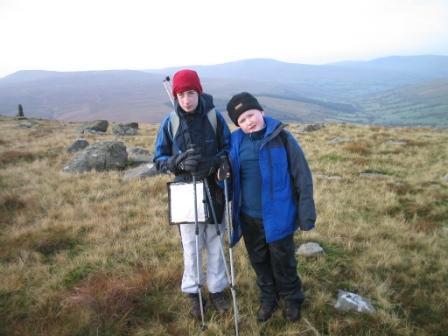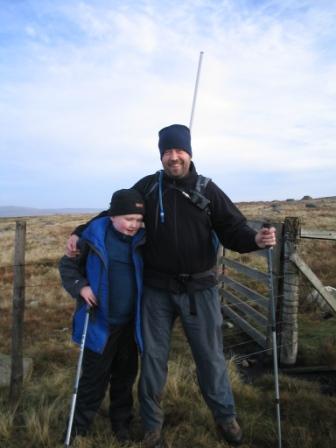 It was a lovely, clear albeit chilly morning, and the view back across to Ingleborough G/NP-005, Whernside G/NP-004 and Aye Gill Pike G/NP-023 was stunning. We followed the bridleway track down to where it is necessary to clamber over a horrible stile - stone steps protruding precariously from a very high dry stone wall, topped by a loose and almost barrier-like wooden fence. Now it was uphill all the way to the summit, via countless soggy bogs and false summits. Nonetheless, it was not far, or all that steep. As we were about to emerge on the summit, a familiar voice was heard from behind, and it was none other than Myke G6DDQ making a surprise visit.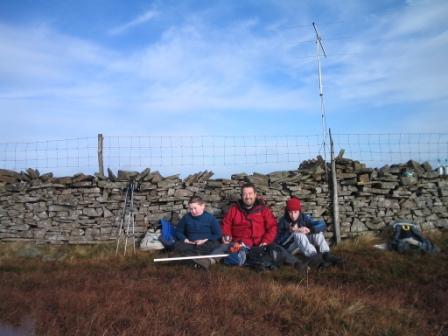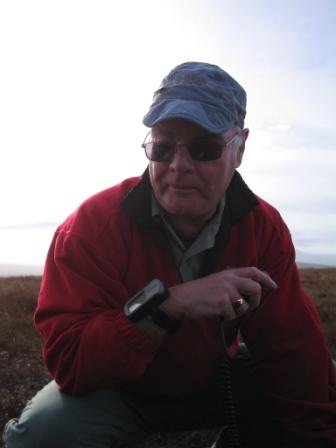 I set up the SOTA Beam mounted horizontally above a wall on the summit, although the initial QSOs were actually made on 2m FM. Today, there were some S2S contacts, with Ian 2E0EDX/P on Pen-y-ghent G/NP-010, Richard GW4ERP/P on Tryfan GW/NW-006, Richard GM3CWI/P on Roan Fell GM/SS-132 and Keith G0OXV/P on Stony Cove Pike G/LD-018. Jimmy and I both had our first ever taste of 4m, courtesy of a quick blast on G6DDQ's hand-portable transceiver, following which we went to the alerted 2m SSB. Contacts were not exactly forthcoming on here, although we did make a few.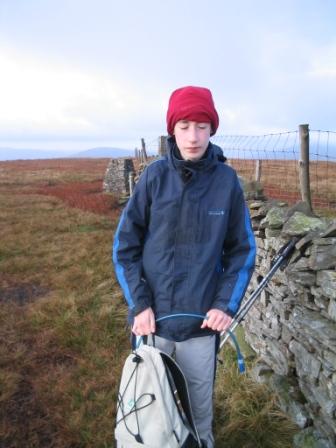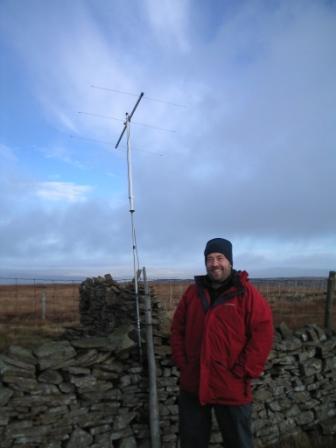 I went over to 2m CW, an increasing favourite of mine, and I was very pleased to make five contacts, including George GI4SRQ. My 2m CW sortes during activations seem to be attracting a loyal group that is steadily increasing in number, so I intend making more of this. It is a bit different, and has an element of challenge not (anymore) experienced on 2m FM/SSB or 40m CW. Soup today was Asda's Roast Chicken and Asparagus. Many thanks to the following stations, all worked using 5 watts:
| | | | | | |
| --- | --- | --- | --- | --- | --- |
| 2E0EDX/P | Pen-y-ghent NP-010 | Ian | 2m | FM | T, J |
| G4BLH | Brierfield | Mike | 2m | FM | T, J |
| 2E0HJD | Clitheroe | Mick | 2m | FM | J |
| M1DHA | Barnoldswick | Alan | 2m | FM | J |
| G4BLH | Brierfield | Mike | 23cm | FM | T, J |
| G4BLH | Brierfield | Mike | 2m | SSB | T |
| GW4ERP/P | Tryfan NW-006 | Richard | 2m | SSB | T, J |
| G4FUJ | Cheltenham | Graham | 2m | SSB | T |
| G3RMD | Cheltenham | Frank | 2m | SSB | T |
| G4BLH | Brierfield | Mike | 2m | CW | T |
| GW0DSP | Connahs Quay | Mike | 2m | CW | T |
| GI4SRQ | Armagh | George | 2m | CW | T |
| G4OWG | Leeds | Roger | 2m | CW | T |
| G3WGV | Sleagill | John | 2m | SSB | T |
| GM3CWI/P | Roan Fell SS-132 | Richard | 2m | SSB | T, J |
| G3WGV | Sleagill | John | 2m | CW | T |
| G6DDQ/M | Pikes Moss | Myke | 2m | FM | T |
| G0OXV/P | Stony Cove Pike LD-018 | Keith | 2m | FM | T, J |
| 2E0CSG | Burnley | Derek | 2m | FM | T |
| G0HDX | Clayton-le-Moors | Roy | 2m | FM | T |
Following descent, we drove back towards Ingleton, but pulled in at the Hill Inn, Chapel-le-Dale for a pint with Myke. It was only just gone midday, and the afternoon beckoned. What would it be? A back-route raid on Whernside G/NP-004 to give Jimmy his last NP unique to catch up with his father? A joint activation of Easington Fell G/SP-012 with G6DDQ? No, I had a better idea. I kept this secret from Jimmy and Liam, but Myke immediately worked out what it was (but didn't give it away). It was Ingleborough G/NP-005 - but from the inside!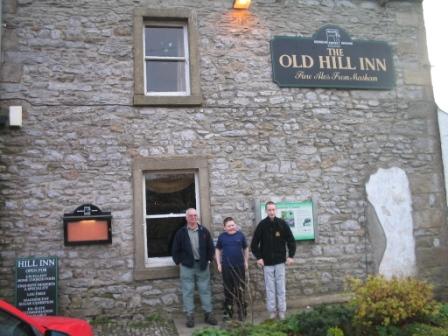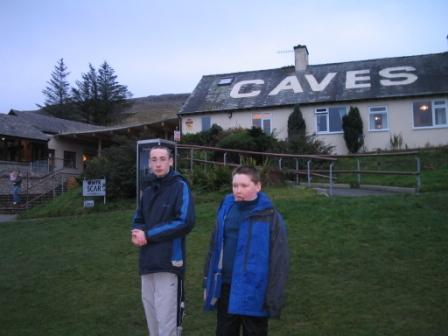 A short distance down the road, we pulled in at White Scar Caves, and booked on the 2pm guided tour. In the meantime, we visited the cafe for bacon, sausage, egg and tomato bap (me), bacon butty (Jimmy) and vegeburger (Liam) together with three deluxe hot chocolates. The caves were fantastic, an 80 minute tour walking along 2km of caves and tunnels, mostly above underground rushing water. The "gorilla walks", requiring sustained stooping were a little challenging, as was the point that had a headroom of barely one metre, but the caves were beautiful and fascinating. The climax of the journey was the huge Battlefield Cavern, with its thousands of straw stalactites hanging from the rock above.

We drove home for 6.40pm, well pleased with our action-packed weekend away. Many thanks to everyone that worked us on our summits.