Gyrn Moelfre, GW/NW-049 - 523m ASL - SJ 184 294 - OS Explorer 255 - 2 SOTA points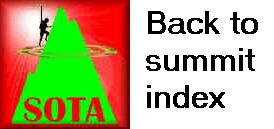 Another "like the old days" activation on Sunday 14th July 2013. Again, bribed with the promise of a curry, Jimmy, Liam and myself all awoke with our alarms at 6am BST. By 6.15am, Liam and I were ready to go and waiting in the lounge. By 7.35am, Jimmy was ready... We hit the A537, A556, M6, M56, M53, A55 and A483 which took us to Chirk McDonalds for bacon & egg mcmuffin and hash brown breakfasts. The rest of the route I don't really remember; I just followed the turnings being spoken to me by the 'JimNav'.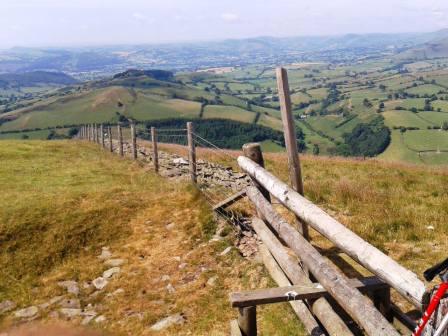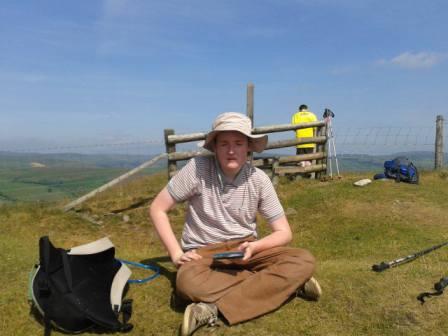 After parking in the yard at Moelfre Hall, I went up to the house to ask for permission to park while we went up Gyrn Moelfre GW/NW-049. As ever, the people here were extremely friendly and said that was absolutely fine. Now it was time to apply some thick buttery layers of sunblock with the sun already beating down fiercely at 10am. We followed the stone track as it zigzagged up the sloping field before turning to climb the gully. This was hard work in the hot sun, but it was better than years ago when I would give Liam a "tow" up the steep sections! Sadly, he is not yet returning the favour to his poor father...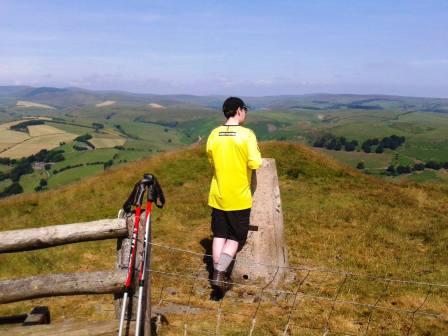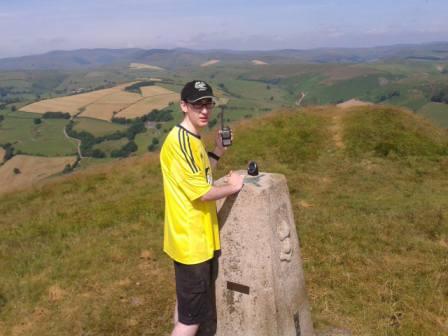 Jimmy MV0HGY had long gone by the time Liam and I emerged from the gully. I switched on my radio and there he was. In fact I became his fourth contact before he continued on to make 18 QSOs on 2m FM. This included 2 S2S QSOs, with Rod MW0JLA/P on Pen Y Garn GW/MW-004 and Ian GW7ADF/P on Tryfan GW/NW-006. Jimmy reported that he had not checked his rucksack for the feeder cable, and in fact he didn't have it. As such, he was just using his VX-110 with the rubber duck, and the pole and SOTAbeams MFD was not deployed. It didn't appear to affect his QSO count too much.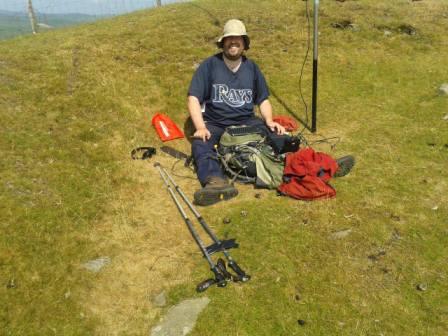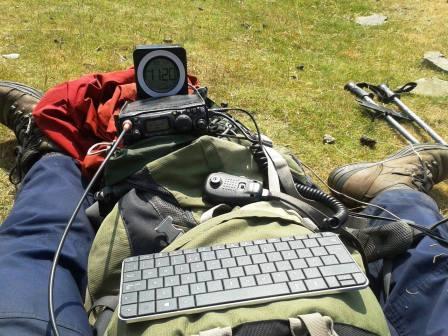 I set up for 12m on the very hot and sunny summit, but struggled to get internet coverage in order to self spot. Nonetheless, I qualified the summit with four QSOs on PSK31. Moving to 24.899MHz CW brought up a run of 13 QSOs, culminating in a S2S with Heinz OE5EEP/P on Brennerin OE/OO-051. Just two more were added on SSB before I packed up and had a quick listen on the 2m handheld. This was when I found old friend Ian GW7ADF/P on Tryfan GW/NW-006, resulting in S2S contacts both for myself and Jimmy MV0HGY/P. We had not seen or heard of Ian in SOTA for several years, so some catching up will be required.

The descent was hard work, particularly the steep downhill section of the track in the gully. But we returned to the car ahead of schedule and anticipated remaining ahead of schedule for the activation of Mynydd-y-briw GW/NW-060.
| | | | |
| --- | --- | --- | --- |
| M0TYM | 2m | FM | J |
| 2E0XYL | 2m | FM | J |
| MW0JLA/P on Pen y Garn MW-004 | 2m | FM | J |
| MV1EYP/M | 2m | FM | J |
| G6ODU | 2m | FM | J |
| M6BLV | 2m | FM | J |
| G8RBW/M | 2m | FM | J |
| MV6RGF/M | 2m | FM | J |
| M3XIE | 2m | FM | J |
| M3STG | 2m | FM | J |
| G4AZS | 2m | FM | J |
| GD3YUM/M | 2m | FM | J |
| 2W0JYN | 2m | FM | J |
| MW6SHJ | 2m | FM | J |
| GV8MIA | 2m | FM | J |
| M0OTE/P | 2m | FM | J |
| DD6UVO | 12m | PSK31 | T |
| SQ3BKH | 12m | PSK31 | T |
| M6SHI/M | 2m | FM | J |
| HB9AGH | 12m | PSK31 | T |
| EB5DZC | 12m | PSK31 | T |
| G4AZS | 12m | CW | T |
| 9A286W | 12m | CW | T |
| DL1CC | 12m | CW | T |
| IK3HHX | 12m | CW | T |
| OM7OM | 12m | CW | T |
| OK1DLA | 12m | CW | T |
| DL1FU | 12m | CW | T |
| SP7SQM | 12m | CW | T |
| DF9QV | 12m | CW | T |
| DL2DXA | 12m | CW | T |
| DL4WG | 12m | CW | T |
| OE5EEP/P on Brennerin OO-051 | 12m | CW | T |
| CT1DRB | 12m | CW | T |
| DL5AWI | 12m | SSB | T |
| G6ODU | 12m | SSB | T |
| GW7ADF/P on Tryfan NW-006 | 2m | FM | T, J |