Mynydd Allt-y-grug, GW/SW-032 - 339m ASL - SN 751 079 - OS Explorer 165 - 1 SOTA point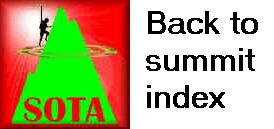 The second summit of Wednesday 13th August 2014, and the final one of five on our camping trip, was Mynydd Allt-y-grug GW/SW-032. We drove up steep roads through a housing estate out of the Swansea Valley, then onto a minor road where we parked at SN742073.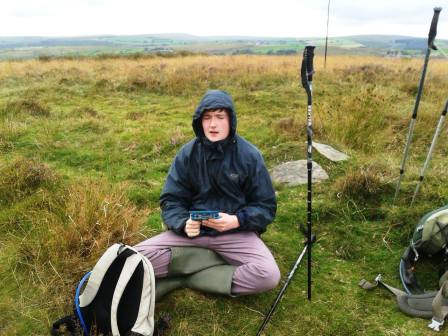 After initially walking a few hundred yards along a level path through the woods, the situation on the ground lost all resemblance to the OS Explorer mapping. We bore right onto a long straight ramp type path gaining height up the side of the hill. At the top of this, the path angled right again reaching a wall corner at SN746077. The path turned right again to gain a little more height along side the wall and fence.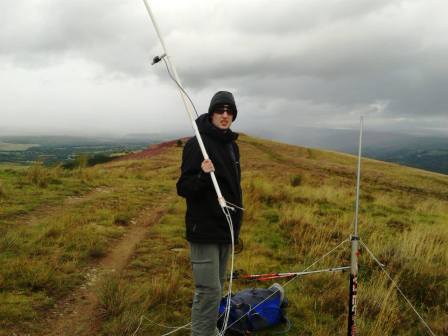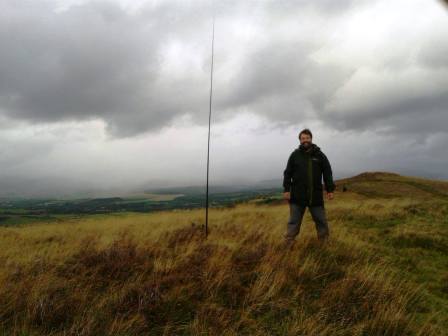 We hoped there would be opportunity to cross at some point. Sure enough, at the highest point of this section of path, there was a clearly well used option to step over the fence and onto the more level paths and tracks that criss-cross the summit area. Ten minutes or so later, we were standing at the official summit, which is the south-west one of the pair of twin peaks.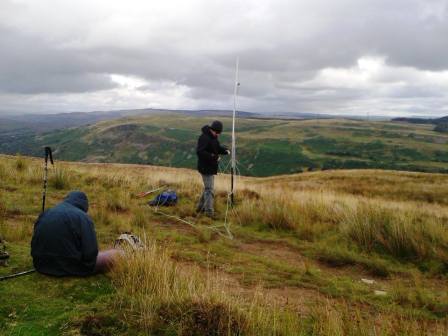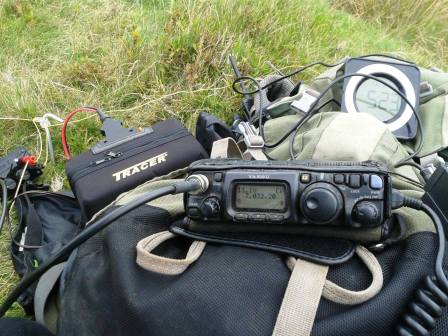 It was another unremarkable activation for me radio-wise, with just six QSOs on 40m CW. Again, with both Jimmy and Edward reporting success in qualifying on 2m FM, my thoughts turned to getting back to the campsite in time for a shower before dinner. A couple of instances of short-lived light rain threatened on the descent, but nothing to worry about. An enjoyable night was spent in the Towy Bridge Inn, eating faggots, chips, peas and onion gravy, and drinking Welsh OSB ale and Penderyn whisky. The forecast for the Thursday was bobbins, so we agreed to simply unpitch the tent and head home the next morning.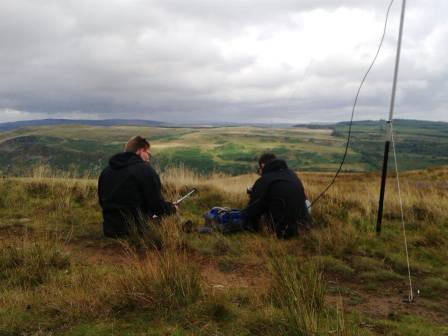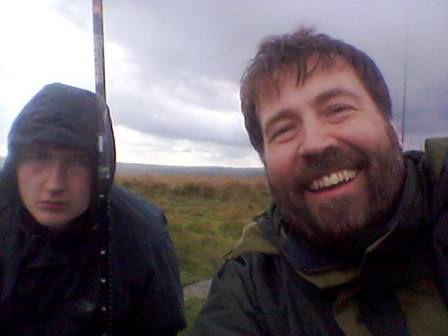 This year's camping trip was quite unlike 2013, when we had a full week in the Isle of Man, and excellent weather thrown in. Time was limited between my Sunday Blackpool gig and Edward's Friday photography work, and further pressured due to some rather damp weather. Nonetheless, five activations that were all new uniques for all three of us was not too bad a return.
| | | | | |
| --- | --- | --- | --- | --- |
| Time | Call | Band | Mode | Op |
| 16:25z | OE7PHI | 7MHz | CW | T |
| 16:26z | DJ5AV | 7MHz | CW | T |
| 16:26z | PA0HRM | 7MHz | CW | T |
| 16:27z | OK2BPU | 7MHz | CW | T |
| 16:28z | GW6OVD | 144MHz | FM | J |
| 16:28z | DJ9CO | 7MHz | CW | T |
| 16:29z | F4GFT | 7MHz | CW | T |
| 16:30z | MW0PJJ | 144MHz | FM | J |
| 16:35z | GW8SBN | 144MHz | FM | J |
| 16:36z | GW1PKM/M | 144MHz | FM | J |
| 16:51z | MW6JDY | 144MHz | FM | J |