Mynydd Mawr, GW/NW-026 - 698m ASL - SH 539 547 - OS Explorer OL17 - 4 SOTA points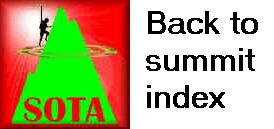 Wedenesday 10th August 2016 began, as was our new routine, with flavoured instant porridge as sold by the youth hostel. This was a great way to start a walking day, and something we will doubtlessly repeating on future trips. The beginning of this day was somewhat "stop-start" as we carefully monitored what the weather appeared to be doing and comparing with the forecasts we could get via our smartphones.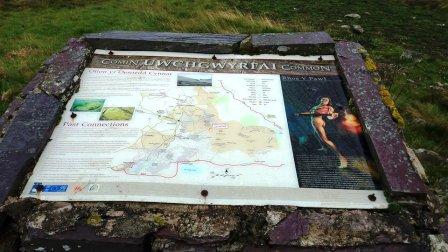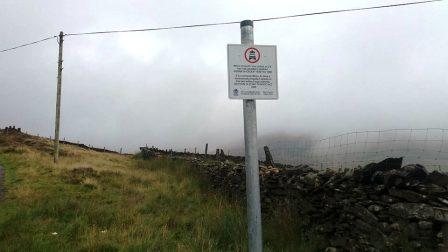 Jimmy directed me to the village of Y Fron, where Sean MW3PZO now lives. Sean used to live on the adjacent street to us in Macclesfield. It was raining pretty steadily, so I suggested we call in on Sean for a brew, to delay our walking start to hopefully a drier period of the day! It was also very pleasant to catch up with "Commsy" and have a welcome mug of hot tea. The rain began to abate, and we drove the short distance beyond Y Fron village to where the track led away from the road.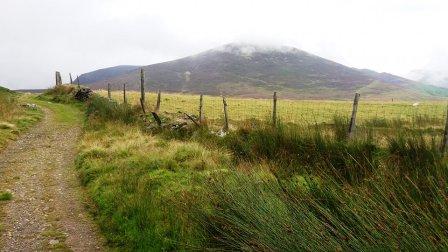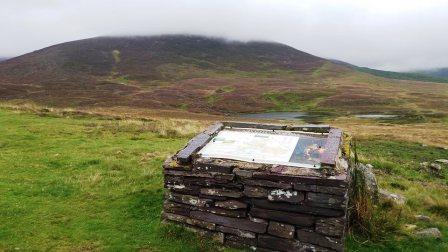 Research had informed us that we could drive part way up this track, but a sign quite clearly forbade further progress. We were about to start walking when a tractor came driving down the track. I made enquiries, and was told that yes, I should drive a short distance up the track to a parking area on the right. From here, it was easy track walking all the way to the right turn to ascend the ridge line to the summit. Close to this point was a small cave, which deserved a brief detour and photo.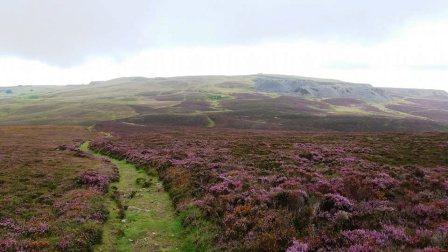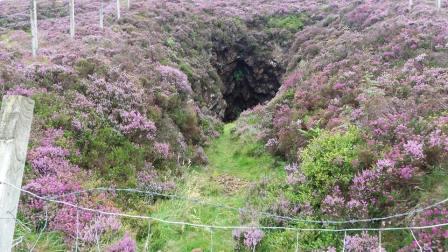 The walk up towards the summit became much steeper in places and was really quite a slog, not helped by very poor visibility in the clag. Jimmy soon disappeared, and I didn't see him again until the summit. I switched on my handheld transceiver for some company. Usually, I just listen to BBC Radio 5 Live, as the VX7R can receive the medium-wave broadcast band. However, on this occasion I decided to monitor the 2m amateur band, and was able to hear GD4ZPL/P calling CQ SOTA from Snaefell GD/GD-001 on the Isle of Man. I wasn't able to get back to him from my position low on the final approach to Mynydd Mawr, but I later found out that Jimmy had made a successful S2S QSO with him.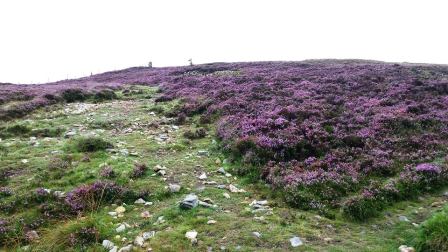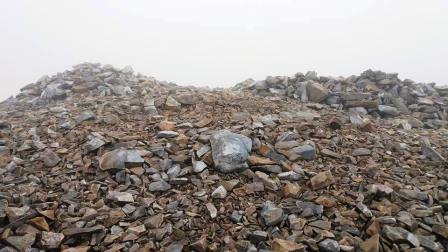 On arriving at the summit, there were two other walkers in the stone shelter. Jimmy had continued onto the lee side of the hill and set up his SOTAbeams MFD antenna. He had no trouble qualifying his activation, and I availed myself of the opportunity to help myself to a ready-made portable station after he had done so. Although I personally missed out on the Snaefell contact, I did pick up S2S with friends Keith G0OXV, Stuart G0MJG and Roger M0OMB who were all on Great Whernside G/NP-008. Lunch was taken in the form of a flask of hot Sainsbury's chicken noodle soup.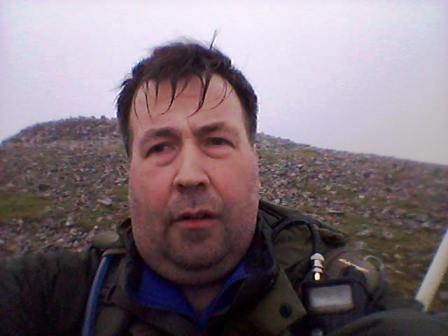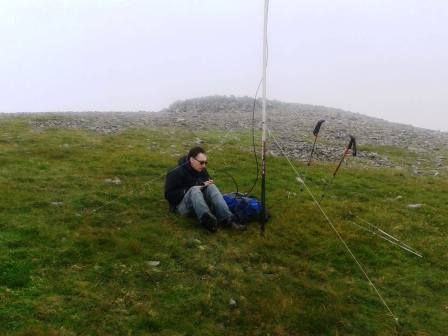 With the area just beyond the summit virtually featureless, and without evidence of any trodden paths, it would normally necessary to tak a compass bearing in such appalling visibility. However, a huge arrow made out of rocks pointed out the descent direction. In actual fact, I considered it prudent to do the compass work anyway, but it agreed with the stone marker when we did. Jimmy was soon way out of sight, but that cost him a chaser contact! I was listening to 2m on my handheld again, and this time heard Kevin G0PEK/P and his daughter Lauren M6HLR/P activating Seatallan G/LD-025. I made the QSOs and tried to let Jimmy know by phone. Alas, he was by now too far down and could not hear a trace of them on his VX-110.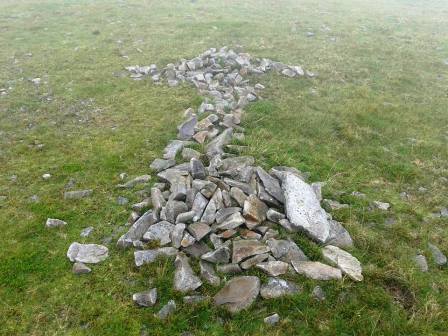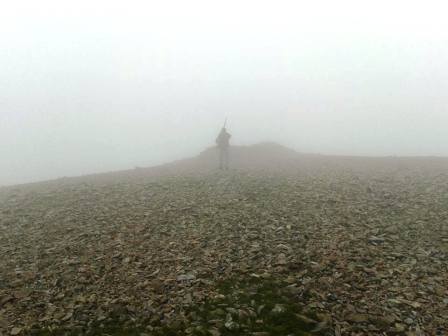 Upon reaching the car, I decided I fancied another big hot mug of brew! A short, sharp shower had hit us as we came off the ridge, and a steaming cup of tea seemed very appealing. We contacted Sean to check he was in, and that it was OK for us to call in again. It was, Sean put the kettle on, and we repeated that morning's social visit!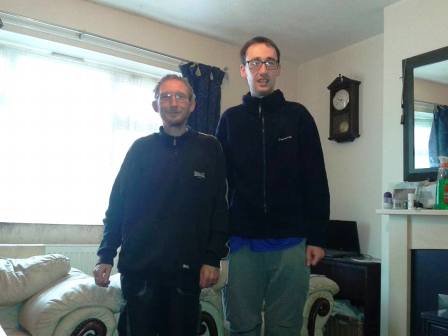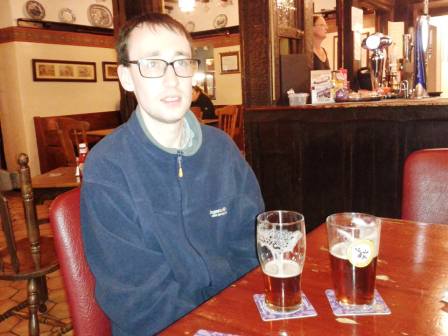 The route back to the youth hostel took us through Bethesda, which we returned to after a wash and change to check out possibilities for an evening meal. Nothing appealed, so we drove back past the hostel and out to the Tyn-y-Coed Hotel, which was very pleasant. I had a most excellent trio of sausages and mash, accompanied by good local real ale. Back at the hostel, it was the usual nightime routines of making sure everything was ready for the next day, and retiring to the sanctuary of our beds. Unlike a couple of nights ago, our dormitory was now shared with some very pleasant chaps, much more the sort we are used to in youth hostels! There would be a change of plan for the Thursday morning, and an unexpected trip up Snowdon GW/NW-001.
| | | | | | |
| --- | --- | --- | --- | --- | --- |
| Time | Call | Band | Mode | S2S | Op |
| 11:10z | GD4ZPL/P | 144MHz | FM | GD/GD-001 | MW0HGY/P |
| 11:13z | GW4TJC/A | 144MHz | FM | | MW0HGY/P, MW1EYP/P |
| 11:15z | GW0PLP | 144MHz | FM | | MW0HGY/P |
| 11:20z | GW4XUE/M | 144MHz | FM | | MW0HGY/P |
| 11:25z | GW4VPX | 144MHz | FM | | MW1EYP/P, MW0HGY/P |
| 11:28z | MW3PZO | 144MHz | FM | | MW1EYP/P, MW0HGY/P |
| 11:31z | MW6OTT/M | 144MHz | FM | | MW1EYP/P |
| 11:43z | GW4BZD | 144MHz | FM | | MW0HGY/P |
| 11:53z | G0OXV/P | 144MHz | FM | G/NP-008 | MW1EYP/P, MW0HGY/P |
| 11:54z | M0OMB/P | 144MHz | FM | G/NP-008 | MW1EYP/P, MW0HGY/P |
| 11:55z | G0MJG/P | 144MHz | FM | G/NP-008 | MW1EYP/P, MW0HGY/P |
| 11:58z | MW0BYT | 144MHz | FM | | MW0HGY/P |
| 12:25z | MW6GWP | 144MHz | FM | | MW1EYP/P |