Snaefell, GD/GD-001 - 621m ASL - SC 397 881 - IOM Outdoor Leisure North - 1 SOTA point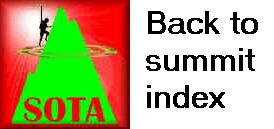 We arrived at the Bungalow tram station and parking area on the A18 mid morning on Wednesday 24th July 2013. This would be the last summit we needed to complete the Isle of Man, although certainly not our last activation of the week. After a bit of kitting up, and the obligatory photo by the gate onto the Snaefell footpath, we got cracking with our ascent.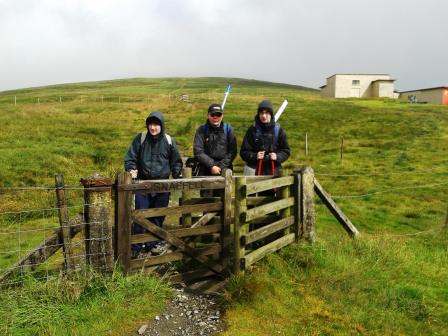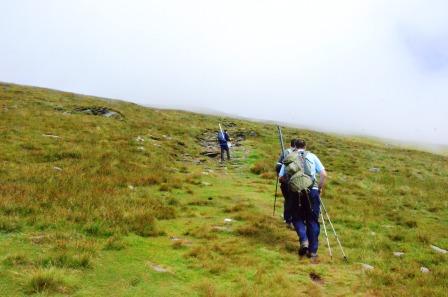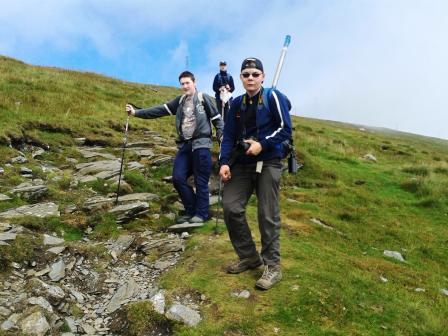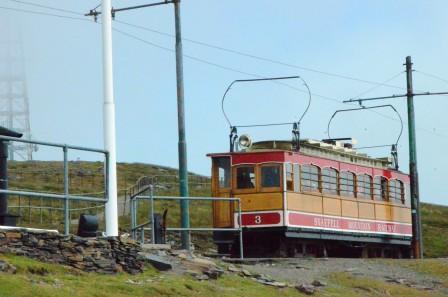 The walk was fairly easy, initially along a gentle gradient. After the first third of the route, a good path often with stone flags assisted underfoot, and this was well established before reaching the steeper flanks. As such, we were able to maintain a decent rhythm all the way up. Upon reaching the railway line and summit hotel, we paused for a few more photos before going in for our lunch. The agreed plan was to eat first, activate later!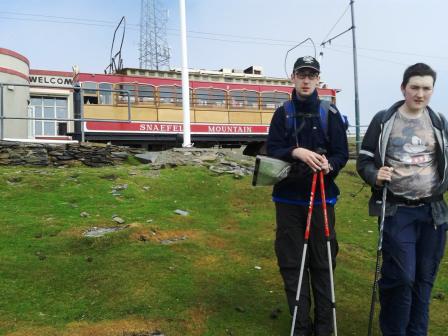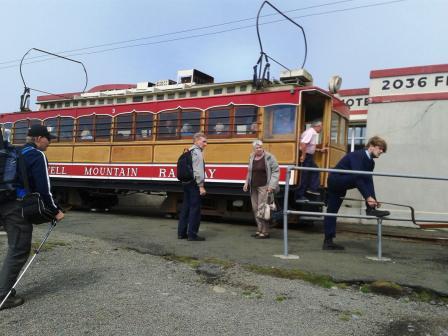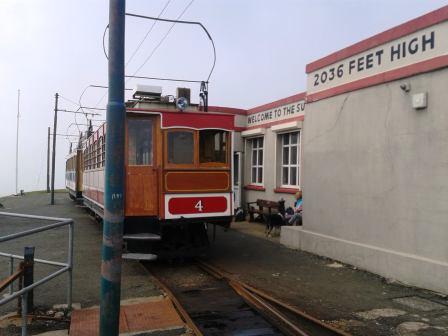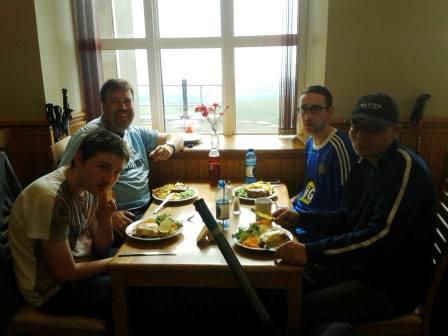 Lunch was not cheap at around £10 per head for a main course, but the portions were huge and the quality excellent. Jimmy, Liam and I all started with homemade vegetable soup and roll. Ed and Liam were then into lasagne and salad, while Jimmy and I were delighted with our gargantuan steak pie with chips, veg and gravy. A highly substantial meal was welcome, as we had no firm plans for an evening meal, and we didn't want to impose a time constraint on our activation because of any such thing.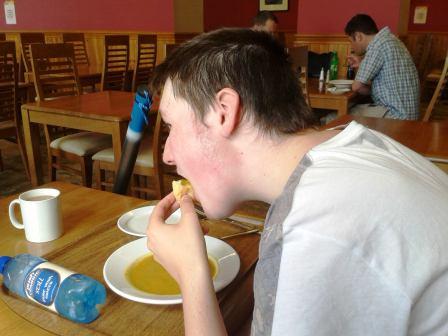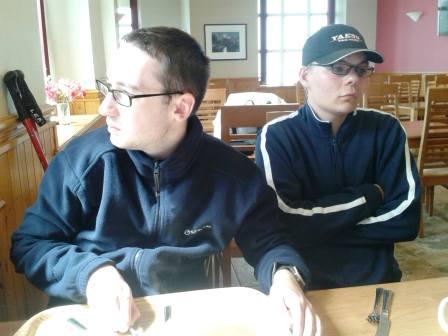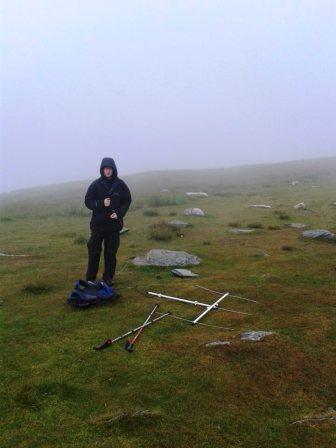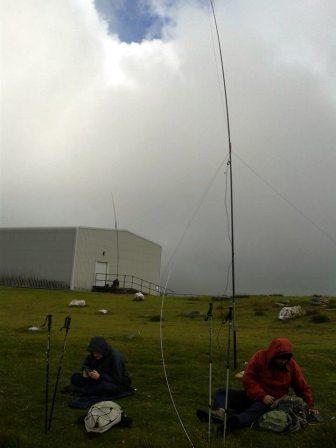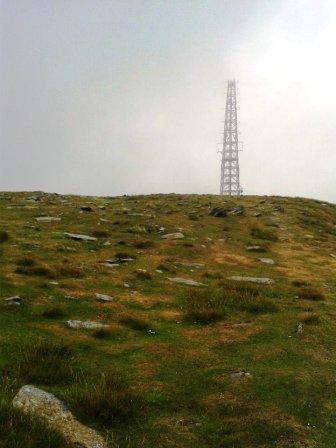 Following lunch, we walked up the final few metres to the summit of Snaefell, and the highest point on the Isle of Man. Edward 2D0NSR/P set up for 40m by the railings of the large outbuilding that can be seen in these photographs. I set up initially for 12m a little way downslope in lee of the worst of the wind. Jimmy MD0HGY/P, more typically, set up just a short distance from the trig point. The race was on between jimmy and myself. Whoever made the first contact would have been the first person to have activated each of the highest summits of the five UK associations - Scafell Pike G/LD-001, 978m (England), Ben Nevis GM/WS-001, 1344m (Scotland), Snowdon GW/NW-001, 1085m (Wales), Slieve Donard GI/MM-001, 850m (Northern Ireland) and now Snaefell GD/GD-001, 621m (Isle of Man). I needn't have bothered - Jimmy had already made his qualifying four contacts before I had even finished setting up my 12m aerial...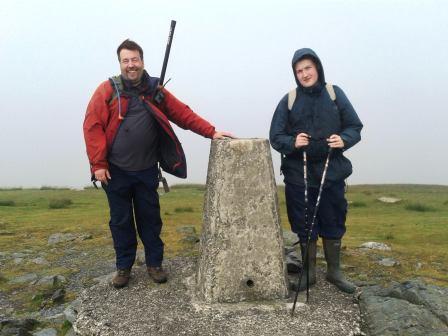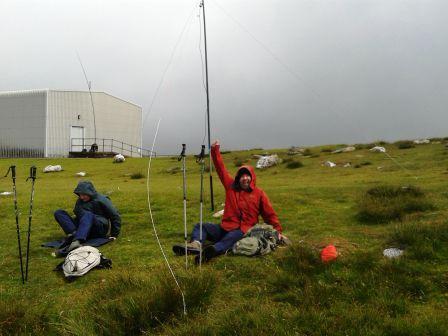 Jimmy went on to make 12 QSOs on 2m FM, but spent most of the afternoon pottering around the summit area having a look at the various vistas on offer. Edward made eleven QSOs on 40m SSB, courtesy of good inter-G propagation on the band. His highlight was a scheduled contact with his grandad Roy G1NUS back in Macclesfield. Roy was particularly keen to get Snaefell into his logbook and had insisted Ed gave him a 'phone call with his frequency when QRV.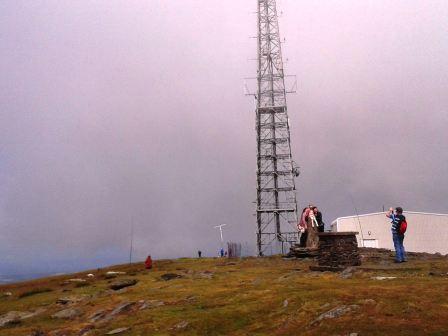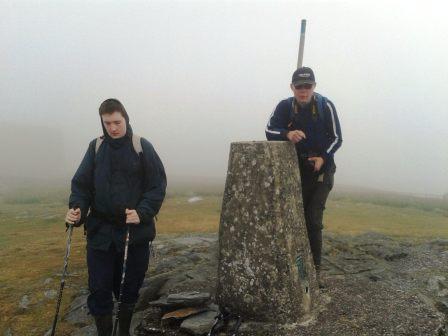 The 12m part of the activation went particularly well. I was amazed when my initial calls on 24.921MHz PSK31 resulted in a run of 20 QSOs, by far the most I had ever made on datamodes from a single activation. The only downside to this was that it did eat into my available radio time. Although this was probably the "fastest" sustained QSO rate I have ever enjoyed on PSK31, it is still a slow mode when compared to SSB or CW. When I did switch to CW, all hell broke loose and I was at the sharp end of the pile-up for the rest of the afternoon. 47 QSOs were added on CW, and then 16 on SSB. One or two of the chasers annoyed me by constantly repeating their callsigns that had no match whatsoever to the partals I was asking for!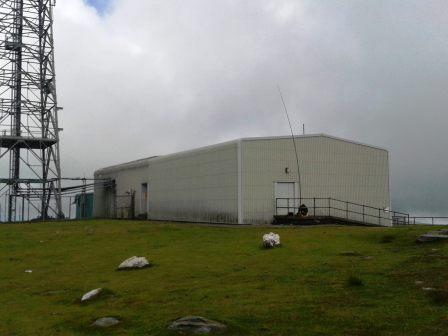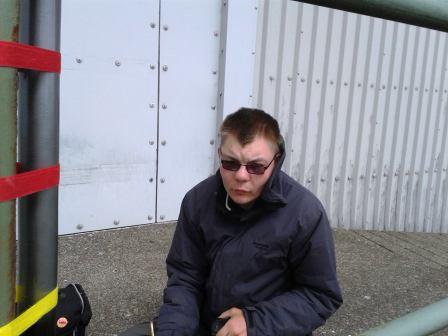 I was determined to do a spot of 20m from Snaefell, but hadn't really expected to be occupied for so long on 12m. Nonetheless, that was a happy inconvenience! When I did set up for 14MHz it was already gone 4.30pm BST, so I didn't spend too long on the band, and just batted away a quick 17 QSOs.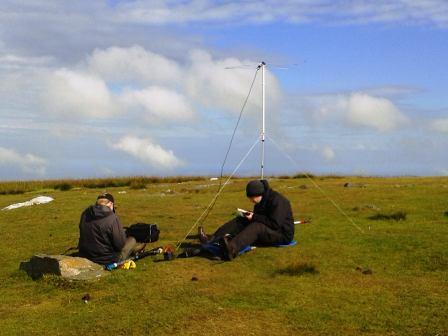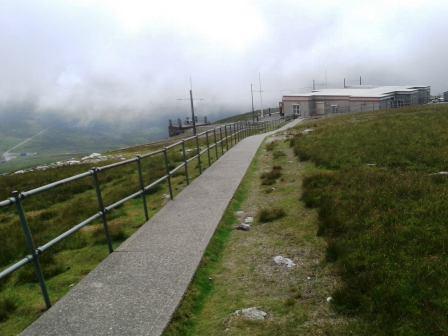 Ed had packed away by now, and Jimmy was certainly considering doing so, but in the end had a quick dabble on 2m SSB. This added just two extra QSOs to Jimmy's log. I got packed up and wandered with Liam down to the tram line in front of the cafe. It was now a beautiful afternoon, and we sat in a slightly sheltered spot and admired the now clear views down to the A18 mountain road. While Jimmy was packing away, I tried a quick CQ call on the VX7R, just with its rubber duck antenna. This added two Barrow-in-Furness stations, taking my tally for the day to 103 contacts.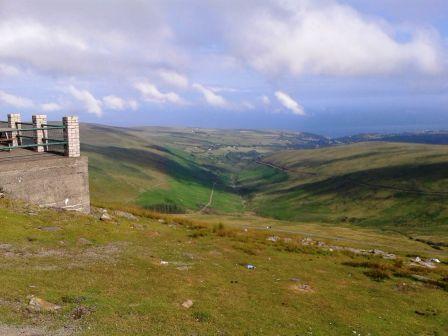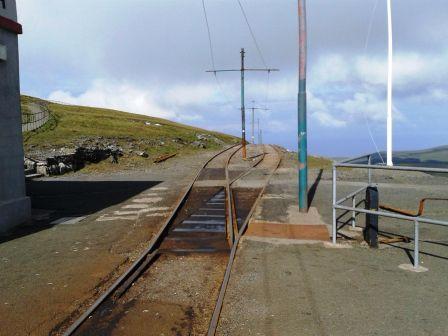 When the rucksack laden figures of Jimmy and Edward appeared walking down the sloping concrete pathway to the summit building, it was time for us all to descend. My decision to spend a little time on 20m at 4.30pm had ruled out the possibility of taking the tram down for the descent, which pleased Jimmy while slightly disappointing Edward! However, I was surprised to find that staff were still in the restaurant at 5.30pm, until I realised that this was one of the advertised Snaefell Sunset Dinner evenings. So trams would still be running, but only for pre-booked diners.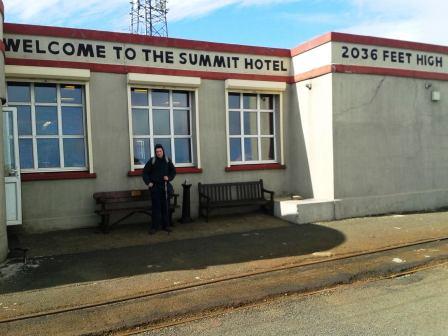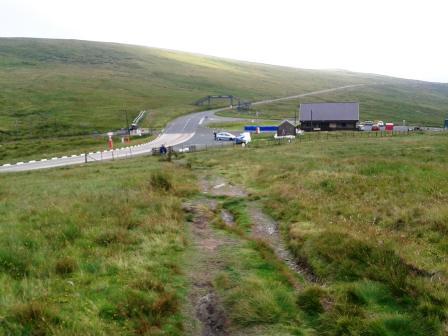 The descent was easy enough and fairly swift after such a long rest on the summit. We reached the Bungalow just as a tram was crossing the A18 to descend to Douglas - possibly to pick up that evening's diners. The lads and I drove back up to Union Mills and did a bit of shopping en route, picking up snack type items such as sandwiches and pasties for a light supper. After a shower at the campsite we took our food into the "Pitstop" - a kind of common room on the campsite with television, plug sockets for charging things, and free Wi-Fi. And then we went to the pub!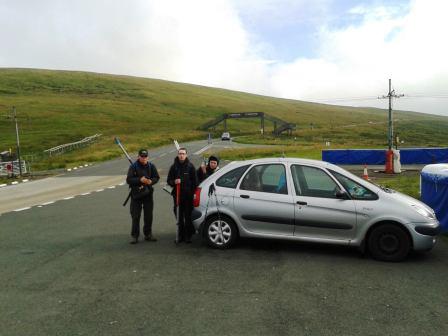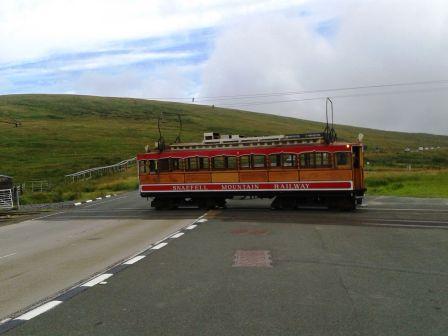 While Slieau Freoaghane GD/GD-002 was my favourite walk, I think Snaefell was my favourite day, with all aspects like the lunch in the summit restaurant and my amateur radio logbook taken into account. This was it - mission accomplished - all Isle of Man SOTA summits activated, and with two full days to spare. Mull Hill GD/GD-005 would get any remaining radio attention from us. Many thanks to all the following callers who worked us on Snaefell.
| | | | |
| --- | --- | --- | --- |
| 2E0XYL | 2m | FM | J |
| G4ZRP | 2m | FM | J |
| G4RQJ | 2m | FM | J |
| G6LKB/M | 2m | FM | J |
| GW4ZPL | 2m | FM | J |
| MI0BOU | 2m | FM | J |
| GI4ONL | 2m | FM | J |
| G6TUH | 12m | PSK31 | T |
| DL8OL | 12m | PSK31 | T |
| HB9MKV | 12m | PSK31 | T |
| OM7OM | 12m | PSK31 | T |
| OE5REO | 12m | PSK31 | T |
| OE5FSL | 12m | PSK31 | T |
| DL6XAZ | 12m | PSK31 | T |
| I4UUL | 12m | PSK31 | T |
| UA3PHY | 12m | PSK31 | T |
| EA5FIV | 12m | PSK31 | T |
| RA1TCJ | 12m | PSK31 | T |
| DK6AN | 12m | PSK31 | T |
| HB9AGH | 12m | PSK31 | T |
| DL5CJ | 12m | PSK31 | T |
| M3XIE | 40m | SSB | E |
| OH1LA | 12m | PSK31 | T |
| MW0DNK | 2m | FM | J |
| GM0AXY | 40m | SSB | E |
| SP6LUY | 12m | PSK31 | T |
| M0MDA | 40m | SSB | E |
| SQ8OAU | 12m | PSK31 | T |
| GW4VPX | 40m | SSB | E |
| OM5DP | 12m | PSK31 | T |
| G0TDM | 40m | SSB | E |
| GW4CQZ/M | 2m | FM | J |
| G1NUS | 40m | SSB | E |
| SQ8GBG | 12m | PSK31 | T |
| GM0YMM | 40m | SSB | E |
| DJ9KG | 12m | PSK31 | T |
| G6LUZ | 40m | SSB | E |
| DL6KR | 12m | PSK31 | T |
| GV8ADD | 40m | SSB | E |
| G0DRM | 40m | SSB | E |
| OK2EI | 12m | CW | T |
| I0KHY | 12m | CW | T |
| G3XQE | 40m | SSB | E |
| SP4JFR | 12m | CW | T |
| OV2V | 12m | CW | T |
| OE1KLW/3 | 12m | CW | T |
| DL1FU | 12m | CW | T |
| ES4OJ | 12m | CW | T |
| DM2RN | 12m | CW | T |
| DM3AZ | 12m | CW | T |
| HA5OV | 12m | CW | T |
| F5JGA | 12m | CW | T |
| OK1MDK | 12m | CW | T |
| OK2KR | 12m | CW | T |
| F5LVL | 12m | CW | T |
| EA1BXX | 12m | CW | T |
| DJ9KG | 12m | CW | T |
| SP6CZ | 12m | CW | T |
| K4DY | 12m | CW | T |
| OM7OM | 12m | CW | T |
| MW0IDX/M | 2m | FM | J |
| DJ5AV | 12m | CW | T |
| OK1RR | 12m | CW | T |
| DL5ML | 12m | CW | T |
| F5UJK | 12m | CW | T |
| N4EX | 12m | CW | T |
| OK1TA | 12m | CW | T |
| DK2TA | 12m | CW | T |
| DL1JEE | 12m | CW | T |
| G3XIU | 2m | FM | J |
| DL8BBJ | 12m | CW | T |
| RV4AB | 12m | CW | T |
| W4ZQ | 12m | CW | T |
| OE1WEU | 12m | CW | T |
| 2W0GWK | 2m | FM | J |
| OE1PPA | 12m | CW | T |
| OH1XX | 12m | CW | T |
| OK2KJU | 12m | CW | T |
| DL0FBG | 12m | CW | T |
| DL2RVL | 12m | CW | T |
| SP5IR | 12m | CW | T |
| EU1FY | 12m | CW | T |
| S52CU | 12m | CW | T |
| DF7AB/P | 12m | SSB | T |
| G4RQJ | 12m | SSB | T |
| EB2CZF | 12m | SSB | T |
| DG1BP | 12m | SSB | T |
| G6ODU | 12m | SSB | T |
| OK1DIG/P on Vidrholec ST-100 | 12m | SSB | T |
| OM7OM | 12m | SSB | T |
| DJ5AV | 12m | SSB | T |
| SM2SUM | 12m | SSB | T |
| EA2CKX | 12m | SSB | T |
| EA1GIB | 12m | SSB | T |
| DL8DXF | 12m | SSB | T |
| DL5WW | 12m | SSB | T |
| HA5OV | 12m | SSB | T |
| SQ9MZ | 12m | SSB | T |
| OE2SCM | 12m | SSB | T |
| EA2DT | 12m | CW | T |
| DL1SWN | 12m | CW | T |
| OM3SX | 12m | CW | T |
| OK1DMZ | 12m | CW | T |
| OK5CW | 12m | CW | T |
| DL2DXA/P on Unger SX-033 | 12m | CW | T |
| OK2MBP | 12m | CW | T |
| SP9FZC | 12m | CW | T |
| DJ0GD | 20m | CW | T |
| OK1MDM | 20m | CW | T |
| IT9CLM | 20m | CW | T |
| EA2DT | 20m | CW | T |
| SP4JFR | 20m | CW | T |
| UR5BV | 20m | CW | T |
| DL8DXL | 20m | CW | T |
| DL8UVG | 20m | CW | T |
| DK7ZH | 20m | CW | T |
| PA0B | 20m | CW | T |
| SM7DER | 20m | CW | T |
| F5SQA | 20m | CW | T |
| DJ6PC | 20m | CW | T |
| DL9MWG | 20m | CW | T |
| UR5AW | 20m | CW | T |
| IK3ELC | 20m | CW | T |
| 2W0DAA | 2m | SSB | J |
| DK7FZ | 20m | CW | T |
| G4UXH | 2m | SSB | J |
| G6LKB/M | 2m | FM | T |
| M6LSB | 2m | FM | T |