I could barely believe it, but it turned out that as of the morning of Thursday 17th July 2014, Jimmy M0HGY had not yet harvested the 2014 activator points from Shining Tor G/SP-004. Shockingly, he hadn't been up there since the dark days of 2013. Moreover, neither had I! Time to put that right! We had a few errands to run in town first, the highlights of these being a freshly baked Spearing's meat & potato pie (aka a "Macclesfield Breakfast") and a quick call into Richard G3CWI at SOTAbeams, now in a town centre industrial unit.
It was hot and sunny for the walk up to Shining Tor summit, and worryingly, not at all windy, not even when approaching the top. This problem manifested itself in the form of incessant midge bother during the activation. At least I managed to keep them out of my Baxters Cock-a-leekie soup.
Jimmy was just using his VX-110 handie with rubber duck today, but still made 9 contacts on 2m FM including S2S with John GW4TQE/P on Moel y Gamelin GW/NW-042. He added three further S2S to his tally by sitting in on my gear and working Jack GW4COX/P and Allan GW4VPX/P on Mynydd Carningli GW/MW-033, then Bartek SQ9OJN/P on Wiezyca SP/PO-001.
My 32 QSO total for the activation included the same four S2S as Jimmy had worked, plus 22 more on 20m CW, and a couple more on each of 20m SSB and 2m FM. As we approached 1pm local though, the midges were convincing us that we needed to be in the Cat & Fiddle, and not on Shining Tor summit. And so we made a beeline for that famous hostelry, sitting on the saddle between Shining Tor and Axe Edge. A pint of Hartleys Cumbrian Way never tasted so good. Back at home, I made my final preparations for YOTA UK that coming Saturday.
| | | | |
| --- | --- | --- | --- |
| GW4TQE/P on Moel y Gamelin GW/NW-042 | 2m | FM | T, J |
| 2E0LKC | 2m | FM | J |
| G4ZRP | 2m | FM | J |
| M6DSV | 2m | FM | J |
| GW7CEA | 2m | FM | J |
| HA/DL1DUS | 20m | CW | T |
| N1EU | 20m | CW | T |
| YL2AG | 20m | CW | T |
| OM1DM | 20m | CW | T |
| LA1ENA | 20m | CW | T |
| S52CU/P on Šentanski vrh S5/KA-029 | 20m | CW | T |
| OK2PDT | 20m | CW | T |
| SM6DER | 20m | CW | T |
| SP9AMH | 20m | CW | T |
| YO2LIW | 20m | CW | T |
| DL4TO | 20m | CW | T |
| 2E0NSR/M | 2m | FM | J |
| UX5VK | 20m | CW | T |
| EA2LU | 20m | CW | T |
| DL3HXX | 20m | CW | T |
| HA5BWW | 20m | CW | T |
| OK1APY | 20m | CW | T |
| OK1NVO | 20m | CW | T |
| HB9CBR/P on Le Point de Vue HB/JU-002 | 20m | CW | T |
| G3CWI | 20m | CW | T |
| GW4COX/P on Mynydd Carningli GW/MW-033 | 20m | SSB | T, J |
| 2E1AEQ/M | 2m | FM | J |
| G0DMV/M | 2m | FM | J |
| EA2LMI | 20m | SSB | T |
| GW4VPX/P on Mynydd Carningli GW/MW-033 | 20m | SSB | T, J |
| SQ9OJN/P on Wiezyca SP/PO-001 | 20m | SSB | T, J |
| OK1SDE | 20m | SSB | T |
| IZ1PLH | 20m | CW | T |
| LZ4GL | 20m | CW | T |
| HA2RQ | 20m | CW | T |
| F8BJK/P | 20m | CW | T |
| DJ5AV | 20m | CW | T |
| G6AKK | 2m | FM | T |
| G6AKK | 2m | FM | J |
| 2E0LKC | 2m | FM | T |
The 27th and 28th of December turned out to be unanticipated non-activating days, due to a surprise dep gig coming up on the Saturday. Playing with this outfit - https://earcandylive.co.uk/band-detail/motown-gold/ - in Solihull - also meant a lie-in and generally restful day on the Sunday. However, come Sunday night I was getting itchy feet, especially with the favourable weather forecast for the next couple of days.
However, Marianne advised that she was off work on the Monday and wanted to go out for a walk. SOTA tends not to be allowed on walks with The Government. Double however, Marianne also advised that she would be commencing her Monday with a lie-in. Therefore I set my alarm for 5am on Monday 29th December 2014, and plotted an early morning activation of Shining Tor G/SP-004. After all, the three winter bonus points were still available to me for this one, even if the two summit points had already been bagged.
I took it easy on the roads, which looked pretty icy, and the temperature was certainly subzero as I set out from Macclesfield. The A537 Cat & Fiddle road was not closed, and there were a few cars coming the other way down Buxton Road. Sure enough, the road was clear of snow all the way to the Cat & Fiddle, however, the parking spot was very iced up. Hence I went past it, turned around, and pulled into it so that I was facing downhill!
After booting and kitting up, I commenced along the track with the light of my Petzl headtorch illuminating the particles of fog as much as anything else. With little to see other than the snow beneath my feet, the walk seemed to take spookily longer, but it was good fun nonetheless. The "landmarks" of the various dry stone walls and kissing gates were only visible once within a few feet of them, so it was mainly a case of following the bootprints in the snow and having faith!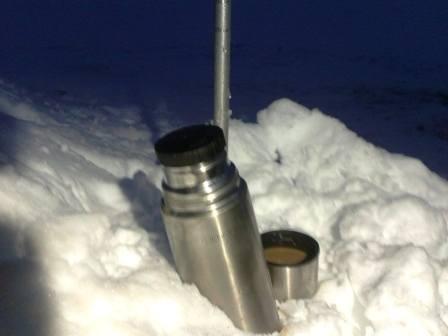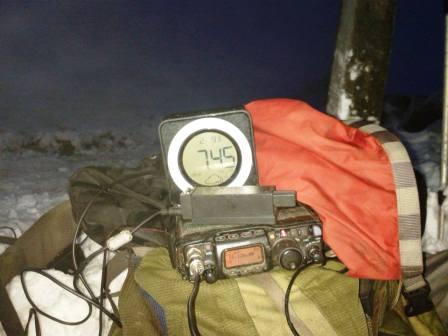 Upon reaching the summit, I assessed the direction of the prevailing breeze, which was thankfully fairly light, and dug myself a shelter in the snow by the corner of the wall. Up went the 30m dipole, and I switched on the radio. The band seemed quite lively, and I initially answered a couple of CQ calls from S5 and SM. I then settled myself on 10.120MHz and called CQ SOTA. I wasn't too upset that the first calls did not attract a reply, as it gave me time to pour my first hot coffee of the morning from the flask.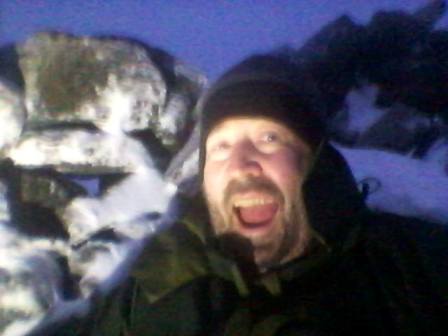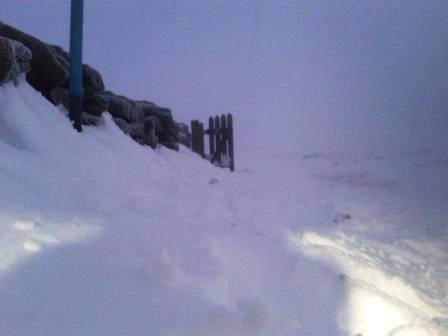 A steady run of 20 QSOs was had on 30m CW, and I even managed to video one of them!
After packing away, I put out the obligatory call on the 2m FM handie, and worked Ian GW6MXJ. With that, the radio was all quiet and I got on my way with the return walk. This was now very different in character. Not only was it daylight, but visibility was excellent under clear blue skies and bright sunshine. The walking was such a pleasure that I yearned for more.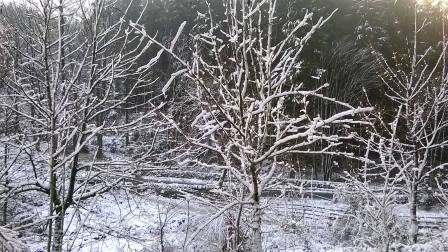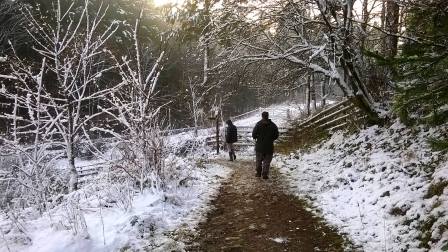 After returning home, I persuaded Marianne and Liam to come out with me for a walk in Macclesfield Forest. We walked from Trentabank Reservoir towards Shutlingsloe, although I lost out on a majority vote and was unable to take the spur to actually summit the "Cheshire Matterhorn". We continued to Standing Stone and then completed the circular walk following the road back down to Trentabank.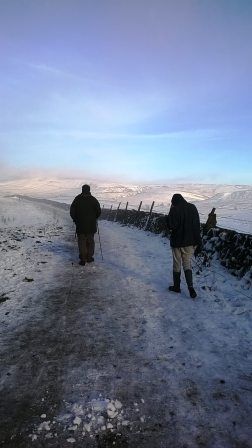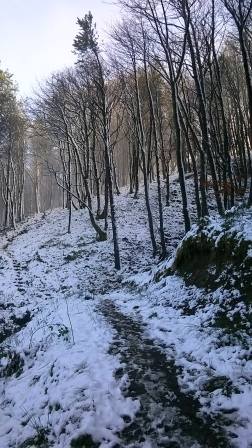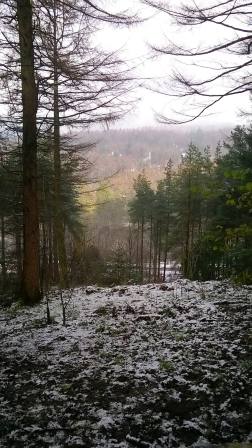 A pub lunch was taken at the Puss In Boots, but still I yearned for more. Marianne and Liam stated that they would be watching "Frozen" at home that late afternoon. I took this as a cue to excuse myself, and get out for some more hilltop fresh air - on Gun G/SP-013.
| | | | |
| --- | --- | --- | --- |
| Time | Call | Band | Mode |
| 07:31z | S57WJ | 10MHz | CW |
| 07:36z | SE2014ECC | 10MHz | CW |
| 07:38z | OK2PDT | 10MHz | CW |
| 07:41z | SM4CTI | 10MHz | CW |
| 07:42z | OE5FSM | 10MHz | CW |
| 07:42z | OK4IT | 10MHz | CW |
| 07:47z | OK1PL | 10MHz | CW |
| 07:48z | DL6MST | 10MHz | CW |
| 07:48z | DL5CL | 10MHz | CW |
| 07:50z | OM1AX | 10MHz | CW |
| 07:50z | SM7DIE | 10MHz | CW |
| 07:53z | DL8MLD | 10MHz | CW |
| 07:54z | SP8RHP | 10MHz | CW |
| 07:57z | OM5AA | 10MHz | CW |
| 07:59z | OM5ZZ | 10MHz | CW |
| 08:07z | G4TJC | 10MHz | CW |
| 08:08z | DL8DXL | 10MHz | CW |
| 08:19z | DL2HWI | 10MHz | CW |
| 08:21z | IU3AZC | 10MHz | CW |
| 08:22z | DL3HXX | 10MHz | CW |
| 08:37z | GW6MXJ | 144MHz | FM |