With significant snowfall in downtown Macclesfield during the Saturday late afternoon and evening, I decided a walk up Shining Tor G/SP-004 would be good. I got up just before 7am on Sunday 17th January 2016 and made a flask of coffee.
I checked the CatCam on http://www.maccinfo.com6 which from time to time showed car headlights, and other websites confirmed that the A537 was "passable with care". I drove up to the normal parking space just before the Cat & Fiddle. However, before parking, I turned my car around so it was facing the right way for going home later, and, importantly, downslope, just in case!
I was the first walker on the paths, so there were several deep snowdrifts to get through, which absorbed some time and energy. Once through the top gate, the traverse across the dip ahead of the summit itself was surprisingly easy going. I was surprised to met a man and a woman with their daughter (about 8 years old) coming the other way, as the snow was fresh, and the only previous footprints were those of grouse. "Where did you start from?" I enquired. "Shining Tor" they replied, and it transpired they had overnighted there. Great stuff.
It was useful at the summit to have a deep drift to support my pole, as the ground was hard and not taking pegs. As it was, all that was required was the snow to push the pegs into to spread out the radials.
No conditions on 10m, and just three local G stations worked on 10m CW. I think all of them have been worked before in the SOTA Challenge periods too, so I won't have added to my score. Using the same (10m/6m vertical) aerial, I did a bit on 2m FM and added 8 QSOs. Pleasant.
| | | | |
| --- | --- | --- | --- |
| Time | Call | Band | Mode |
| 09:42z | G4APO | 28MHz | CW |
| 09:44z | G3RKF | 28MHz | CW |
| 09:49z | M6MPC | 28MHz | CW |
| 10:09z | G4ZWY | 144MHz | FM |
| 10:14z | G0NAJ | 144MHz | FM |
| 10:15z | G7APM/M | 144MHz | FM |
| 10:16z | M6DHK | 144MHz | FM |
| 10:18z | M0PYA | 144MHz | FM |
| 10:19z | M0CQE | 144MHz | FM |
| 10:20z | G4JCH/P | 144MHz | FM |
| 10:21z | G4VSJ | 144MHz | FM |
To Saturday 5th March, and I was up quite early, probably due to the previous day's Friday football being cancelled. After a hearty breakfast at "Nosh & Breks" on Hurdsfield Road, I drove up the Buxton Road for a look at Shining Tor G/SP-004. The usual parking spot was under deep snow and I didn't dare risk it. Instead, I drove further up the road and parked opposite the (still closed) Cat & Fiddle pub.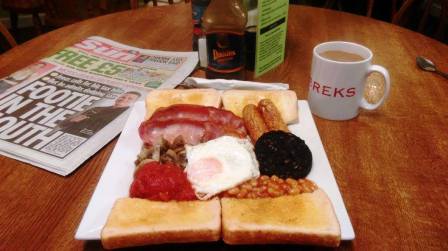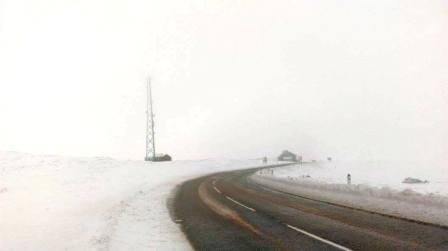 Even walking the short section back down the road to the normal track to start the walk, was hard work with deep snow right up to the roadside. Once on the track, I was plodding through 12 inch deep snow already. It had either snowed again overnight, or it had drifted and smoothed over.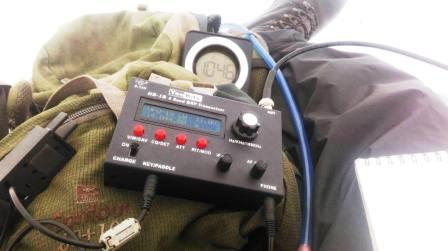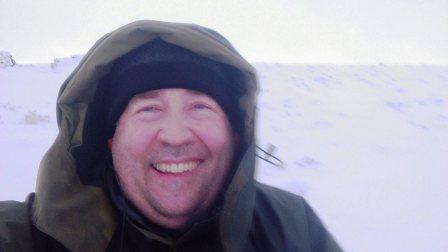 Once I turned the corner above the Peak View Tearooms, the going got really tough, and I was either bulldozing my way through waist-high drifts, or clambering onto the heathery banks beside the path to try and make the going marginally easier. Either way, it was slow and tiring progress and I considered abandoning on several occasions.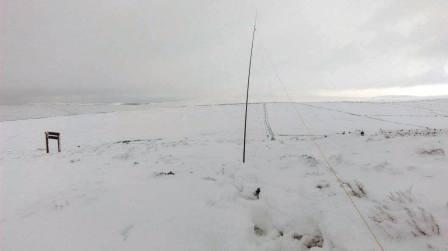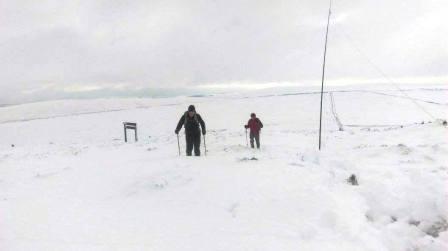 This continued until the final approach for the summit, with the lying snow getting deeper and deeper. Still, it seemed I was the first on these routes in the day, so although the going was tough, it was amazingly beautiful. Well, I was the first human anyway. There was periodic evidence of grouse footprints, but that was all.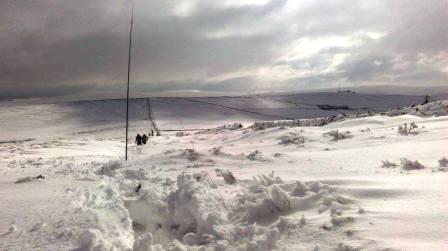 I decided to set up on the final ascent towards the summit, about 10-15m vertically below. This afforded me complete shelter, and a cracking view over the Goyt Valley, Cat & Fiddle and Axe Edge. I set up the end-fed & Micro Z tuner, feeding the HB1B. Last week I couldn't get a single contact on 20m with this set-up, but this time it was totally different, and it was 40m that was hard to get going.
220m CW: 17 QSOs (including S2S with OK2PDT/P on OK/VY-039) 30m CW: 15 QSOs 40m CW: 7 QSOs
I was quite satisfied with 39 QSOs, and as ever, really enjoyed using the HB1B, which is a lovely rig to use. Plenty of people walked up and past me during my activation, most taking an interest in what I was doing. I was pleased because their footsteps would make my descent much much easier! Indeed the return walk to the Cat was probably about a third of the outward walk, in terms of time taken and energy expended. Lovely morning out playing radio.
| | | | | |
| --- | --- | --- | --- | --- |
| Time | Call | Band | Mode | S2S |
| 10:30z | OH9XX | 14MHz | CW | |
| 10:30z | DL7VKD | 14MHz | CW | |
| 10:31z | SM7DIE | 14MHz | CW | |
| 10:33z | SP9AMH | 14MHz | CW | |
| 10:33z | YO2BP | 14MHz | CW | |
| 10:35z | HA5LV | 14MHz | CW | |
| 10:35z | DL7URB | 14MHz | CW | |
| 10:36z | EA2DT | 14MHz | CW | |
| 10:37z | EA1CVZ | 14MHz | CW | |
| 10:37z | DL3HXX | 14MHz | CW | |
| 10:38z | DL0ABT | 14MHz | CW | |
| 10:39z | OE5FSL | 14MHz | CW | |
| 10:40z | EA/PA7ZEE | 14MHz | CW | |
| 10:41z | OK2PDT/P | 14MHz | CW | OK/VY-039 |
| 10:43z | S52CU | 14MHz | CW | |
| 10:44z | DJ5AV | 14MHz | CW | |
| 10:44z | OK1DVM | 14MHz | CW | |
| 10:52z | F5SQA | 10MHz | CW | |
| 10:53z | EA2DT | 10MHz | CW | |
| 10:53z | DL1FU | 10MHz | CW | |
| 10:54z | PA0B | 10MHz | CW | |
| 10:55z | SM4BNZ | 10MHz | CW | |
| 10:56z | SM0CUH | 10MHz | CW | |
| 10:57z | HA4BLM | 10MHz | CW | |
| 10:59z | F6FTB | 10MHz | CW | |
| 11:00z | DJ6ZC | 10MHz | CW | |
| 11:01z | DL6WT | 10MHz | CW | |
| 11:02z | PA7MDJ | 10MHz | CW | |
| 11:02z | DL2EF | 10MHz | CW | |
| 11:03z | PA0WLB | 10MHz | CW | |
| 11:05z | F6EAZ | 10MHz | CW | |
| 11:06z | ON6ZQ | 10MHz | CW | |
| 11:11z | M1BUU | 7MHz | CW | |
| 11:12z | G4OBK | 7MHz | CW | |
| 11:16z | G4ISJ | 7MHz | CW | |
| 11:22z | G4FGJ | 7MHz | CW | |
| 11:23z | G4TJC | 7MHz | CW | |
| 11:29z | PA0SKP | 7MHz | CW | |
| 11:32z | G4SSH | 7MHz | CW | |
When I read that Andy G6PJZ was intending activating my local three hills, I invited myself to join him. Thankfully Andy was happy with this. It would be a relatively late start with Andy making a long drive after activating Normanby Top G/TW-005 during the morning.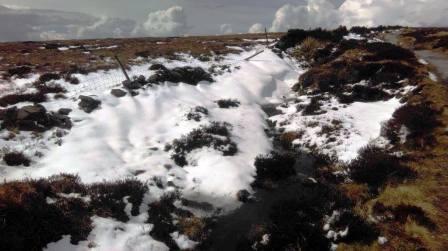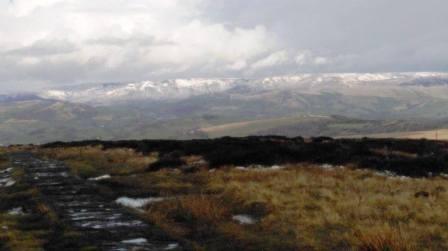 The morning of Saturday 30th April 2016 did not look promising here in Macclesfield, particularly when the din of the intense hail clattering the roof of the conservatory was drowning out the thunder! I had to leg it 10 feet from my front door to my car in that hail, which turned to snow as I drove up the Buxton road.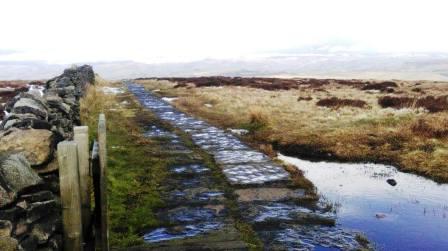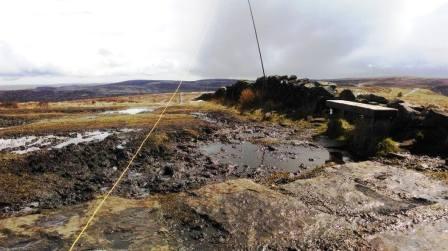 I parked initially at the Cat & Fiddle to try and establish 2m contact with Andy. No joy with that, so I retreated to park at the usual spot at the start of the track. I waited another half hour or so, then decided to start my walk as the weather abated. As I walked around the corner above the tearooms, several significant patches of snow began to appear on the sides of the path. May Day bank holiday weekend, right?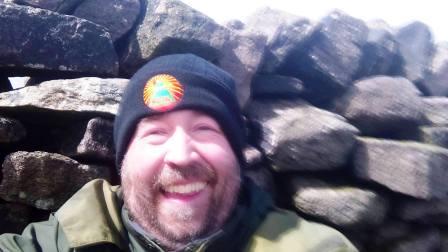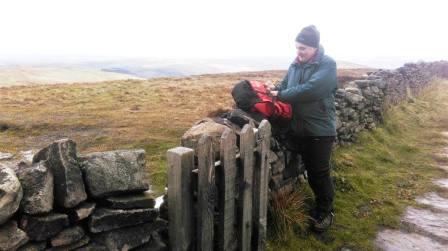 I made it to the summit of Shining Tor G/SP-004, and there was still no sign or sound of Andy. I set up the end-fed wire antenna with Micro Z tuner, and operated on the HB1B, just on 30m CW. I made only two contacts before a period of light hail was following by what appeared to be a bit of static from the end of the antenna. End of HF part of the activation! I grabbed what I could to insulate myself as I quickly disconnected.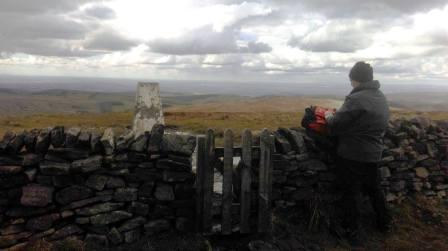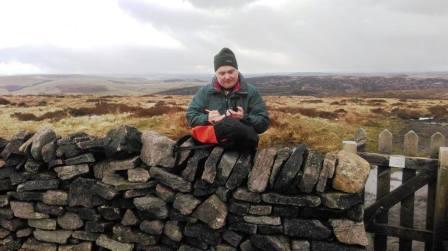 With most of my stuff packed back away, I operated simply using the 2m HT. One of the first calls was G6PJZ/P who was now ascending, but well out of the AZ. S2S points came through courtesy of Viki M6BWA/P on Callow Hill G/WB-015. It was nice to meet Andy G6PJZ. We got on really well and had an enjoyable day doing joint activations. I made a total of 11 contacts on Shining Tor: 2 on 30m CW, 1 on 70cm FM and 8 on 2m FM. Andy and I then chatted on 2m FM as we drove over to the parking spot for Gun G/SP-013.
| | | | | |
| --- | --- | --- | --- | --- |
| Time | Call | Band | Mode | S2S |
| 12:53z | M6RUG | 144MHz | FM | |
| 13:14z | DL2HWI | 10MHz | CW | |
| 13:15z | HB9CGA | 10MHz | CW | |
| 13:35z | G6PJZ/P | 144MHz | FM | |
| 13:37z | G8RBW/M | 144MHz | FM | |
| 13:39z | GW4TJC/P | 144MHz | FM | |
| 13:41z | M0CQE | 144MHz | FM | |
| 14:05z | M6BWA/P | 144MHz | FM | G/WB-015 |
| 14:07z | M6BWA/P | 433MHz | FM | G/WB-015 |
| 14:11z | G0OHY | 144MHz | FM | |
| 14:12z | M0HGY | 144MHz | FM | |
My route up Shining Tor G/SP-004 for today's activation again followed this super ridge route from Whaley Bridge. It was a really rare one too in that it was a whole family outing. With no buses available on a Sunday to support this linear walk, it was necessary to deploy two cars. We kicked off by loading all the poles and packs into Marianne's Fiat, then driving both cars to the Cat & Fiddle. There we left my Citroen in the car park and all piled into Maz's car. She then drove via Buxton to Whaley Bridge, parking at Taxal.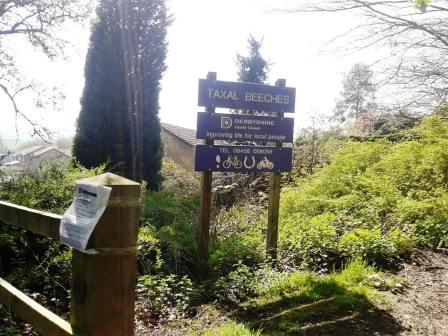 The first part of the walk through the wood at Taxal Beeches is a pleasant way to get into your stride. There was then a bit of a climb up a minor road and then a bank to get onto Taxal Edge, and that was the most strenuous ascent of the entire walk behind us!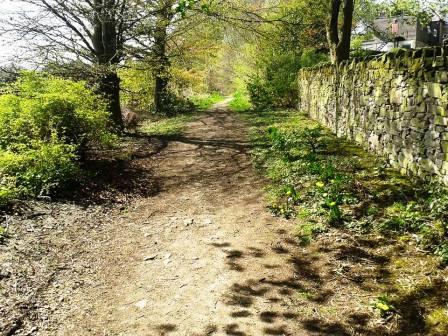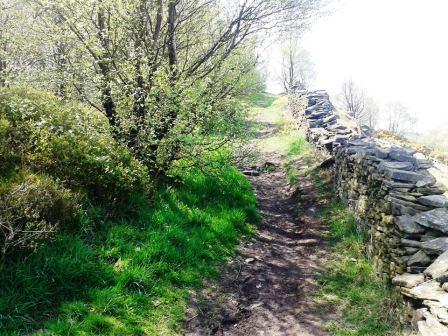 I really enjoyed walking alongside the tall drystone wall that runs along the apex of Taxal Edge. Soon the views ahead opened out and we could pick out our later landmarks of Windgather Rocks, Pym Chair, Shining Tor and the Cat & Fiddle. We hadn't seen Jimmy since the first minute of the walk and wouldn't do so again until reaching G/SP-004 summit! Nonetheless, I managed to at least keep up with the respectable pace being forged by Marianne and Liam on this baking hot May lunchtime.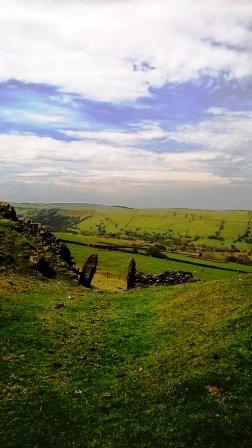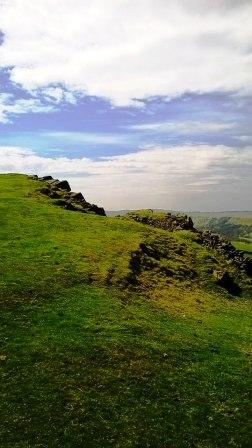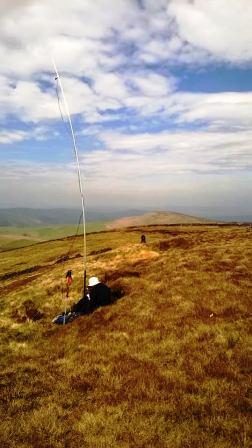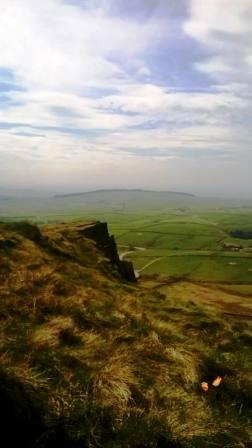 Marianne had brought some delicious and refreshing tangerines for the walk which went down very well. After Taxal Edge, we dropped to pass through a farm and a field full of young lambs. We continued onto Windgather Rocks which was extremely busy with roped climbers and abseilers. The next section to Pym Chair seems to take an age, but it is flat and very easy walking. In fact, this route is, relatively speaking, very "flat" indeed! Very rarely is the sensation of increased physical effort resulting from gradient experienced.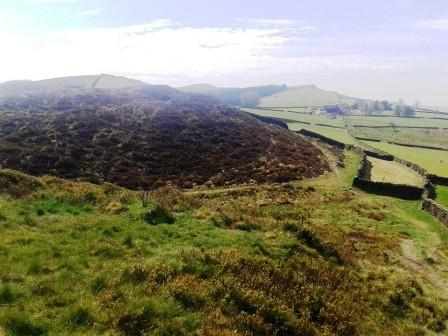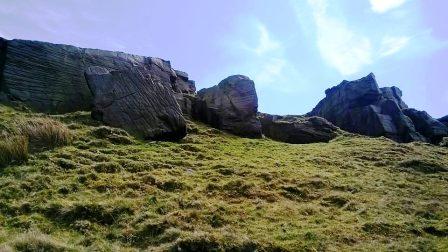 The section from Pym Chair to Shining Tor is a little more undulating, and obviously with the net height change being up. However, the path is good, the weather was lovely and once on the flagged path, it was a speedy few more minutes to the summit.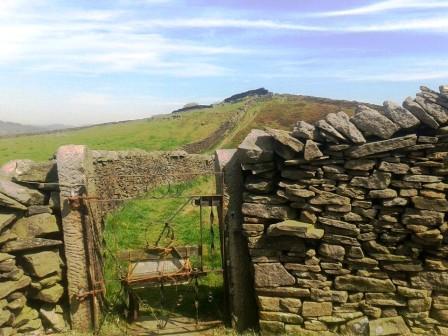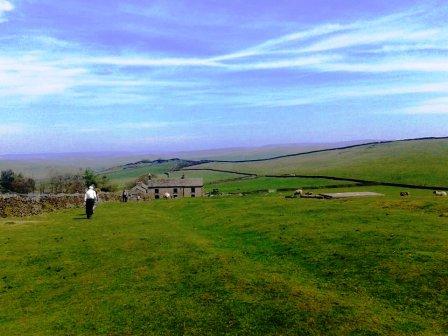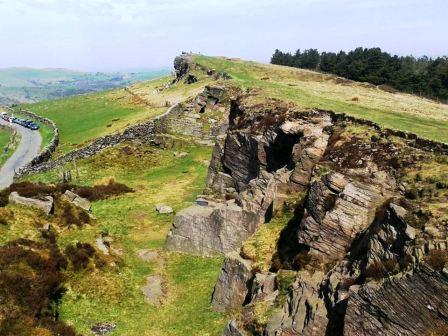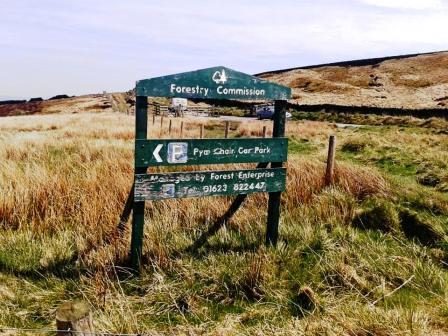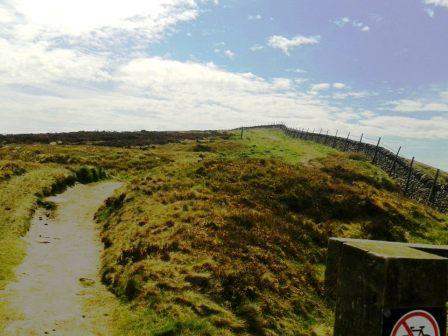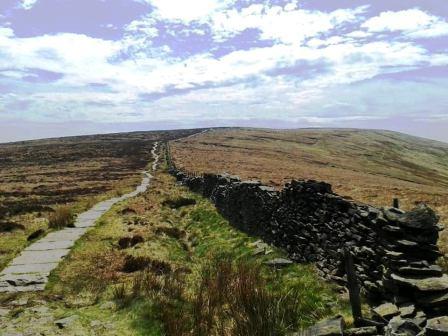 It was rather breezy, but this was welcome in the hot sunshine. Sunhats, sunglasses and factor 50 were the order of the day, and fleeces and jackets remained in the rucksacks. Jimmy M0HGY was already deep into his activation by the time I arrived on summit, and he ended with 19 QSOs, all on 2m FM. The SOTAbeams MFD perched atop a SOTA Pole at the edge of the summit plateau overlooking the A537 was a potent weapon and Jimmy was receiving many overtures about the strength of his signal.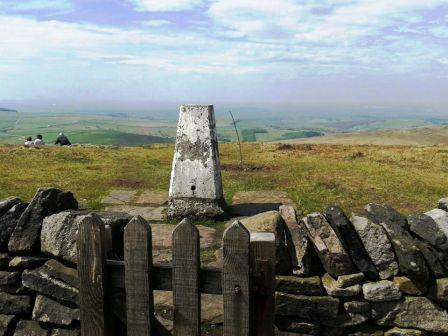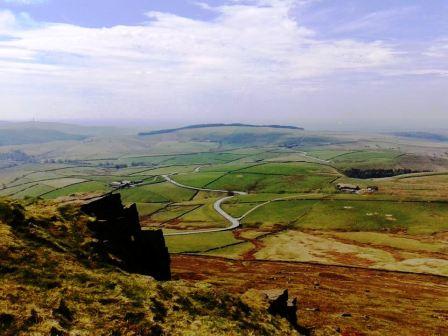 My own activation was comparatively underwhelming. Initially I was intending a mere 2m FM HT operation due to my wife being in attendance! However, shortly after my arrival at the summit, she asked for the car keys and said she and Liam would walk to the Cat & Fiddle, collect the car and meet us at the Peak View Tearooms.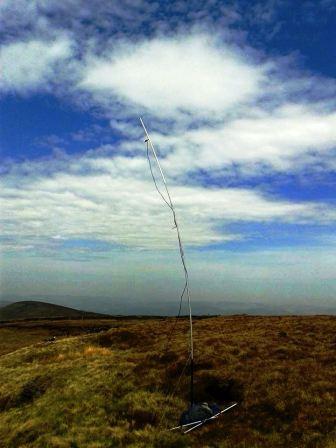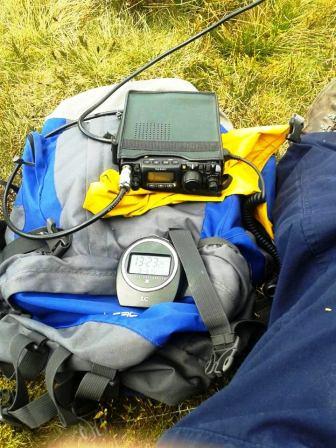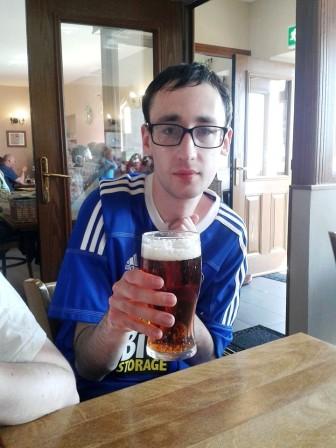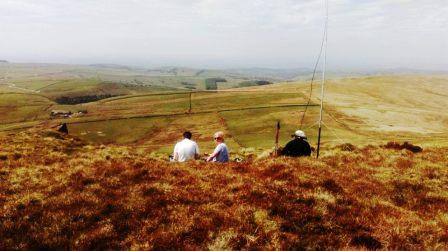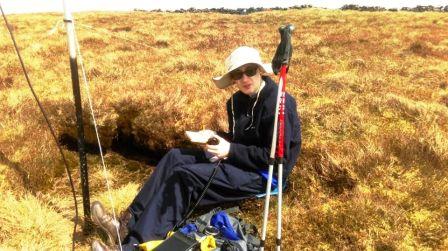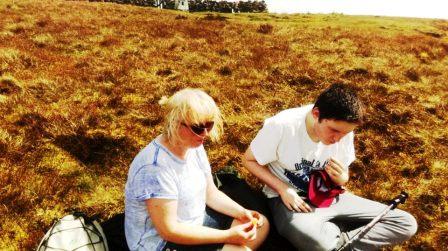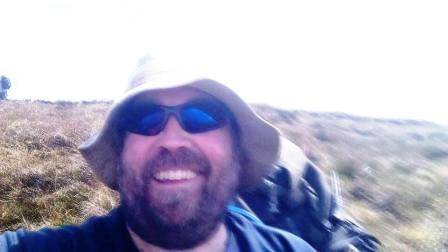 I set up the end-fed longwire and tuner, but just couldn't get things going. Just three QSOs, one each on 30m CW, 40m CW and 20m CW. The first and third of those were S2S with Graeme M0OAT/P on Cross Fell G/NP-001, so that was some consolation at least. Jimmy had now packed up and set off for the tearooms, so I thought I'd better do same. I added three 2m FM QSOs on the VX7 before setting off, one of whom was Jimmy M0HGY/M approaching the tearooms.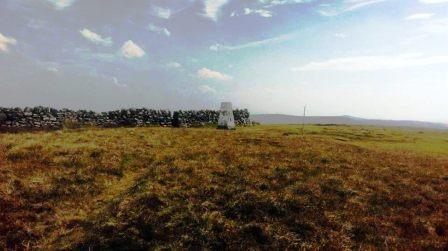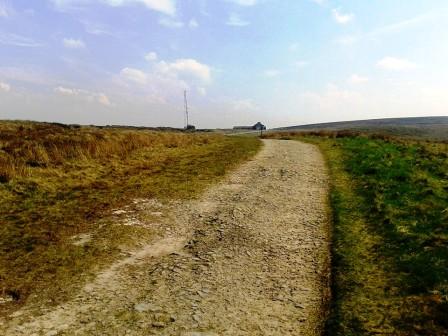 I took the direct PROW to the tearooms past a farmhouse and through a normally boggy field. Dry as a bone and no problem today though. At Peak View, the reward was sausage, bacon and cheese Staffordshire oatcake with chips and veg, accompanied by Storm Brewery "Silk of Amnesia" ale.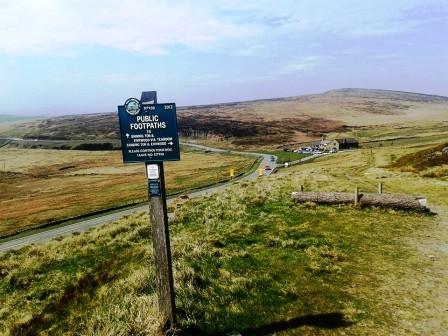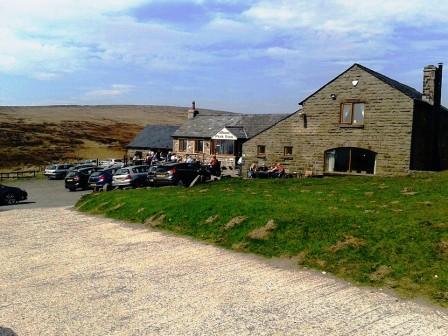 We then had the slightly tedious task of driving over to Whaley Bridge to reunite Marianne with her car before heading home to Macclesfield. A great walk of about 9.5km and an enjoyable day out. The photos above were taken by Jimmy, Marianne and myself - but the majority of them by Jimmy (and his photos are the best ones too!).
| | | | | | |
| --- | --- | --- | --- | --- | --- |
| Time | Call | Band | Mode | S2S | Notes |
| 12:26z | M3LIU | 144MHz | FM | | M0HGY/P |
| 12:27z | 2E0LMD | 144MHz | FM | | M0HGY/P |
| 12:27z | 2E0LKC | 144MHz | FM | | M0HGY/P |
| 12:28z | M6AIF | 144MHz | FM | | M0HGY/P |
| 12:29z | M0CQE | 144MHz | FM | | M0HGY/P |
| 12:30z | G4ZAD | 144MHz | FM | | M0HGY/P |
| 12:31z | M1EYP/M | 144MHz | FM | | M0HGY/P |
| 12:32z | G0MJY | 144MHz | FM | | M0HGY/P |
| 12:33z | G0PSM | 144MHz | FM | | M0HGY/P |
| 12:37z | M0TTK/M | 144MHz | FM | | M0HGY/P |
| 12:38z | M6GOS | 144MHz | FM | | M0HGY/P |
| 12:39z | 2E0BTX/M | 144MHz | FM | | M0HGY/P |
| 12:40z | G6LKB | 144MHz | FM | | M0HGY/P |
| 12:44z | G0DUQ | 144MHz | FM | | M0HGY/P |
| 12:47z | G4DGM | 144MHz | FM | | M0HGY/P |
| 12:47z | G4DGM | 144MHz | FM | | M0HGY/P |
| 12:51z | M0OTE | 144MHz | FM | | M0HGY/P |
| 12:54z | GW1YQM | 144MHz | FM | | M0HGY/P |
| 12:57z | G3TDH | 144MHz | FM | | M0HGY/P |
| 13:08z | M0OAT/P | 10MHz | CW | G/NP-001 | M1EYP/P |
| 13:13z | DL6WT | 7MHz | CW | | M1EYP/P |
| 13:19z | M0OAT/P | 14MHz | CW | G/NP-001 | M1EYP/P |
| 13:29z | 2E0LKC | 144MHz | FM | | M1EYP/P |
| 13:30z | 2E0LMD | 144MHz | FM | | M1EYP/P |
| 13:31z | M0HGY/M | 144MHz | FM | | M1EYP/P |