The forecast for Wednesday 13th August 2014 was much the same - showers with sunny spells. Rather than a full day's expedition on Fan Nedd GW/SW-007 and Fan Gyhirych GW/SW-006, wich had been originally pencilled in by Jimmy, we opted for a couple of one pointers with a drive between them, ensuring that shelter was never far away. For Trichrug GW/SW-022, we accessed the public byway south of the summit, and drove up to Bwlch y Gors where I parked. For the ascent, we followed the fence as it clung to the ridgeline. This was not the best approach as it required us to stride over a barbed wire fence about a third of the way up. By this stage, we could see a better and unimpeded line below us to the left. That was earmarked for the descent later.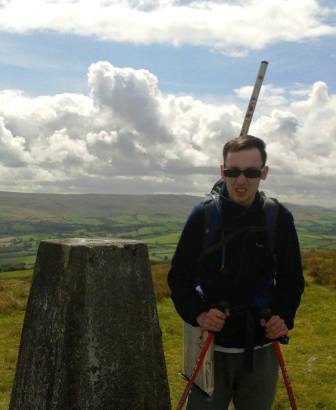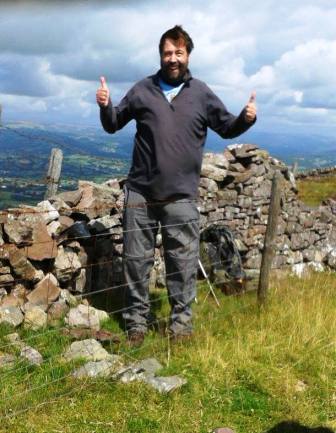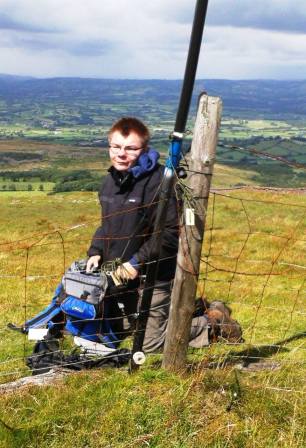 At the summit, I set up the end-fed and tuner, and wedged myself in a narrow sheltered spot between dry stone wall and barbed wire fence. Just five QSOs on 40m CW, and one on 40m SSB. The band did not appear to be in great shape and I wondered about trying on 20m instead. I checked on the progress of Jimmy and Edward, and found that they had both qualified on 2m FM. So I abandoned thoughts of 14MHz operation and started packing up instead.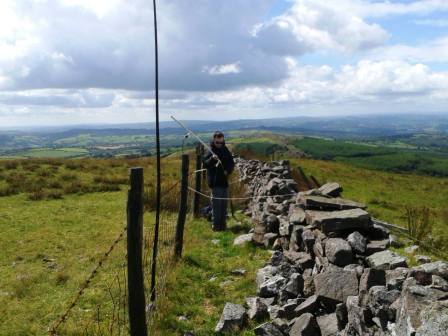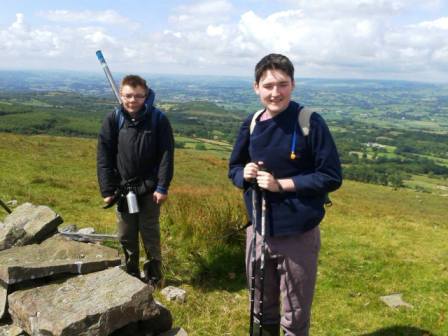 We descended down the line identified during the ascent, and this worked well. A spectacular drive over the Black Mountains followed, and a brief lunch stop in Cwmllynfell, before we made our way to Mynydd Allt-y-grug GW/SW-032.
| | | | | |
| --- | --- | --- | --- | --- |
| Time | Call | Band | Mode | Op |
| 12:28z | DL2KAS | 7MHz | CW | T |
| 12:29z | GW6OVD | 144MHz | FM | J |
| 12:29z | DL1DVE | 7MHz | CW | T |
| 12:29z | PA0XAW | 7MHz | CW | T |
| 12:36z | MW0PJJ | 144MHz | FM | J |
| 12:36z | GW4VPX | 144MHz | FM | J |
| 12:36z | DL1FU | 7MHz | CW | T |
| 12:36z | G4SSH | 7MHz | CW | T |
| 12:40z | GW1MNC/M | 144MHz | FM | J |
| 12:41z | GW4VPX | 7MHz | SSB | T |