Y Garn, GW/NW-037 - 629m ASL - SH 702 230 - OS Explorer OL17 - 4 SOTA points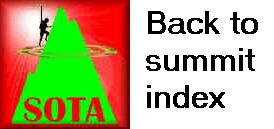 Thursday 6th June 2019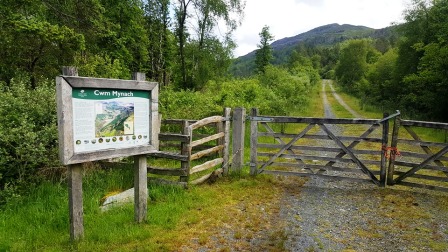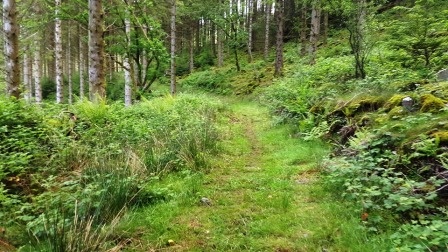 I'd activated my first GW SOTA over 16 years earlier in 2003 - Cyrn-y-Brain GW/NW-043. Jimmy kicked his own record off with Tal y Fan GW/NW-040 in 2005. This day saw us activate our 77th and final GW/NW SOTA summit.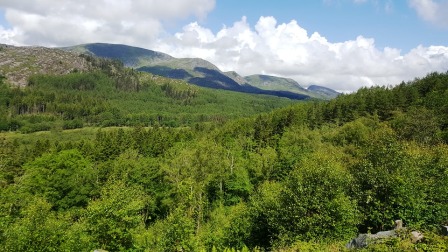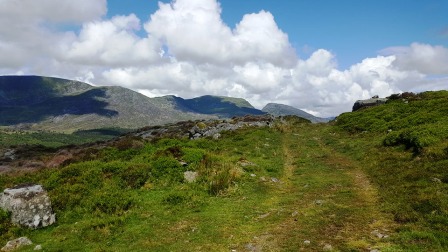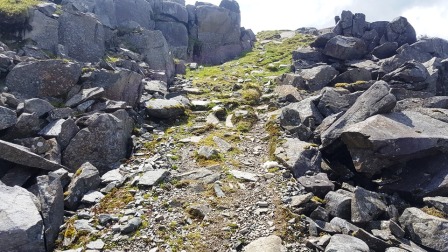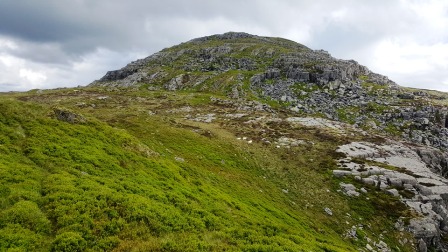 It was a good celebration! It might seem somewhat premature to celebrate the completion of a region, but GW/NW was a tall order - and bigger than many entire associations, including four that we had already completed ourselves!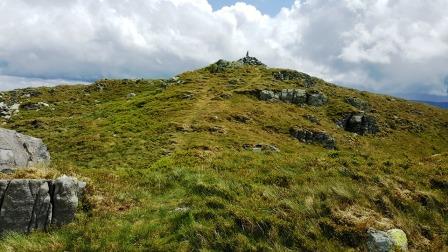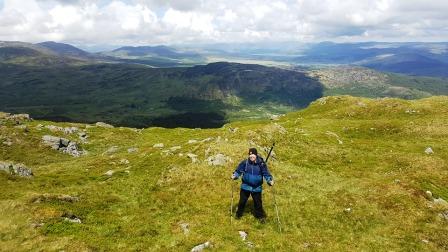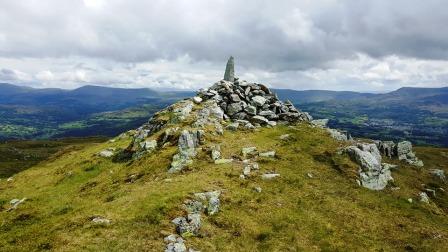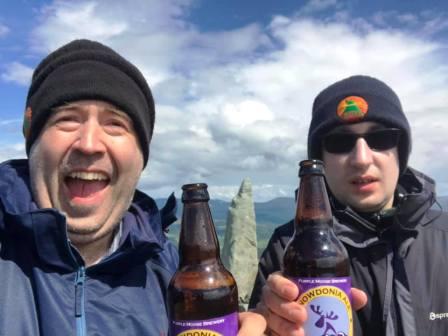 It was a very short drive from our B&B in Dolgellau, and we parked In a wide track opening quite a way down a long narrow winding dead end lane. We walked initially along a track but soon branched right to follow a footpath up a slope. This one just went up and up, teasing me with false summits, one after the other. Some sections were quite a steep pull.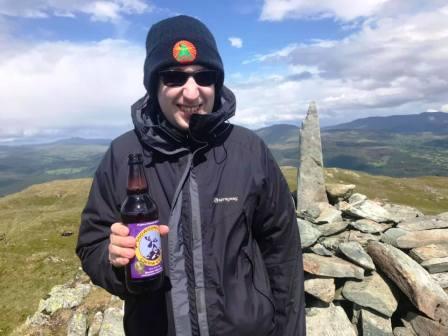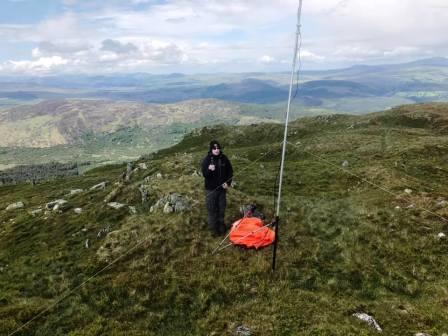 On the higher flanks there were gates to pass through tall dry stone walls. The final ascent was almost a scramble up a steep rocky ramp. The summit was marked by a distinctive cairn. There were wonderful views in all directions.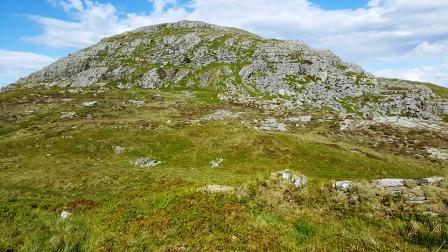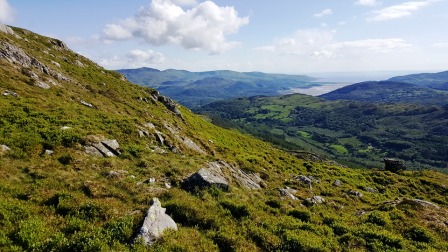 It had been great weather for the ascent, but an expected rain shower materialised as we arrived on summit. We set up quickly and got into our bothy bags to operate. We were in and out of them several times during the afternoon!
Jimmy made 25 QSOs - 10 on 2m FM and 15 on 40m FT8. I made 36 QSOs - 5 on 2m FM, 13 on 40m FT8, 3 on 80m CW, 5 on 30m CW, 4 on 30m FT8 and 6 on 40m CW. We both got S2S contacts on 2m FM, but the clear highlight was us both working Roger F5LKW/P on F/AM-327 on 40m FT8. We marked the completion with a celebratory bottle of Snowdonia Ale each, which was delicious and refreshing.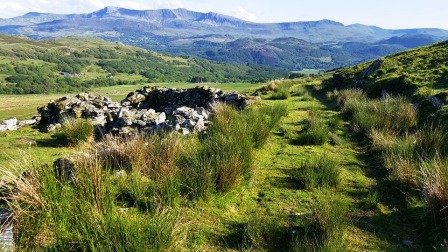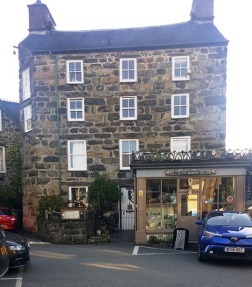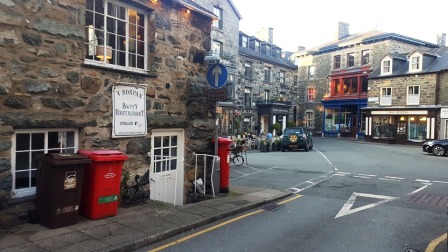 It was glorious late afternoon sunshine for our descent, and Cadair Idris looked stunning. We went out to celebrate with more beer and some supper in Dolgellau. The following day saw us take in Great Orme GW/NW-070 on the way home.
| | | | | | |
| --- | --- | --- | --- | --- | --- |
| Time | Call | Band | Mode | S2S | Op |
| 12:15z | MW7JRB | 144MHz | FM | | MW0HGY/P |
| 12:17z | 2W0WMW | 144MHz | FM | | MW0HGY/P |
| 12:19z | MW0IBT/M | 144MHz | FM | | MW0HGY/P |
| 12:21z | 2W0LXT/M | 144MHz | FM | | MW0HGY/P |
| 12:25z | PA3AIM | 7MHz | FT8 | | MW1EYP/P, MW0HGY/P |
| 12:27z | HB9CRY | 7MHz | FT8 | | MW1EYP/P |
| 12:28z | IK2LEY | 7MHz | FT8 | | MW1EYP/P |
| 12:33z | G0RQL | 7MHz | FT8 | | MW1EYP/P, MW0HGY/P |
| 12:34z | M0BKV | 7MHz | FT8 | | MW1EYP/P |
| 12:36z | SQ3JVN | 7MHz | FT8 | | MW1EYP/P |
| 12:37z | G0FVH | 7MHz | FT8 | | MW1EYP/P |
| 12:40z | LX9BSC | 7MHz | FT8 | | MW1EYP/P, MW0HGY/P |
| 12:47z | IN3ADG | 7MHz | FT8 | | MW1EYP/P |
| 12:47z | G6RTB/P | 144MHz | FM | | MW0HGY/P |
| 12:53z | DL4MY | 7MHz | FT8 | | MW1EYP/P, MW0HGY/P |
| 12:54z | PD0LBY | 7MHz | FT8 | | MW1EYP/P |
| 13:01z | G0OOR | 7MHz | FT8 | | MW1EYP/P |
| 13:01z | GW6CWD | 144MHz | FM | | MW0HGY/P |
| 13:02z | F5LKW/P | 7MHz | FT8 | F/AM-327 | MW1EYP/P, MW0HGY/P |
| 13:16z | G4HUE | 7MHz | FT8 | | MW0HGY/P |
| 13:22z | PA3CPS | 7MHz | FT8 | | MW0HGY/P |
| 13:25z | PA3CW | 7MHz | FT8 | | MW0HGY/P |
| 13:26z | GW4VPX | 144MHz | FM | | MW1EYP/P, MW0HGY/P |
| 13:36z | SA4CJM | 7MHz | FT8 | | MW0HGY/P |
| 13:38z | MW0OFA | 144MHz | FM | | MW1EYP/P, MW0HGY/P |
| 13:42z | G0HIK/P | 144MHz | FM | G/LD-049 | MW1EYP/P |
| 13:44z | DL1ZBO | 7MHz | FT8 | | MW0HGY/P |
| 13:47z | G7AMD | 144MHz | FM | | MW1EYP/P |
| 13:47z | HB9BQU | 7MHz | FT8 | | MW0HGY/P |
| 13:49z | DK2VM | 7MHz | FT8 | | MW0HGY/P |
| 13:51z | DL1JEL | 7MHz | FT8 | | MW0HGY/P |
| 13:52z | DD0VE | 7MHz | FT8 | | MW0HGY/P |
| 13:56z | PC2J | 7MHz | FT8 | | MW0HGY/P |
| 14:40z | GW4VPX | 3.5MHz | CW | | MW1EYP/P |
| 14:43z | M6BLV | 3.5MHz | CW | | MW1EYP/P |
| 14:44z | G4YBU | 3.5MHz | CW | | MW1EYP/P |
| 14:49z | F6HBI/P | 10MHz | CW | F/AM-327 | MW1EYP/P |
| 14:50z | ON6ZQ | 10MHz | CW | | MW1EYP/P |
| 14:53z | OH1CM | 10MHz | CW | | MW1EYP/P |
| 14:54z | DL1FU | 10MHz | CW | | MW1EYP/P |
| 14:56z | PA0B | 10MHz | CW | | MW1EYP/P |
| 15:04z | PA3CPS | 10MHz | FT8 | | MW1EYP/P |
| 15:06z | DL6KR | 10MHz | FT8 | | MW1EYP/P |
| 15:08z | DM7CW | 10MHz | FT8 | | MW1EYP/P |
| 15:09z | M1HOG/P | 144MHz | FM | G/WB-003 | MW1EYP/P, MW0HGY/P |
| 15:13z | GW0HGC | 144MHz | FM | | MW0HGY/P |
| 15:17z | DK7ZT | 10MHz | FT8 | | MW1EYP/P |
| 15:28z | G3KFG | 7MHz | CW | | MW1EYP/P |
| 15:30z | ON3YB | 7MHz | CW | | MW1EYP/P |
| 15:30z | DL2HWI | 7MHz | CW | | MW1EYP/P |
| 15:31z | F4HZR | 7MHz | CW | | MW1EYP/P |
| 15:32z | HB9DOT | 7MHz | CW | | MW1EYP/P |
| 15:33z | ON4VT | 7MHz | CW | | MW1EYP/P |