The Calf, G/NP-013 - 676m ASL - SD 667 970 - OS Explorer OL19 - 4 SOTA points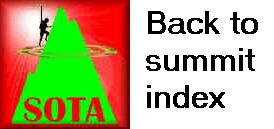 Would you believe, that in six years of SOTA, I have never activated in the Howgills? I wasn't going to this time either; today, long identified as a SOTA day out opportunity for Jimmy and I, was earmarked for Welsh pair of Pen Llithrig y Wrach GW/NW-013 and Creigiau Gleision GW/NW-028.

One look at the Met Office website changed all that. Wales looked appalling, if you will excuse that clumsy phrase. So, for that matter, did all southern and central England, and Scotland, with the Lake District also under threat. However, equally clear was that North Yorkshire looked odds on to escape everything. So I changed my plan for Tuesday 28th October 2008 from NW-028/NW-013 to NP-013/NP-019.

We were at the iconic Lymm Truck Stop for a mug of tea and bumper fry up each shortly after 7am, and then bombing up the M6 to Junction 37, known well to us as the Lambrigg Fell G/LD-046 turning. But here we headed right into Sedburgh, and through to the Cross Keys Inn and the large parking area shortly after.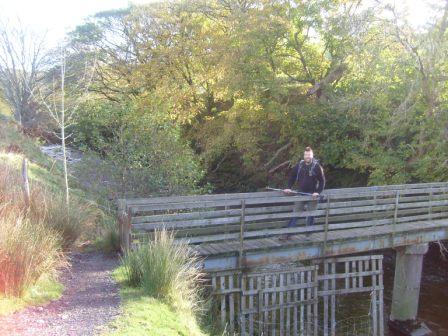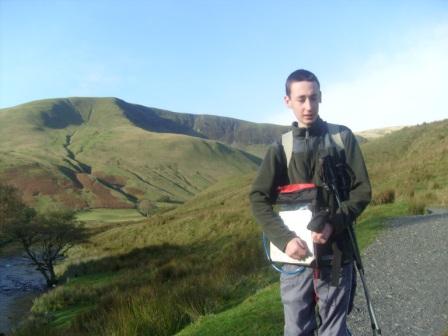 We crossed the long narrow footbridge and followed the river for a short while around the foot of Ben End. Then we took the right fork in the path and headed over boggier but straightforward ground towards the waterfall. The sun was out, and although it was very cold - about 2 degrees - we were just in shirts and fleeces, the coats, gloves, hats and spare fleeces in our rucksacks.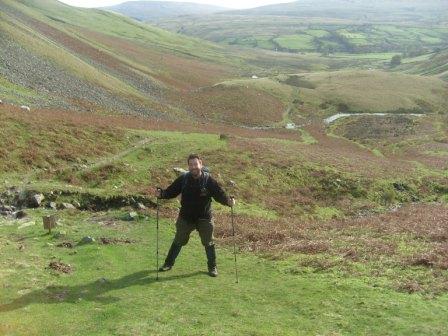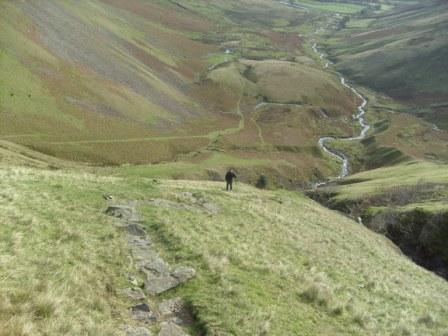 If we hadn't warmed up already, we certainly did as we began to climb steeply up the grassy bank beside Cautley Spout. The sign requested that we vary our route up, zigzagging and avoiding eroded areas. We obliged - for a while. For when it got really steep, and quite narrow, the level bootprints eroded into the ground were difficult to avoid. My knees, ankles and thighs were well in need of some respite, so I abandoned my conscience and followed in the footsteps of others - literally.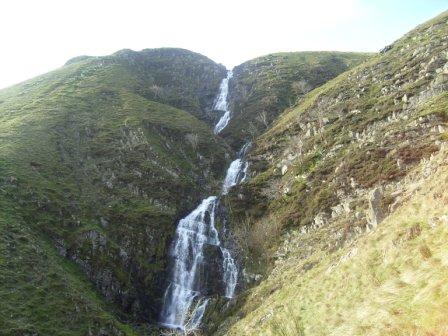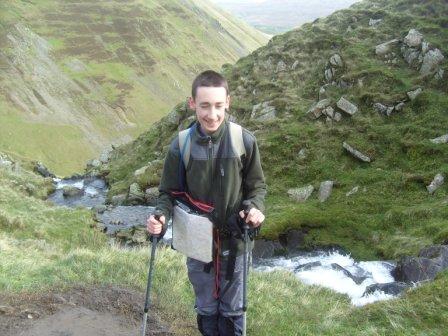 By the higher section of the waterfall, the path became even steeper yet, climbing up big cubes of rock. It was more like a ladder than a path! At the head of Cautley Spout, the ground eased and we turned south to walk by Red Gill Beck and Force Gill Beck towards the saddle. Here we intercepted a wide gravel bridleway, and five more minutes in a NNW direction led us to the trig point at the summit.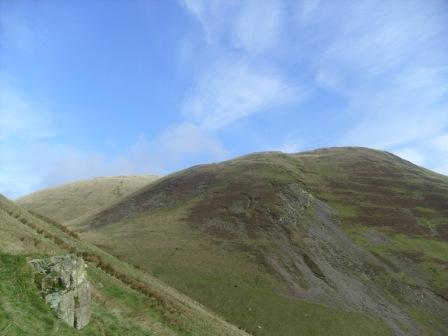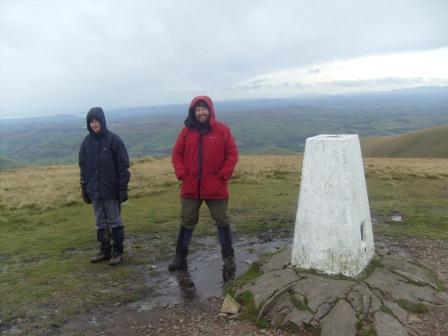 Our coats had now been on for twenty minutes, and the bitter cold at the summit demanded that we also add a second fleece each. The SOTA Beam was set up, horizontally polarised, and I kicked off on 2m CW. Three contacts made here, then Jimmy had a go on 2m SSB. Just one here for Jimmy, so we had a go on FM. It was nice to get Andy M0FMF/P at Tebay Services (at the bottom of the hill we were on!) and a S2S with Gordon G0EWN/P on Fairfield G/LD-007.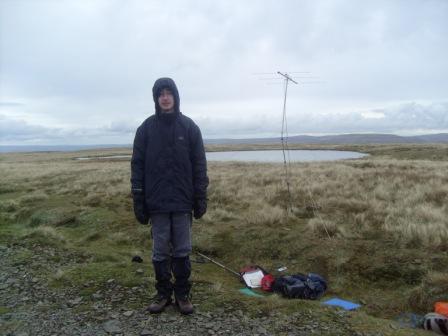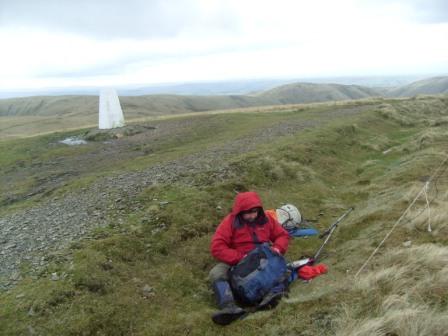 We finished with 3 on 2m CW, 1 on 2m SSB and 7 on 2m FM. 5 contacts for M1EYP and 6 for M3EYP. As we began packing the gear away, several large groups of walkers consecutively arrived at the summit. No sooner had I arranged for one walker to take a photo of Jimmy and I by the trig, than I was being made the same kind of request myself for the other groups. We were pretty cold, but soon warmed up when walking again back down to the top of Cautley Spout, en route to our second summit - Yarlside G/NP-019.
| | | | | | |
| --- | --- | --- | --- | --- | --- |
| G4BLH | Briefield | Mike | 2m | CW | T |
| G0TDM | Penrith | John | 2m | CW | T |
| G4RQJ | Walney Island | Rob | 2m | CW | T |
| GW0DSP | Connahs Quay | Mike | 2m | SSB | J |
| M0FMF/P | Tebay | Andy | 2m | FM | T, J |
| M3TMX | Dalton-in-Furness | Jordan | 2m | FM | J |
| G4RQJ | Walney Island | Rob | 2m | FM | J |
| GW0DSP | Connahs Quay | Mike | 2m | FM | J |
| G0EWN/P | Fairfield LD-007 | Gordon | 2m | FM | T, J |