Mynydd-y-briw, GW/NW-060 - 341m ASL - SJ 173 260 - OS Explorer 239 - 1 SOTA point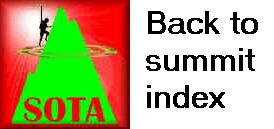 We returned to the car ahead of schedule after Gyrn Moelfre GW/NW-049 on Sunday 14th July 2013, and anticipated remaining ahead of schedule for the activation of Mynydd-y-briw GW/NW-060. This was soon blown apart by some navigational difficulties in the car, mainly caused by seemingly good roads according to the map turning out to be uneven dirt tracks along which I was reluctant to take my car. So a longer route around better roads was taken, and I actually enjoyed the opportunity to catch up with the cricket Ashes test match, delicately poised with Australia needing 20 more runs or England needing one more wicket for victory.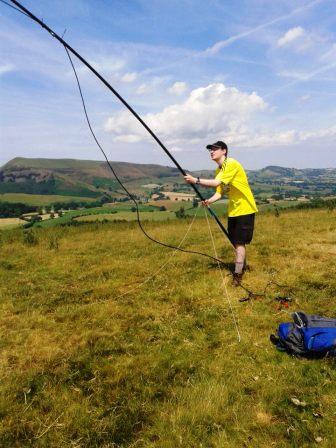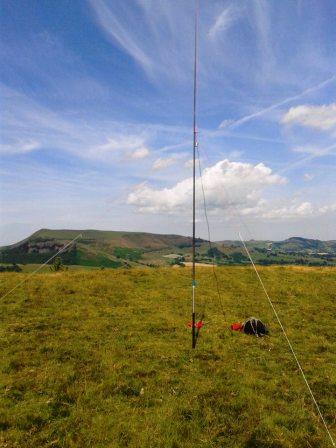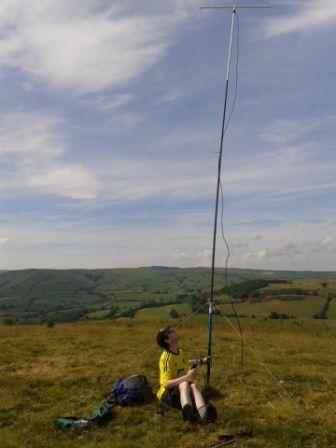 Play in the afternoon session at Trent Bridge got underway just as the three of us began the ascent, so I tuned my VX7R to 693kHz to listen for the latest. Australia got another 6 runs on the board, but shortly after the middle gate, and as the access road got even steeper, Jimmy Anderson took the last Aussie wicket to win the match for England. I turned off the radio and continued to the summit.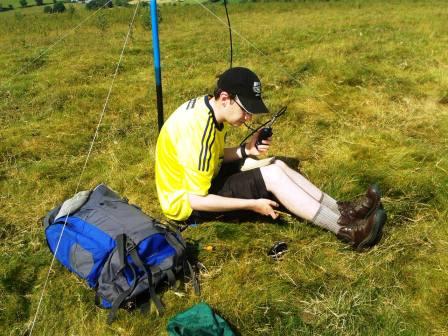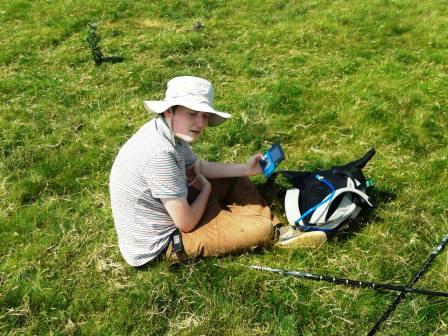 This time, Jimmy had packed the feeder, so was setting up the SOTAbeams MFD atop a SOTA Pole. I set up for 12m, but found the band very quiet. In fact I couldn't raise a single reply to my calls on PSK31. Over on CW, three contacts were added, so I had something to record an activation and I had my multiplier for the 12m Challenge. But I did not yet have my activator point! This was resolved with five QSOs on SSB, and then one more on CW.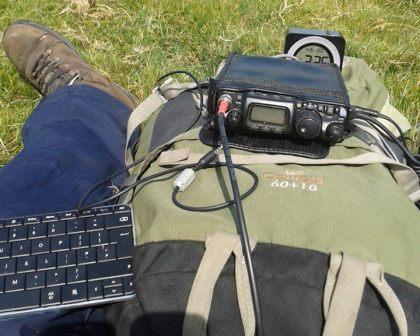 On 2m FM, Jimmy had found Phil G4OBK/P and Geoff M6PYG/P activating Burton Hill G/WB-020. We had a good signal from them, but couldn't get them to hear our calls. But just as it appeared the activation was not to yield a S2S QSO, Steve GV6UYG/P came on on 2m FM from Long Mynd-Pole Bank G/WB-005.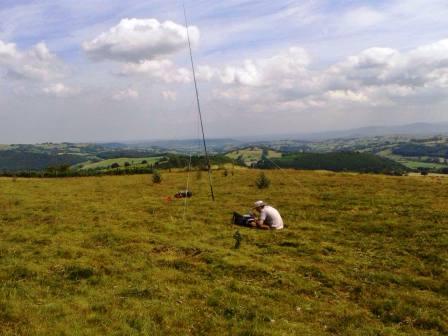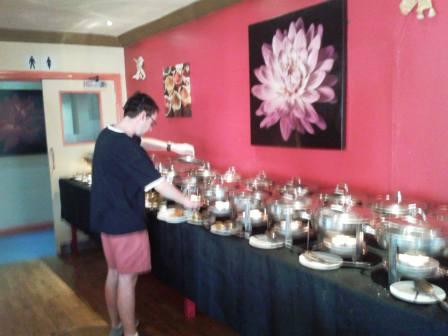 The homeward route was the more direct but less fast line via Oswestry, Ellesmere, Whitchurch, Nantwich, Crewe, Sandbach and Congleton. This was because our final target for the day was the Zest Indian restaurant just outside Sandbach, and its advertised 50 dish buffet. This was really nice, and we will definitely return.
| | | | |
| --- | --- | --- | --- |
| G4AZS | 2m | FM | J |
| GV6UYG/M | 2m | FM | J |
| MV0IBC | 2m | FM | J |
| G4GSB | 2m | FM | J |
| G4AZS | 12m | CW | T |
| OE8SPW | 12m | CW | T |
| OM1AX | 12m | CW | T |
| HB9AGH | 12m | SSB | T |
| DJ5AV | 12m | SSB | T |
| I3GWE | 12m | SSB | T |
| EA7ITL | 12m | SSB | T |
| HB9CGA | 12m | SSB | T |
| DL2DXA | 12m | CW | T |
| GV6UYG/P on Long Mynd-Pole Bank WB-005 | 2m | FM | T, J |