Moel y Dyniewyd, GW/NW-056 - 382m ASL - SH 613 477 - OS Explorer OL17 - 1 SOTA point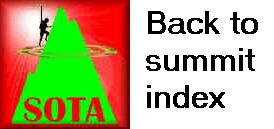 I awoke early on Bank Holiday Monday morning - before 6am, so left Jimmy and Liam sleeping and went downstairs to make up the flask of Chinese Chicken & Sweetcorn soup (another Heinz Soups of the World) and fill the bladders. I peered out of the front window of Pen-y-Pass Youth Hostel with dismay. It was a hot sunny morning, with Crib Goch standing before me dissecting a clear deep blue sky. Doh! If Liam was at home, then Jimmy and I would have been straight up the Glyders on a day like today. Still, it wasn't to be, and Glyder Fawr GW/NW-003, Tryfan GW/NW-006, Y Garn GW/NW-004 and Elidir Fawr GW/NW-005 would have to wait for another day.

I had tried to book in to Pen-y-Pass Youth Hostel on a bed-only basis. Not to be, the hostel only offered bed-and-breakfast accommodation. So it was more costly, and forced us to endure an extra hour in bed (well, the lads at least) and a full buffet breakfast.

We certainly tucked in to that breakfast, returning several times to the buffet as we worked our way through courses of yoghurt, fruit juice, cereal, croissant, pan au chocolat, toast, tea, and of course bacon, sausage, scrambled eggs, mushrooms, beans and hash brown. Excellent it was too - recommended. In fact it was a brilliant youth hostel all round - we will be back.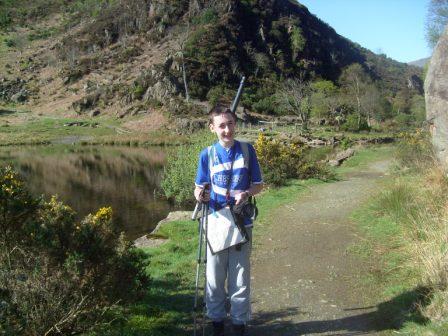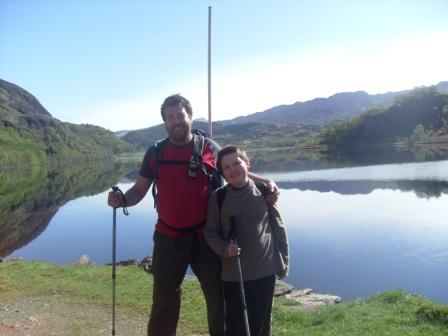 Slightly reluctantly, I backed my car off the front of the hostel, turned it around and dropped down the hill. We turned right down the A498 towards Beddgelert, and down past Nant Gwynant (site of the first SOTA barbecue and camp in 2003) and the start of the Watkin Path. We parked in a lay-by at SH612493 and commenced our walk through a gate on the opposite side of the road.

We were soon walking around the south end of Llyn Dinas, and staring with awe at the mountains high above use, all poking into that empty blue sky. The day promised much, even on the lower hills. Mind you, we still had a fair old climb ahead of us, as you do when you commence at 50m ASL!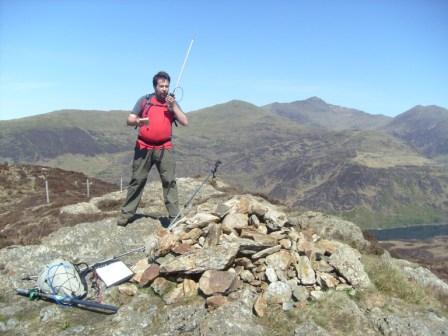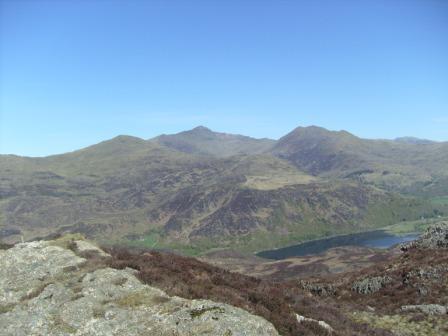 We were soon heading southwards, cutting steeply upwards away from the lake on a fine mountain path heading over towards Beddgelert. This was brilliant, scenic and immediately rewarding mountain walking, up along Grib Ddu. We bore left at SH604481 and again at SH604477, as we then, more or less, followed the wire fence to the summit. Doing so directly necessitates several steep scrambles, but we found more graded paths around most of them. However, we couldn't find a way around the tallest steepest and nastiest little scramble, so it was hands to the floor and face to the rock time! After that, the path continues to wind upwards, uses a couple of ladder stiles to go back and forth either side of the wall and fence, and pulls out onto the lofty narrow summit, our destination for the day.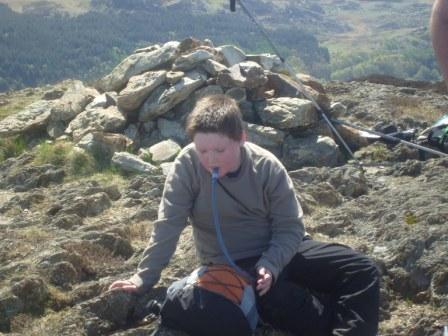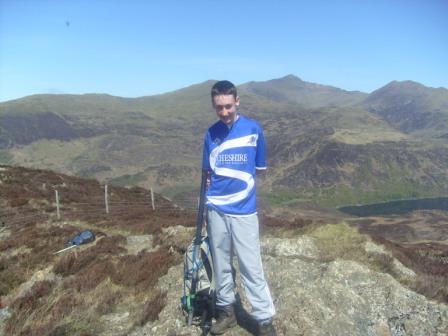 We weren't planning a second summit, so we took it easy and relaxed. It remained hot and sunny, with clear uninterrupted views. Snowdon GW/NW-001, Crib Goch, Y Lliwedd GW/NW-008, Yr Aran GW/NW-019, Moel Hebog GW/NW-014, Moelwyn Mawr GW/NW-016, Moel-ddu GW/NW-045 and Moel Siabod GW/NW-010 surrounded us, standing tall and proud, punctuated only be the Irish Sea at Tremdog Bay. Jimmy and I also believed we could identify Yr Eifl GW/NW-075 in the distance.

I spent quite a while getting the pole up with both the 80m and 40m dipoles on it. The fence running over the summit ridge was useful for supporting the pole, but I don't know why I bothered with 80m. It was too near the middle of the day and too near the middle of the year for it to be any good. It was flat as a pancake. 40m wasn't in much better shape, but I did make 7 contacts on 40m CW, including a S2S with Ian GW8OGI/P on Glyder Fawr GW/NW-003. Other S2S came on 2m FM courtesy of Alun 2W0CYM/P on Moel Eilio GW/NW-022, Steve 2W0KPO/P on Y Lliwedd GW/NW-008 and Iain MW3WJZ/P on Pen Llithrig y Wrach GW/NW-013. In fact, Jimmy's four contacts were made up of exclusively S2S with those four hills, but with Eleri MW3NYR/P on the microphone on 2m FM for the Glyder Fawr QSO.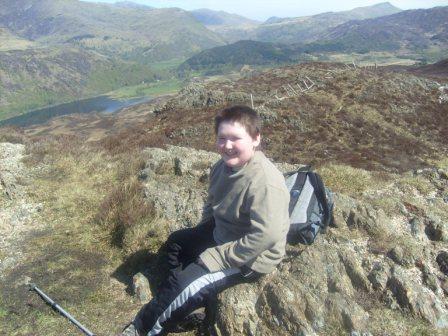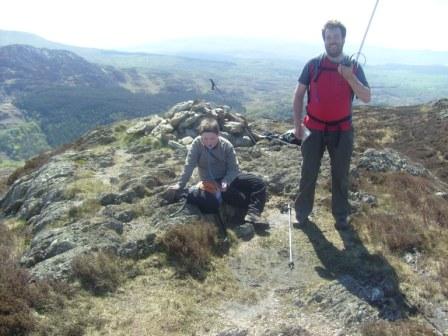 We lounged around for about three hours on this wonderful little oasis in Snowdonia, lapping up the sunshine, sipping soup and water, taking photos, staring dreamily at the other mountains and, every now and then, making a few contacts. Reluctantly we started to pack away as the afternoon wore on. Liam commenced his descent, and to my surprise (and pleasure), he was already safely down all the steep scrambles by the time Jimmy and I caught up with him.

We then walked with and chatted to three ladies from the Netherlands as they too descended the same route after walking up from Beddgelert. Liam cracked up laughing as he spotted a couple of young children skinny-dipping in Llyn Dinas, and we were soon at the car.

It was a long drive home, especially with the notorious bank holiday jams on the A55. I skirted round most of the worst of them using the coast roads, but it was still near midnight by the time we had got home, had a pudding and chips supper, had baths and got all our school stuff ready for Tuesday morning!

A fantastic day in Snowdonia. Many thanks to the following stations:
| | | | | | | |
| --- | --- | --- | --- | --- | --- | --- |
| 2W0CYM/P | Moel Eilio NW-022 | Alun | 2m | FM | 0.5 watts | T, J |
| 2W0KPO/P | Y Lliwedd NW-008 | Steve | 2m | FM | 5 watts | T, J |
| MW3WJZ/P | Pen Llithrig y Wrach NW-013 | Iain | 2m | FM | 5 watts | T, J |
| ON3WAB | Wakken | Peter | 40m | CW | 5 watts | T |
| DL7VKD/P | Berlin | Dieter | 40m | CW | 5 watts | T |
| DJ5AV | Heiligenberg | Mike | 40m | CW | 5 watts | T |
| DL1FU | Biedenkopf | Fred | 40m | CW | 5 watts | T |
| GW8OGI/P | Glyder Fawr NW-003 | Ian | 40m | CW | 5 watts | T |
| GM4OBD | Ellon | Graham | 40m | CW | 5 watts | T |
| MW3NYR/P | Glyder Fawr NW-003 | Eleri | 2m | FM | 0.5 watts | J |
| DL4FCK/P | Bavaria | Gerd | 40m | CW | 5 watts | T |