Mynydd Nodol, GW/NW-048 - 530m ASL - SH 865 392 - OS Explorer OL18 - 2 SOTA points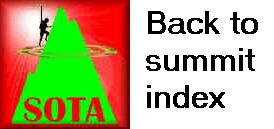 Didn't we have a lovely time, the day we went to Bangor? But what a long day it was. Very enjoyable though, and the SOTA didn't even start until the following morning. Now what is the most perfect way to begin the bank holiday weekend? How about running the XYL to the airport? Can that be beaten?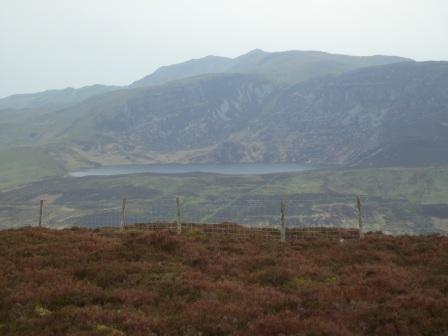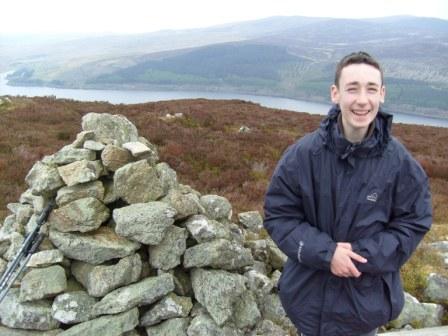 Well, so it was, and an almost Gerald-esque get-up was at 4.45am on Saturday morning, 3rd May 2008, so I could drive Marianne to Ringway. She was spending a few days with her dad in Larne, Co. Antrim as he recovered from his operation the previous Friday, so there was I with the lads to entertain for the weekend. Which I did, although I didn't dare allow myself to add up the cost!

After returning from the airport run, we got our cases and rucksacks packed, and got in the car. First port of call was Knutsford for the fair. I had promised Liam a few rides and a look around, so we spent an hour attacking each other on the dodgems and eating burgers and corn-on-the-cobs. Continuing westwards, we drove to Chester, and the Deva Stadium for Chester City v Macclesfield Town, the last match of the season for two teams now safe from relegation and therefore nothing to play for. And it showed. After one rocket against the crossbar from a certain John Rooney (younger brother of Wayne) in the first half, the players on both sides seemed to call it a day for the season and saw out the remaining hour or so at a rather pedestrian pace. Mind you, I couldn't blame them. In contrast to the forecast of three days' heavy rain over the bank holiday, the sun was blazing in to the Deva Stadium in oppressive fashion.

Westwards again, this time on the A55, after securing three beds for the night at Bangor Youth Hostel. Approaching Kinmel Bay, we 'phoned Roger MW0IDX and called in for a drink and chat for about an hour or so. It was nice to meet Roger's XYL Sue for the first time and have a look at Roger's shack and guitars, while Jimmy and Liam played ten-pin bowling on Wii. After that most pleasant interlude - and sensible rest from driving having been up since the early hours - we were on the road again, but only a short distance to our rendezvous for dinner - the Bengal Palace restaurant in Colwyn Bay. This is a favourite of ours, and we weren't disappointed.

We checked in at Bangor Youth Hostel, a new one for Jimmy and I, but not for Liam, who had been here on a school trip in recent years. The boys went more or less straight to bed. I sat with other hostellers in the lounge attempting to stay awake while watching Match of the Day. I failed, gave in and hauled myself up to bed during the highlights of only the second featured game. No SOTA on the outing yet! We very nearly did Hope Mountain GW/NW-062 after the match, but thought better of it. But at least we were now on the doorstep of our target hills ready for tomorrow - or so we thought!
As usual, the agenda was all about repeating the hills we had already done, but prior to Jimmy becoming licensed. Hence the plan of action for Sunday 4th May 2008, was Mynydd Nodol GW/NW-048 and Mwdwl-eithin GW/NW-047.

We would start with the former, there being a chance that Roger and Sue would meet us later on the latter for a joint afternoon walk and activation. In fact, Bangor was nowhere near Mynydd Nodol, and nearly an hour's drive was required. We had tried to get beds at Capel Curig, Betws, Ffinnon Wen etc which would have been more convenient, but booking last minute on a bank holiday weekend in Snowdonia is never going to produce a wide portfolio of Youth Hostel options!

Our circuituous route via Blaenau Ffestiniog had us approaching Mynydd Nodol from the East, and we decide to attempt to approach the summit from the south-east rather than south-west, further up the road between it and Arenig Fawr GW/NW-011. A large parking area at SH861384 was used, and we set off following the wall and indistinct path up towards the summit. Upon reaching a wall, Jimmy called out that he had found a red seat foam mat tucked between some stones. It was a 'Hi-Gear' make one, exactly the same as one we lost as it blew off Snowdon in July 2003. It even had the same bits damaged as Liam had done to ours back then, scratching bits off rubber out with his fingernails! Could it really be the same one we had lost nearly five years ago? I declared to the boys that it was, it had to be (plus we needed a new one anyway, and I had forgotten to buy one on the way across). So - reunited. That's my story, and I'm sticking to it!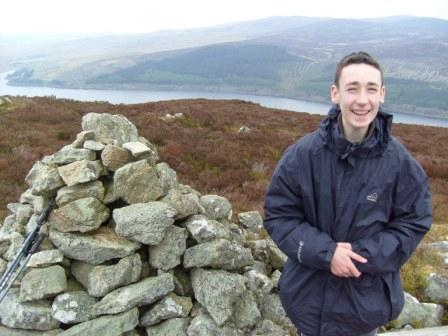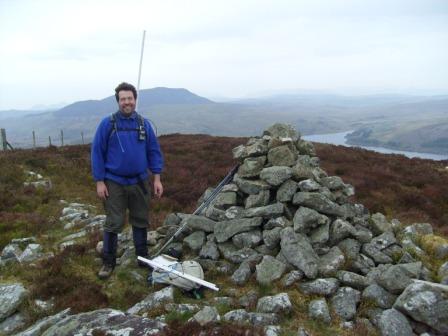 Beyond the wall, we reached the steeper flanks which were covered in thick deep heather. We slowly zigzagged a way up through the gaps, eventually emerging by a cairn at the edge of the summit plateau. A more distinct path now swung around from the right, indeed the way we approached back at Christmas 2004. We followed this path to the summit, marked by a large cairn. Although there was slight wind and fine patchy drizzle, it was a much less hostile place than 3.6 years ago, and unlike then, we got some decent photographs.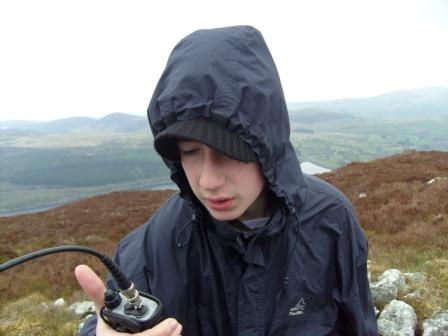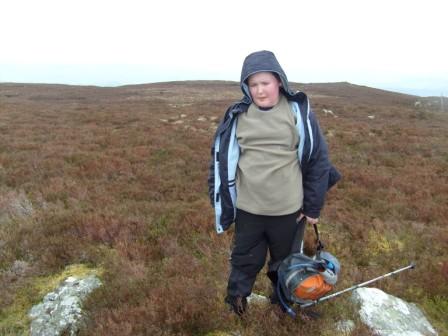 With another summit to follow, one that I remembered to be less than trivial, I decided to reclaim the time lost on the steep heather ascent by undertaking a 2m handheld activation, using the RSS. Jimmy and I quickly made plenty of contacts in short order, and we were on our way.

The steep drop down the heathery bank was just as slow and uncomfortable as the ascent, but once at the wall we could relax with only a short easy grassy stroll to the car remaining. We sat down on the wall and served up the first portion of soup of the day. I had remember to pack extra cups, so we were able to enjoy the soup together! Today is was Heinz Soups of the World Indian Mild Chicken Curry soup. The Heinz Soups of the World range come in larger 515g cans, so just two of them (as opposed to 3 normal sized cans) fill my 1 litre flask.

We returned to the car and set off for Mwdwl-eithin NW-047. Thanks to the following stations, worked on 2m FM with 2.5 watts:
| | | | |
| --- | --- | --- | --- |
| 2E0NHM | Warton | Nigel | T, J |
| M3NVJ | Mossley Hill | Colin | T, J |
| 2W0CYM | Caernarfon | Alun | J |
| GB0WHR | Porthmadog | Simon | J |
| M0RCP/P | Cross Fell NP-001 | Rick | T |
| M3OOL/P | Cross Fell NP-001 | Thomas | J |
| GW4UKU | Llanbedrog | Peter | T |