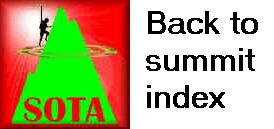 After driving across from Gun G/SP-013 on New Year's Day 2009, we first parked up at the Cat & Fiddle pub. We went in, ordered two hot chocolates and a hot mulled wine, plus a bag of pork scratchings and a Mars bar each. This seemed to enthuse the lads, and we sat enjoying a pleasant 20 minute break by the window in the back bar.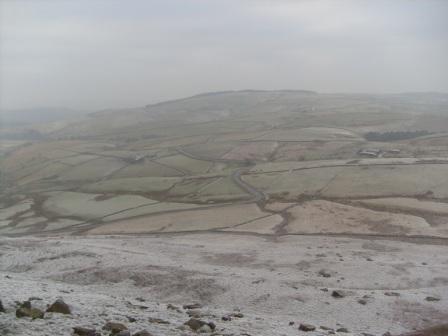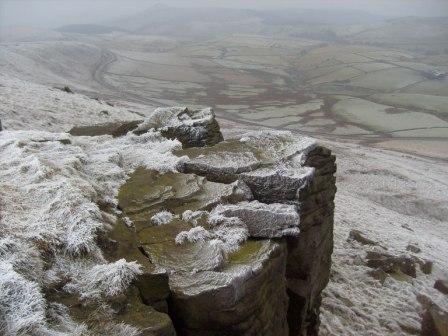 Then it was time to go. We collected our coats, hats, packs and poles from the car, and set off walking alongside the A537 towards the track that forks off towards the summit. But not before Jimmy had pointed out to me an OS flush bracket on some piece of stone a few yards from the pub buildings.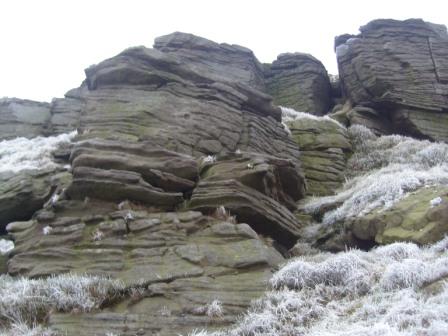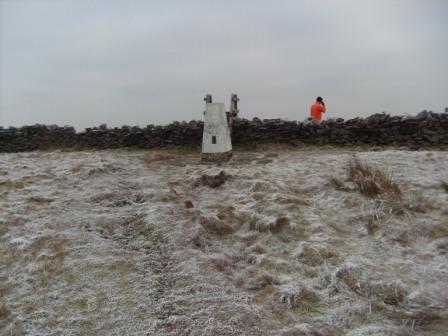 The walk to the summit took around 30 minutes, with Liam getting tired, and me suffering with a very sore left foot. At the top, we sheltered as we sat by a wall in lee of the wind. This would again be an 80m combo activation, and this time it was Jimmy's turn to start. Not much SSB space was available, but 3.610MHz SSB was the best of a bad lot. A SPOTlite for this frequency worked wonders!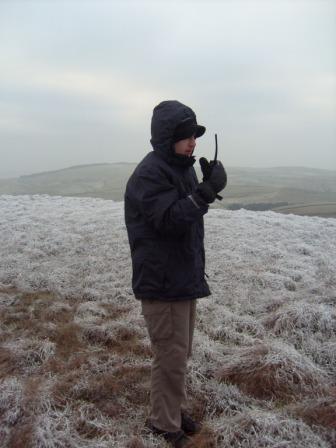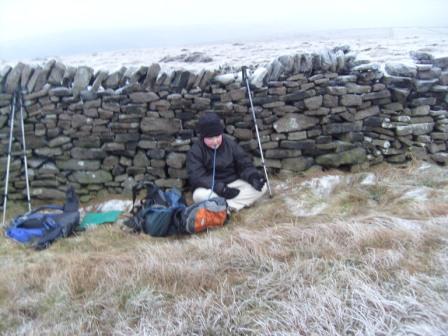 Jimmy made seven contacts into G, GW, GM and EI on 80 SSB, before catching Chris 2E0XLG/P on Pendle Hill G/SP-005 for a S2S. I tail-ended Jimmy to also bag the S2S with Chris, then settled down to do the CW bit.

Again, I handed the car keys to Jimmy, and him and Liam commenced their descent. I then made 18 QSOs in 17 minutes on 80 CW, to round of a satisfying day's operating and walking. I didn't manage to catch up with Jimmy and Liam; they were already in the car when I arrived there.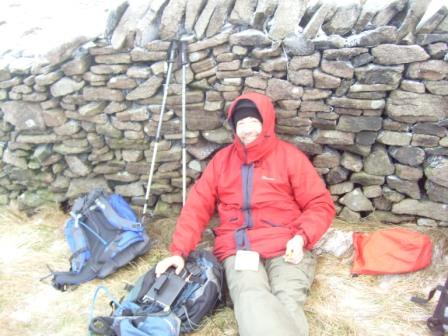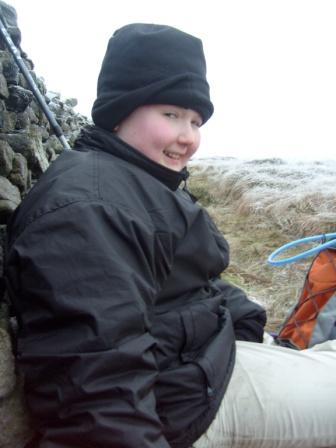 We all then readjourned to the bar of the Cat & Fiddle for another round of hot chocolates and mulled wine. It was a perfect way to end the day, as we sat at the window watching the darkness of the night and the freezing fog swiftly envelope the moor opposite, as we sipped our hot drinks. 2009 has officially begun. Many thanks to all callers:
| | | | | | |
| --- | --- | --- | --- | --- | --- |
| EI9HQ | Sallynoggin | Declan | 80m | SSB | J |
| G4ELZ | Newton Abbott | Jeff | 80m | SSB | J |
| GW7AAV | Connahs Quay | Steve | 80m | SSB | J |
| GM7UAU | Greenock | Steve | 80m | SSB | J |
| G4CPA | Crosshills | Geoff | 80m | SSB | J |
| GW0DSP | Connahs Quay | Mike | 80m | SSB | J |
| G6MZX | Thornton-in-Craven | Geoff | 80m | SSB | J |
| 2E0XLG/P | Pendle Hill SP-005 | Chris | 2m | FM | T, J |
| G6YBC | Atherton | Dennis | 2m | FM | T |
| G3CWI | Macclesfield | Richard | 2m | FM | T |
| GW1LFX | Connahs Quay | Mike | 2m | FM | T |
| M0EOT | Sandyford | Bert | 2m | FM | T |
| G4SSH | Scarborough | Roy | 80m | CW | T |
| LA1ENA | Stathelle | Aage | 80m | CW | T |
| G0TDM | Penrith | John | 80m | CW | T |
| G3WPF | Wilmslow | Reg | 80m | CW | T |
| GW0DSP | Connahs Quay | Mike | 80m | CW | T |
| G7GQL | Penrith | John | 80m | CW | T |
| DL1FU | Biedenkopf | Fred | 80m | CW | T |
| G4ELZ | Newton Abbott | Jeff | 80m | CW | T |
| GX0ANT | Penrith | John | 80m | CW | T |
| DJ5AV | Heiligenberg | Mike | 80m | CW | T |
| F4CTJ | Neufchatel en Bray | Karim | 80m | CW | T |
| DL6KVA | Rostock | Axel | 80m | CW | T |
| F6ENO | Rilly la Montagne | Alain | 80m | CW | T |
| DF2PI | Nieder-Olm | Suitbert | 80m | CW | T |
| DL5WW | Neubrandenburg | Guenter | 80m | CW | T |
| M0COP | Church Stretton | Pete | 80m | CW | T |
| G3CWI | Macclesfield | Richard | 80m | CW | T |
| G3LHJ | Newton Abbott | Derrick | 80m | CW | T |
First it was a 'phone call from G3CWI, inviting me out for a joint activation on Saturday 10th January 2009, as we came to terms with the fact that the eagerly anticipated Macclesfield Town-Port Vale match had been frozen out. Within a few minutes, emails had arrived from M0GIA and 2E0RXX suggesting a beer. So it was that the result was a joint activation of Shining Tor G/SP-004 by six Macclesfield radio amateurs, followed by refreshments in the Cat & Fiddle.

It was bitterly cold in strong biting wind as we made our way along the track and up to the summit. Liam insisted on taking his sledge, even though the remaining snow was sparse at best.

Richard G3CWI activated on 2m CW. Jimmy M3EYP did 70cm SSB. Tom M1EYP did 70cm SSB, 70cm CW and 70cm FM. Greg 2E0RXX did 2m FM and 70cm FM. Sean M0GIA and Liam M3ZRY activated on 2m FM. None of us did much for our individual activator QSO rates, but collectively we put on about 25 QSOs from a very hostile summit. The temperature was about -2 degrees, but the windchill was considerable. There was a degree of comfort in the small flask of hot chocolate I took with me.

The descent for me was quite slow going, with Liam (my son, not M3ZRY, who is 2E0RXX's lad) trying to sledge down any pocket of lying snow or ice he could find. This was really quite a waste of time, until the final track down to the car where I could at least pull him along on thick ice.

By the time we reached the car, Jimmy M3EYP, Richard G3CWI plus Sean M0GIA and his son Daniel we already in it, Jimmy having acquired the keys from me at the summit. Greg 2E0RXX and Liam M3ZRY had set off on their short drive back to Macclesfield. The six of us adjourned to the Cat & Fiddle for pints of Hartley's Cumbria Gold, hot mulled wine and hot chocolates.

It was nice to use all three modes on 70cm even if the responses could hardly be described as pile-ups! My best contact was Frank G3RMD in Cheltenham on 70cm CW. Many thanks to all callers:
| | | | | | |
| --- | --- | --- | --- | --- | --- |
| 2E0UOG | Wigan | Tony | 70cm | SSB | J |
| GW4EVX | Mold | Ron | 70cm | SSB | J, T |
| G3RMD | Cheltenham | Frank | 70cm | CW | T |
| GW7AAV | Connahs Quay | Steve | 70cm | FM | T |
| GW7AAU | Connahs Quay | Helen | 70cm | FM | T |
Sunday 22nd March 2009 was a busy day. I had a lie-in until 0730 after the previous day's exertions in Snowdonia. After typing the expedition report for that, it was breakfast time. Now yesterday's breakfast at Lymm Truck Stop was good, but Marianne's was sensational. I suggested that in future she should get up with us at 5am on SOTA days to provide such excellent fayre. I am not holding my breath. She liked her Mothers' Day gift and card from the lads though.

Jimmy was then on scout duty at church, so Liam and I went along for the service. Then there was a shopping list to attend to, and deliver back home. "Right, I've got things to do in the house, you lot go out for the afternoon". Any ideas? "Roy and Phil are doing Shining Tor" said Jimmy. Let's go and meet them and have a drink with them in the Cat & Fiddle. G1OPV and G0HDX hadn't mentioned drinking beer in their alerts, but Jimmy assumed that it would be taking place.

Driving up the A537, we worked Mark G0VOF/P on Easington Fell G/SP-012, and SWLd Rob G4RQJ/P on Arnside Knott G/LD-058 and Phil G1OPV/P on Shining Tor G/SP-004. We commence our walk from the usual spot just west of the Cat & Fiddle, and were soon walking into a fierce wind. At the gate before the dip ahead of the summit, we met Roy and Phil who had completed their activation and were descending. It was 1405 and their bus was 1447 from the Cat & Fiddle, so we would have our work cut out to snag a quick activation and catch them at the pub.

Jimmy and I raced ahead to the summit. Jimmy did two contacts on his VX-110, then I did six on my VX-7R. By this stage, Jimmy was racing ahead with Liam to get to the car. I set off on a speedy descent, but it appeared the clock was against us. Then I had an idea, that I should have had earlier. Via the radios, I told Jimmy to leg it to the bus stop, and tell Roy and Phil that we would run them down to Buxton if that took pressure off their time. He just caught them, and yes, their connection in Buxton wasn't until 6pm. Cue a couple of beers in the Cat & Fiddle, a very pleasant natter between the four SOTA activators, and the promised lift into Buxton. The plan worked out - just.

Time was now getting on, so it was back over the hill to Macc, collect the XYL, and Mothers' Day tea at the Weston Balti Raj. A busy day, and I was tired out. I even went to bed before Match of the Day 2! Thanks to the following stations that we worked, all on 2m FM:
| | | | |
| --- | --- | --- | --- |
| G1OPV/M | Cat & Fiddle | Phil | T, J |
| G0HDX/M | Cat & Fiddle | Roy | T, J |
| GW7AAU | Connahs Quay | Helen | T |
| M3PWR | Newcastle-under-Lyne | Dave | T |
| GW7AAV | Connahs Quay | Steve | T |
| M3EYP/M | Stake Farm | Jimmy | T |
"Thursbitch" - sounds charming doesn't it? But this distinctly named hollow in East Cheshire turned out to be mine and Jimmy's objective in a night walk on Monday 13th April 2009.

We knew that Richard G3CWI and daughter Mai Ling were doing Shining Tor G/SP-004 as an overnight camp. Jimmy and I had been at my cousin's house in Quarnford near Flash, me doing some GCSE Maths prep for him and my cousin's daughter. Leaving there at 8.30pm, we decided we would take a stroll up Shining Tor and surprise Richard & ML - and snag a quick activation as well.

Most of the ascent from just short of the Cat & Fiddle was done in darkening gloom, but without headtorches. These were turned on at the summit though, as we scoured the area for Richard and daughter. No sign though.
Jimmy M3EYP started to call CQ on his handheld, but got no response. Not until a certain G3CWI/P replied! "Where are you?" Jimmy demanded, "We're at the trig but we can't find you". Richard explained that he had decided to activate earlier than billed, and continued on down deep into the valley to the North/North West.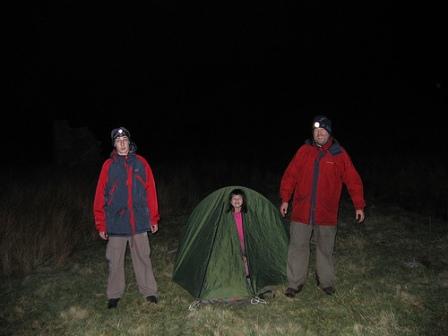 I thought we might try to find them. Richard gave further details as to where he was, and I thought better of it. However, Jimmy was disappointed. I finished working Richard, checked for other callers - none - then set off along the ridge. We soon turned left at the sign for Lamaload, and were then dropping steeply down a rough path. At a junction of wall and fence, we turned right and headed North, some gently downhill, some more steeply. I resumed 2m contact with Richard for status updates.

Eventually, we could see Richard's torch in the distance, and made our way to him and Mai Ling, who was peeping out of the tent. "We weren't actually expecting visitors" remarked Richard, at 10pm, in the cold and dark, at the place I later discovered was called "Thursbitch". After an impromptu photo-shoot, Jimmy and I turned, and headed uphill. Jimmy, who had navigated the route faultlessly so far (without a map and compass) continued to forge ahead, boasting about his encyclopaedic knowledge of these fells from his Air Cadet expeditions.

We reached the saddle with Shining Tor high to the left, and the A537 road ahead and below, illuminated by the occasional car headlights. Jimmy forged on ahead, deciding that we would get to the road, turn left, and make our way back to the car along it. This we did, apart from when we reached the Peak View Farm Tearooms, from where we climbed up the hill and picked up the stony track more directly to the parking spot, cutting a wide corner of the main road.

I reckon it was about a 7km circuit, which we completed, in the dark, in about 2.5 hours, including a very short (one QSO each!) activation on SP-004, and a 10 minute rest and natter with the wild campers. Good fun. Thanks to Richard for our only QSOs of the activation!
| | | | | | |
| --- | --- | --- | --- | --- | --- |
| G3CWI/P | Thursbitch | Richard | 2m | FM | T, J |
"Are you doing the Backpackers' on Sunday?", asked a certain G3CWI in the pub earlier in the week. "No chance" I replied, thinking that I would have no chance - logical. Discovering that Marianne had a night-shift on the Saturday night changed everything!

We had a "proper" day out activating in North-East Wales on the Saturday, while for the Sunday, 17th May 2009, I was hatching a sneaky plot. Marianne would be asleep in bed. Jimmy wouldn't want to come out - he would be revising for his GCSE Maths paper 1 the following day, and taking advantage of having the shack to himself for SOTA chasing. That's fine though, he's the quiet one, and Marianne would sleep in peace and quiet.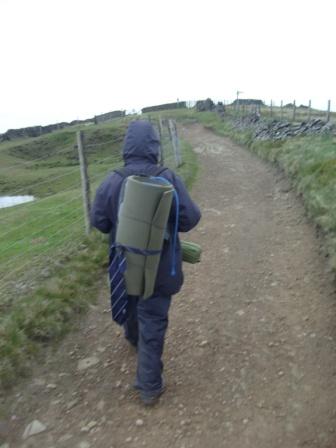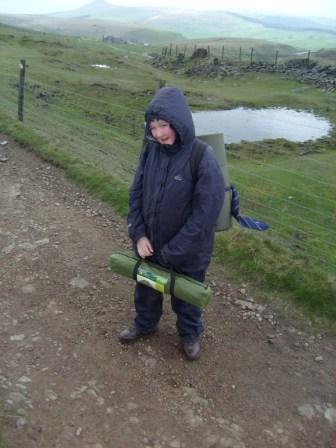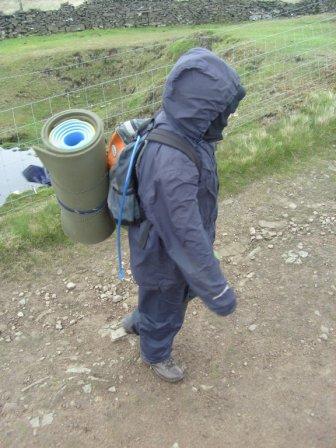 However, Liam - the noisy one - would need occupying. "Can this be done?" I asked myself. Can I get Liam out on a hill for five hours without grumbling? I had to think creatively. I told him we were going to buy a tent and go camping. "But we can't sleep overnight" he said, "I've got school in the morning". "No" I replied, "We'll just test it and relax in it in the afternoon, with a picnic and your Nintendo DS". He quickly warmed to the idea. As did Marianne. She was soon preparing us a rather nice picnic, to which I added a flask of smoked haddock chowder, as requested by Liam.
So stage one of the plot was complete; Liam was out of the house in contented mood. I still had a major task on my hands to complete all tasks before the 1100z / 12pm start time of the Backpackers' Contest. First, there was peat-free compost and bark chippings to collect from the garden centre, and drop off home. Then there was the matter of the tent. I daren't be a fraud now and not get one, plus I thought it would be a good tool for operating in the contest. (I got my inspiration from Charlie G0PZO who I once met operating contest from his tent on Moel Famau GW/NW-044).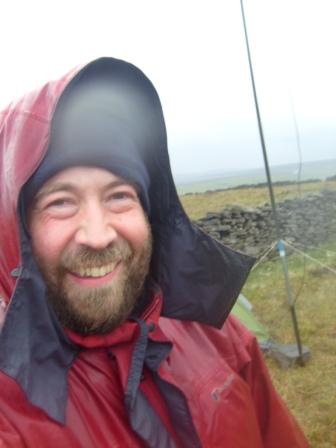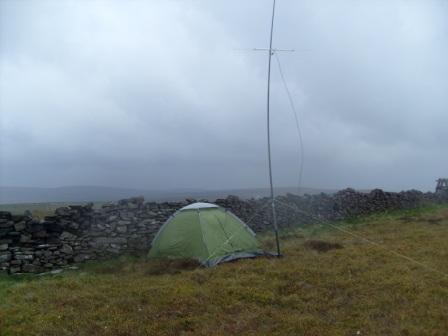 Hence the next stop was Sainsbury's, where an ideal looking 2-man tent was purchased for £17. It would never replace my big Vango tent for proper camping holidays, but it looked ideal for an afternoon's activating, and maybe even a summer overnighter. Liam asked for the latest issue of Top Gear magazine as he passed the news stands in Sainsbury's, a wish I granted due to his most charming nature this morning, and it was another thing to occupy him later in the afternoon.
SOTA or radio hadn't been mentioned, but Liam must have been suspicious when I pulled into the normal parked spot for Shining Tor G/SP-004, just short of the Cat & Fiddle pub on the A537 Macclesfield to Buxton road. He didn't raise an objection though, and neither did he when I loaded the foam sleep mats and tent onto his rucksack!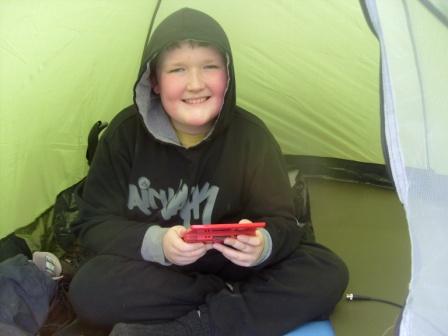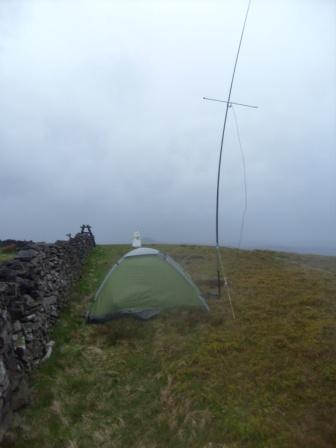 We had an enjoyable half hour stroll to the summit, where we crossed the wall and walked along to where it rose highest above the ground for maximum shelter into the prevailing wind. There was only 25 minutes to go before the start of the contest, so I was hoping that the tent would be quick and easy. It was, and Liam was soon inside laying out the foam mats and setting out his entertainment and food for the afternoon.

I then set to work on setting up the 3 element SOTA Beam on the fishing pole, and got drenched in a nasty shower while doing so! Liam, who had escaped it, looked bemused when I eventually crawled into the tent looking the original drowned rat! I peeled off the sodden waterproof layer and boots, and set up the FT-817 ready to go. It was all done by seconds before the 12pm start!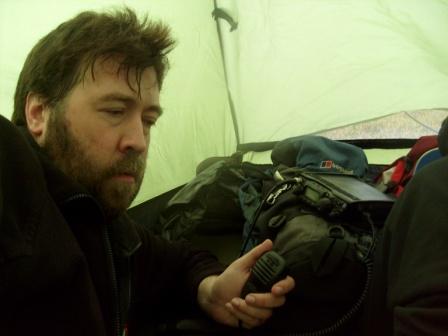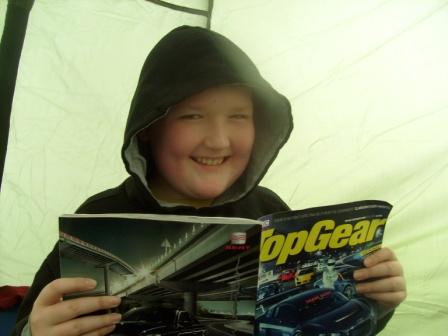 Things started well with 32 QSOs inside the first hour. Most stations were competing in that weekends 144MHz 24 hour contest, but there were one or two Backpackers and SOTA activators around. Summit to summit QSOs were made with Tony 2E0LAE/P on Kinder Scout G/SP-001, Nick G0HIK/P on Kirkby Moor G/LD-049, Mark G0VOF/P on Pendle Hill G/SP-005 and Rob G4RQJ/P on Easington Fell G/SP-012.

While there was no DX from overseas - not even EI or GI - there were some good contacts from Scotland (IO75, IO85), Isle of Man (IO74), Kent (JO01), Norfolk (JO02), Lincolnshire (JO03) plus all the "usual" ones like IO81, 82, 83, 84, 91, 92, 93. Each DXCC and each district/postcode, as well as the locator squares, counted for a multiplier in this contest, and I ended up with 53 multipliers in all. Together with the 65 QSOs in the four hours, my claimed score of 322,982, sufficient to see me hold first place - for a few days at least!

The second hour saw 18 QSOs, and the logarithmic trend of activity from the start of a contest through to its end was taking typical shape. Just 9 contacts were achieved in the third hour, as I necessarily spent more time chasing others rather than trying to hold my own frequency, and there were just 6 QSOs in the logbook in the final hour.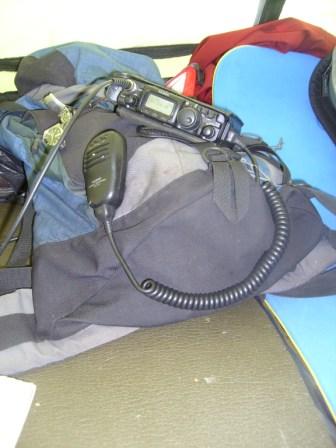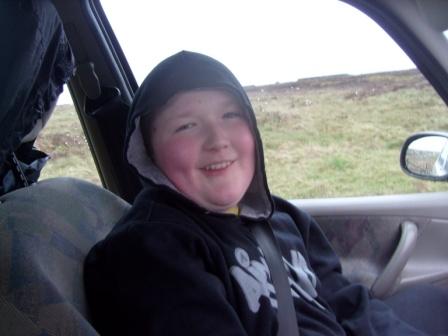 Not that I operated for all of the final hour. The unmistakable crackle of static rain returned to the 817, as the heavens opened again above. This was after a pleasant two hour interlude of lovely warm sunshine on the summit. In short succession, I received two small static shocks from the 817 case, and that was game over! I grabbed some dry items like the tent bag and peg bag and used them to disconnect the feeder, microphone and battery from the FT-817. We tried lounging around in the tent for a while, but the rain showed no signs of stopping. We had to reluctantly pack up and descend in the rain.

Upon returning to the car, I whacked the heater on as we peeled off waterproofs and changed footwear. I reinstalled the FT-817 into its mobile position, and found the 10m CW was alive with activity. I plugged the Mini Palm Paddle in and made a few QSOs to get a few new DXCCs for 2009 on this band, for the G3WGV UK CW Table http://ukcwtable.g3wgv.com

Liam surpsingly declined my offers of pork scratchings and J2O at the Cat & Fiddle, and even to nip over Axe Edge to watch the World Final of the F1 stock cars at Buxton Hi-Edge Raceway. So we ordered the take-away, and sped off down to the Weston Balti Raj to collect it. G3CWI and family were dining in the restaurant as Liam and I arrived, and Richard expressed his surprise that he saw my car at the parking spot when he drove past it in poor weather earlier. And even more surprise when he drove past it again, in even worse weather some hours later!
This was a very satisfying and enjoyable activation. Liam was fantastic company all day. And the curry was lovely. Here goes with the table of QSOs - all using 2.5 watts (to stay within the 3 watt Backpackers category). My info given out was IO83XG and district code SK:
| | | | | |
| --- | --- | --- | --- | --- |
| G0BWC/P | IO83RO | BL | 2m | SSB |
| G0KNK | IO83QM | WN | 2m | SSB |
| 2E0RFX | IO83WO | OL | 2m | SSB |
| M3EYP | IO83WG | SK | 2m | SSB |
| G4APJ | IO83UP | BL | 2m | SSB |
| G7SKR | IO83RI | WA | 2m | SSB |
| G0GWI | IO83UJ | WA | 2m | SSB |
| G1HLT | IO93JD | NG | 2m | SSB |
| G3CWI | IO83WG | SK | 2m | SSB |
| GW4EVX | IO83KE | CH | 2m | SSB |
| G3BPK/P | IO83PN | WN | 2m | SSB |
| M1BKL | IO82PX | SY | 2m | SSB |
| G3YJR | IO93FJ | SD | 2m | SSB |
| G3XAN | IO83ML | LP | 2m | SSB |
| 2E0BTR | IO82SI | DY | 2m | SSB |
| M3TMX | IO84JD | LA | 2m | SSB |
| G4BLH | IO83VT | BB | 2m | SSB |
| G3NQX | IO83QS | PR | 2m | SSB |
| G1EVR | IO83TN | BL | 2m | SSB |
| G4CLA | IO92JL | LE | 2m | SSB |
| G4KRN | IO83NI | LP | 2m | SSB |
| 2E0BMO | IO83PO | WN | 2m | SSB |
| GM7WJP/P | IO85GH | DG | 2m | SSB |
| M6WOW | IO82WO | WV | 2m | SSB |
| 2E0MAS | IO83QA | WN | 2m | SSB |
| M0COK/P | IO82XJ | BM | 2m | SSB |
| G4DEZ | JO03AE | PE | 2m | SSB |
| GW4RWR/P | IO83JA | LL | 2m | SSB |
| 2E0LAE/P on Kinder Scout SP-001 | IO93BJ | SK | 2m | SSB |
| G4DSP/P | IO92WV | PE | 2m | SSB |
| GM6MD/P | IO75VG | DG | 2m | SSB |
| G0HIK/P on Kirkby Moor LD-049 | IO84KF | LA | 2m | SSB |
| M0COP | IO82OM | SY | 2m | SSB |
| G5LK | JO02RF | IP | 2m | SSB |
| GD8EXI | IO74PC | IM | 2m | SSB |
| 2E0XLG/P | IO84WC | BD | 2m | SSB |
| G0VHF/P | JO01PU | CO | 2m | SSB |
| G6PYL | IO83MH | CH | 2m | SSB |
| G4HYG/P | IO83SO | BL | 2m | SSB |
| M0GMG | IO83VI | SK | 2m | SSB |
| G8HXE/P | IO83RP | BL | 2m | SSB |
| MM0GPZ/P | IO85AK | DG | 2m | SSB |
| G8VER/P | IO91RU | LU | 2m | SSB |
| G2BQY/P | IO81TK | BA | 2m | SSB |
| G5FZ/P | IO93OJ | LA | 2m | SSB |
| G3OHC | IO93KS | YO | 2m | SSB |
| G7MRV | IO93KS | YO | 2m | SSB |
| G0HDV/P | IO93UK | LN | 2m | SSB |
| GW4IDF/P | IO81NV | NP | 2m | SSB |
| G8ONK/P | IO83RU | PR | 2m | SSB |
| M0BAA/P | JO01KJ | ME | 2m | SSB |
| G4DPZ | IO82XL | BM | 2m | SSB |
| M0MJG | IO91GI | RG | 2m | SSB |
| M1AIU/M | IO93AB | ST | 2m | FM |
| 2E0BLL | IO83SR | BB | 2m | FM |
| M3OUA | IO83TK | MR | 2m | FM |
| G4ZRP | IO83KI | CH | 2m | FM |
| G0VOF/P on Pendle Hill SP-005 | IO83UU | BB | 2m | SSB |
| G8DOH/P | IO91CX | CV | 2m | SSB |
| M0ZRA | IO83WL | MR | 2m | SSB |
| G4RQJ/P on Easington Fell SP-012 | IO83TW | BB | 2m | SSB |
| 2E0DXX/P on Longridge Fell SP-014 | IO83RU | PR | 2m | SSB |
| G0RXA | IO83VJ | SK | 2m | SSB |
| G6GVI | IO83SN | BL | 2m | SSB |
| G0VZJ | IO83QN | WN | 2m | SSB |
The 'final score' was a runners-up position in this contest: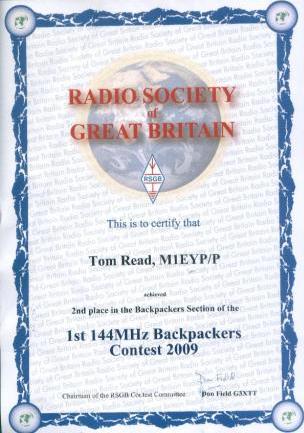 Over to Jimmy for an account of his led walk and activation on Saturday 20th June 2009:
This is my first activation I've done with my mates and not my Dad M1EYP. However my Dad M1EYP picked up all my mates in the Macclesfield and Bollington area and drove us all to Pym Chair.

The first pick up was Edward in Macclesfield. Edward is interested in getting a Foundation Licence. We then drove to Bollington to pick up Craig and Hunter from Craig's house in Bollington. We then drove up the country lanes to Pym Chair.

We got all our kit out of the car and I adjusted my walking poles ready to set off the walk. One of my walking poles I adjusted went too high and bent at the start of the walk. It was alright for walking up to the summit of Shining Tor G/SP-004. We all enjoyed the walk along the ridge up to the summit of Shining Tor G/SP-004 in the clear weather, talking about our School Prom which will be happening in early July.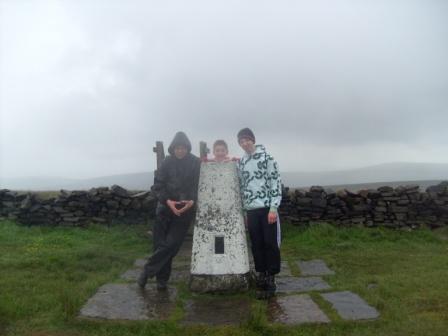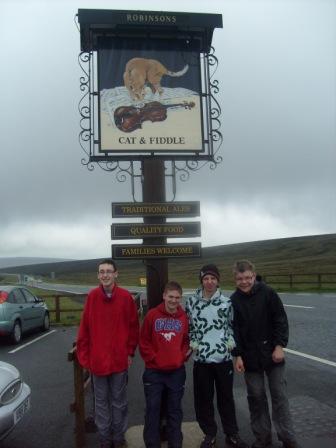 Once we were on the summit it started raining. I got a photograph of my mates at the trig point. We all ate our lunch and the rain had stopped. I then started with the activation. I called CQ on the VX-110 hand-held, but got no answer. I was also in mobile phone contact with my Dad M1EYP who said he would try and work me, but couldn't hear me. My Dad did put a spot on SOTAwatch. I heard M3SNV/P calling on the calling channel and I managed to work him for a first contact. After this I got a further 7 contacts before descending.

We all started to descend and my bent walking pole broke into 2 pieces. I managed to carry this walking pole back to the Cat and Fiddle. Most of the decent was in rain which made it unpleasant.

We walked into the Cat and Fiddle pub and me and Edward had a cup of tea. Craig and Hunter didn't have a drink. I phoned my Dad M1EYP to come and pick us up. My Dad picked us up and he took a picture of all of us at the Cat and Fiddle sign. He then dropped of all my mates at the same places where we picked them up.

This was a great walk and we now hope to walk up Shutlingsloe and activate for Adventure Radio. Thanks to everybody who worked me on 2m FM:
| | | |
| --- | --- | --- |
| M3SNV/P | Anfield | Steven |
| G3CWI | Macclesfield | Richard |
| GW0DSP | Connahs Quay | Mike |
| M3NVJ | Mossley Hill | Colin |
| M0TXR | Bolton | Mac |
| G8HXE | Flixton | Keith |
| 2E0CBS | Stockport | Chris |
| 2E0RCS | Blackburn | Scott |
Out of the blue came an email from Richard G3CWI suggesting an afternoon out on the hills - either Kinder Scout G/SP-001 or Shining Tor G/SP-004, on Saturday 11th July 2009. Jimmy wasn't interested, but Liam needed some fresh air and exercise, so I accepted the offer and opted for the latter.

It was a pleasant walk to the summit in shirt sleeves. On the summit, we crossed the very rickety and damaged stile, with care, in order to use the dry stone wall as some sort of shelter. Heavy rain was observed out on the Cheshire Plain, but it remained temperate and dry on the summit.

Richard G3CWI was working on 2m CW and SSB using his MFD antenna. I erected the 40m dipole, for use on both 15m and 40m CW. 15m seemed alive and well with many contest stations, but I could only solicit three G stations into my log (thanks for the calls gentlemen). I tried answering the contesters, but after sending my callsign, they were already halfway through their next CQ call!

Over on 40m, I was surprised to find 7.032MHz vacant, so I pounced and called there. And called. And called. Eventually I worked Paulus DF1BN and Frid DL1FU, but they were both significantly weaker than usual at 539 and 529 respectively. Tuning across the 40m band revealed it to be almost deathly silent. Did it die this afternoon?

Back up on 15m, still plenty of contest stations were heard, but I was not heard by them. One more contact came with John G4FPA up the road in Sale, who remarked ".... .." after sending his QTH!

It was at this point that I realised that I was completely and utterly shattered. My two weeks of doing one or two activations pretty much every day, plus playing two football matches and a long squash match in the last two days, had caught up with me. I was worn out, and failing to find any mental resilience to my increasingly rubbish CW sending.

For the first time ever, it was me that wanted to throw the towel in before Richard. It was nice to be outdoors, but my tiredness had caused me, uncharacteristically, to get fed up with the radio. However, then I found out just how tired I really was. Liam had set off as I started to pack away my gear, his usual routine. But instead of me catching him up on the return leg, he accelerated away from me. In the end, only pure refreshment at the Cat & Fiddle could save me, so a pint of Scrumpy Jack it was. But they had run out of pork scratchings - disaster.

Many thanks to Richard for the invite and the lift. It was a nice walk and a decent afternoon out, but either I died on that summit, or the 40m band did! An early night beckoned. Thanks to the following stations worked:
| | | |
| --- | --- | --- |
| G3ILO/P | 15m | CW |
| G4BLH | 15m | CW |
| DF1BN | 40m | CW |
| DL1FU | 40m | CW |
| G4FPS | 15m | CW |
Wednesday 19th August 2009, another beautiful day in prospect, and Jimmy spotted that Tom 2E0WNT had alerted for Shining Tor G/SP-004, for a late afternoon activation. After completing various doctors, shopping, post office and recycling chores, Jimmy, Liam and myself drove up the A537 for a "say hello" activation. It was indeed a lovely sunny afternoon, although the strong south-easterly wind could tempt you to don your jacket.

Just beyond the trig point, we could see Tom 2E0WNT/P erecting his HF antenna, having already made several QSOs on 2m FM. Jimmy set up the SOTA Beam for use with his VX-110 a few yards away, while I set up the 20m Magic Moggy and FT-817 such that I could use the wooden bench by the wall corner as an operating position.

Jimmy made ten QSOs on 2m FM, while I made 19 on 20m CW. My logbook showed a mixture of chasers and non-chasers. I mentioned to Tom later my observations that on 80m and 40m you tend to get called only by chasers, but on 20m you get called quite a lot by non-SOTA hams who just want the QSO. I worked some G and GW stations, lots of URs (as usual), a few RAs and DL, HA and LZ. More pleasing DX, and rarer (for me from a SOTA) were the UA9, UN, EA and CT stations.

At the first sign of packing up, Liam commenced his descent. Tom and I descended together, chatting about all things SOTA, and other shared interests such as A-Level maths. The conversation continued over a refreshing drink at the Cat & Fiddle, before we all set off home for tea. An enjoyable afternoon activation; thanks to all who called:
| | | | |
| --- | --- | --- | --- |
| M3LIU | 2m | FM | J |
| MW3KML | 2m | FM | J |
| MW0IDX/M | 2m | FM | J |
| LZ1XX | 20m | CW | T |
| UT3IJ | 20m | CW | T |
| UX5TQ | 20m | CW | T |
| G4BLH | 2m | FM | J |
| UT7EM | 20m | CW | T |
| G4XRX | 20m | CW | T |
| G7OEM | 2m | FM | J |
| UY0CA | 20m | CW | T |
| M0ANQ | 2m | FM | J |
| G0SLR | 2m | FM | J |
| G3WPF | 20m | CW | T |
| UA3VVB | 20m | CW | T |
| DJ5AV | 20m | CW | T |
| RU4UR | 20m | CW | T |
| UT7LA | 20m | CW | T |
| HA7UG | 20m | CW | T |
| CT1HMN | 20m | CW | T |
| RX3FK | 20m | CW | T |
| EA1GDX | 20m | CW | T |
| UN7BY | 20m | CW | T |
| RA9KY | 20m | CW | T |
| GW7AAV/M | 2m | FM | J |
| G1JCW | 2m | FM | J |
| MW0IDX | 20m | CW | T |
| RD3PQ | 20m | CW | T |
| G1OKW | 2m | FM | J |
Wow, has it really been a whole term since I last activated Shining Tor? Certainly looks like it, looking at the date above. And I shouldn't have been here today. But a lethal combination of a cold for Jimmy, and the heaviest snowfall in 15 years meant that Warrington was as far as we got en route to the Lake District. That wasn't so bad - four hours later, it was impossible to drive a mile out of Macclesfield!

Richard G3CWI suggested a "consolation activation", but as the snow continued to drop heavily for most of the day on the Sunday, this was never an option. However, on Monday 21st December 2009, there was an option. It was still cold, with temperatures remaining constantly subzero. Getting anywhere near Gun SP-013 or The Cloud SP-015 on the minor roads may still have been challenging. But a glance at the Cat & Fiddle webcam revealed a telephone number, via which I was able to confirm that the A537 was open - and watch a white van drive past!

Liam and I quickly got ready, and headed out to pick up Richard and Mai Ling across town. The two youngsters packed their plastic sledges into the boot, alongside the two activator rucksacks. Sure enough, the A537 was perfectly safe to drive on, and we arrived at the usual parking spot trouble-free. However, this area was badly iced up, and I decided to take defensive action by parking further up the road in the main pub car park.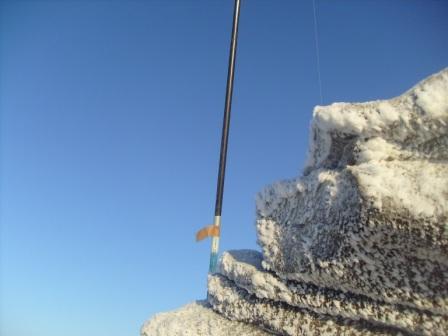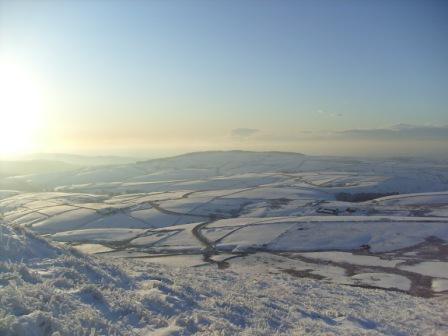 And then off we went, with the well-known walk to Shining Tor summit transformed into a white winter wonderland. It was rather slow going trudging through the snow, which was rather deep in many places. Richard, sporting his snow-shoes raced ahead with ML, but Liam was, shall we say, in no rush! Liam expressed surprise and almost enthusiastic delight as he spied the sparkling new gate in the summit wall, replacing the rickety old stile. A suitable slope for the sledging (the tobogganing variety, not verbal abuse) was found, and then Richard returned to set up the MFD near the trig point. I remained near the ensuing winter sports and set up the 80m dipole.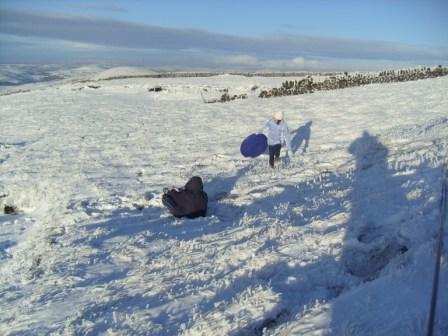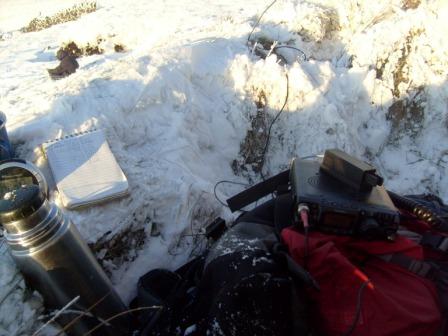 There wasn't a signal on my 'phone though, so I did a couple of quick contacts on 2m FM using the VX-7R handheld, hoping to solicit a spot. This was no problem, for the calls were answered by Chris M1DTJ and Steve GW7AAV. My main frequency was 3.553MHz CW, but it was slow going. When signals did come back though, they were really strong and clear. Soup of the day was Tesco Sweet Chilli & Potato, and delicious it was too. Unfortunately, when it was Liam's turn to have his lunch, he put his sledge down beside him - which then slid away down the hill! Right down the hill, stopping way down, near to the main road. Liam insisted on going to get it, which he did, taking about 20 minutes to make the return trip! I made a few more calls in the meantime.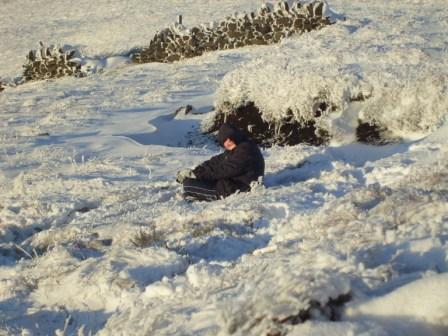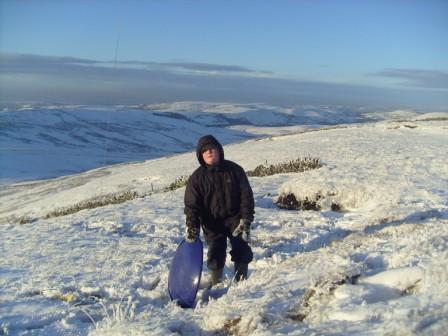 Richard and Mai Ling had packed up and descended by now. When Liam eventually did return with his sledge, he finished his soup and set off on his own descent. I started to pack away my station, but there was a problem. My SOTA pole was absolutely frozen solid! I could only push down one of the sections, but the rest just would not budge. I have packed away many iced-up poles before, but never encountered stubbornness like this. Reluctantly, I had to commence my return walk with the rucksack on, but the pole extended to about 6m in my right hand! I only caught up with Liam at the door of the Cat & Fiddle, where Richard and Mai Ling were already inside having a drink. But there was no time for Liam and I to do similar, for it was 4pm and the pub was closing!

Richard also tried, and failed to collapse my pole. I unscrewed the end cap and put it in my coat pocket with the bung. This enabled me to salvage the thickest two sections, which could be laid inside my car. The other sections, still locked together, were laid in the car park with the intention of returning with some hot water sometime very soon to retrieve them (duly achieved two days later)!

It was -4 degrees as we set off down to Macclesfield, so we decided not to stop for a drink until we were safely in the town. Hence the Chester Road Tavern was our venue for Christmas Cracker Ale, Apple & Raspberry J20 and pork scratchings! Thanks for the calls and spots.
| | | |
| --- | --- | --- |
| M1DTJ | 2m | FM |
| GW7AAV | 2m | FM |
| DL1FU | 80m | CW |
| G3RMD | 80m | CW |
| GM0OGN | 80m | CW |
| G0NUP | 80m | CW |
| MM3BRR | 80m | CW |
| EI7CC | 80m | CW |
| G3WPF | 80m | CW |
| G4SSH | 80m | CW |