This summit was activated on Sunday 25th April 2004 by myself accompanied by Jimmy. It was our third and final summit of the Yorkshire Dales SOTA Weekend.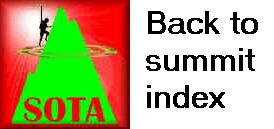 Following another hearty breakfast of porridge followed by full English in the morning, it was destination Whernside to complete the Three Peaks. I drove via Settle and just past Ingleton, before turning right and following the signs for Dent upon a narrow minor road. There were gates on this road, and we parked up near the summit of the road, opposite a stile and path we were anticipating. As it turned out, this was the wrong path, one field to the north of the correct one, but it fitted the description, so we were fooled! We followed this up the increasing inclines, zigzagging when it became steeper. The higher parts looked dangerously steep, so I picked out a route across that seemed to head to the lower part of the ridge. We got to that point successfully, and then by referencing the direction of the wall against the map, we discovered our initial mistake. No problem though, we knew where we were and where the summit would be. We followed our noses over the next field and soon saw the wall at the summit.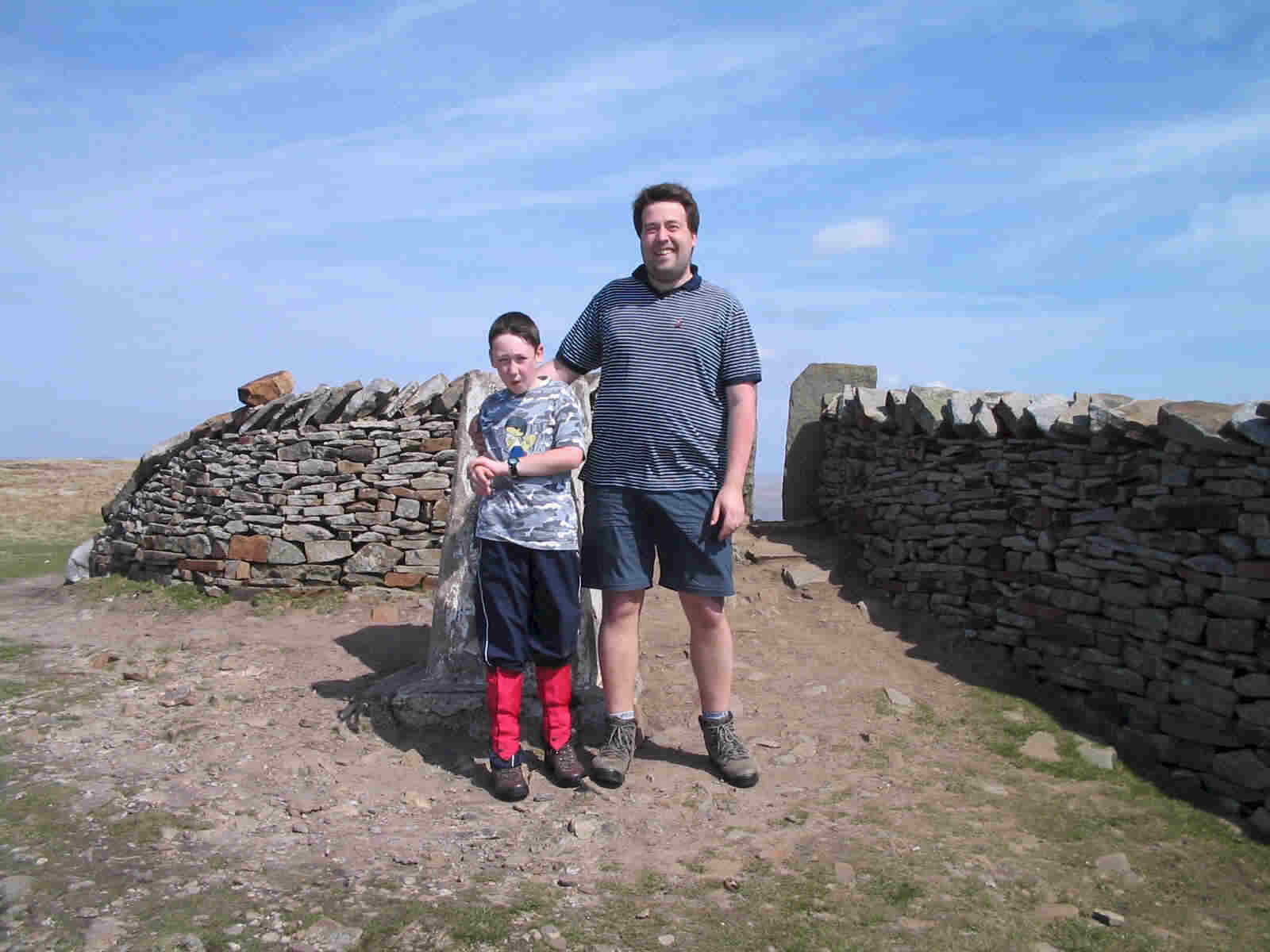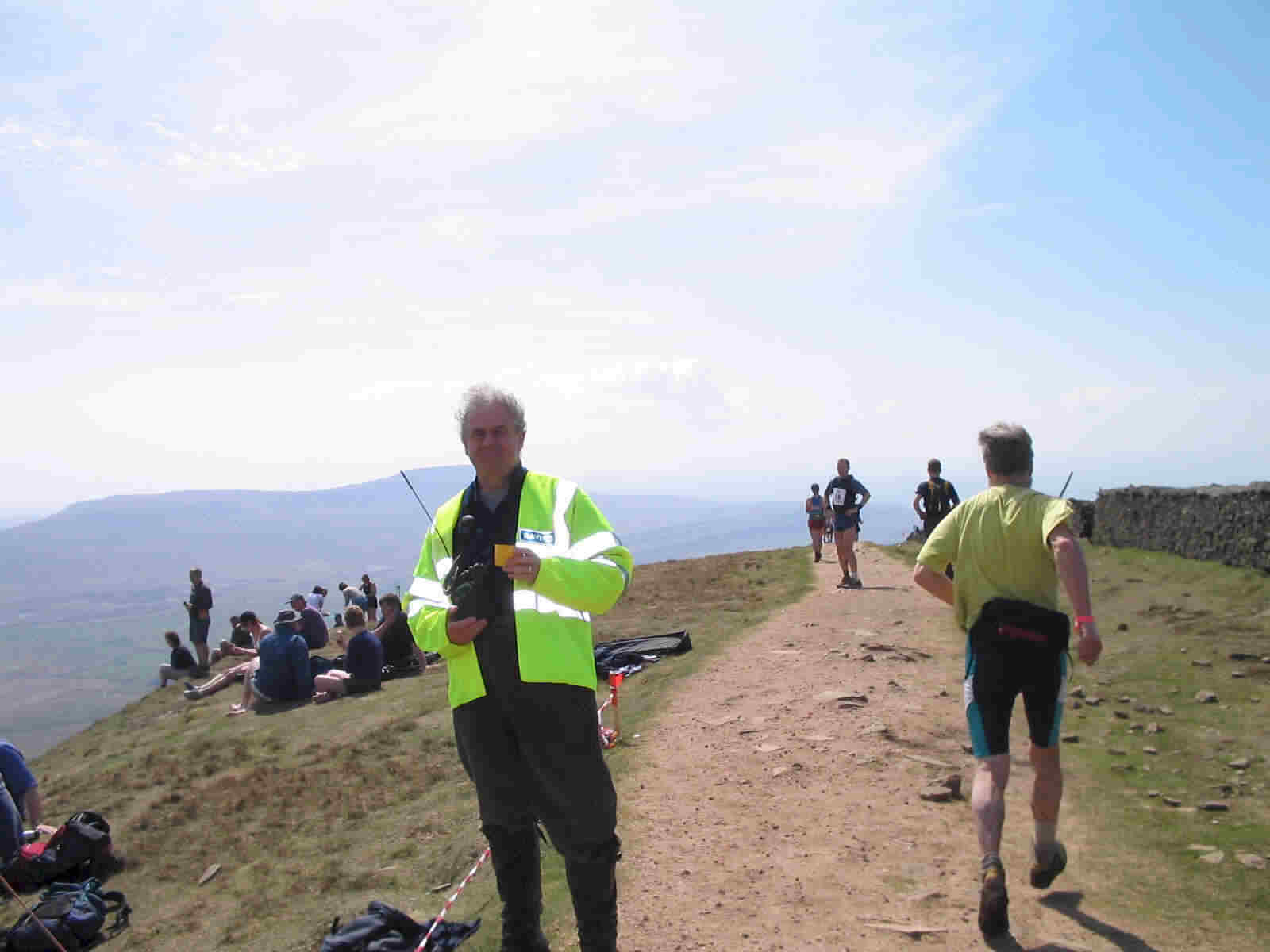 On the final approach to the summit, I heard Roger G4OWG/P on Kisdon G/NP-026 and Shirley M0YLS/P on Great Shunner Fell G/NP-006, and jotted them into the notebook as I tried and failed to raise them on the 230mW Standard C108 handheld. As we came around the wall, we saw the congestion of the summit activity for the Three Peaks Race, and the incredible sight of the ant trail of runners down below and their subsequent "Chariots of Fire" slow-motion style trudge up the face of Whernside. It looked so steep as to be positively dangerous, or at best, positively stupid! We set up in the sun, a few metres to the west of the wall and trig point, as the whole wall area was so busily populated, and we soon met up again with Rod M3HLD, up here on RAYNET duty. By the time I was fully set up, Roger and Shirley had gone, so those two were marked as "SWL", and I had the consolation of achieving my first certificate in the SWL section as they took me through the 100 points mark. After mulligatawny soup, sandwiches and a few drinks, we moved everything to the stone seat and shelter by the trig, with all the Three Peaks Race lot having deserted the summit by this stage. Summit-to-summit contacts were made with Steve G1INK/P on Buckden Pike G/NP-009, Mark MW0DEV/P on Moel Siabod G/NW-010, Rob G4RQJ/P on Helvellyn G/LD-003, Pete M0COP/P on Long Mynd-Pole Bank G/WB-005 and Ron G4FBC/P on Seat Sandal G/LD-022.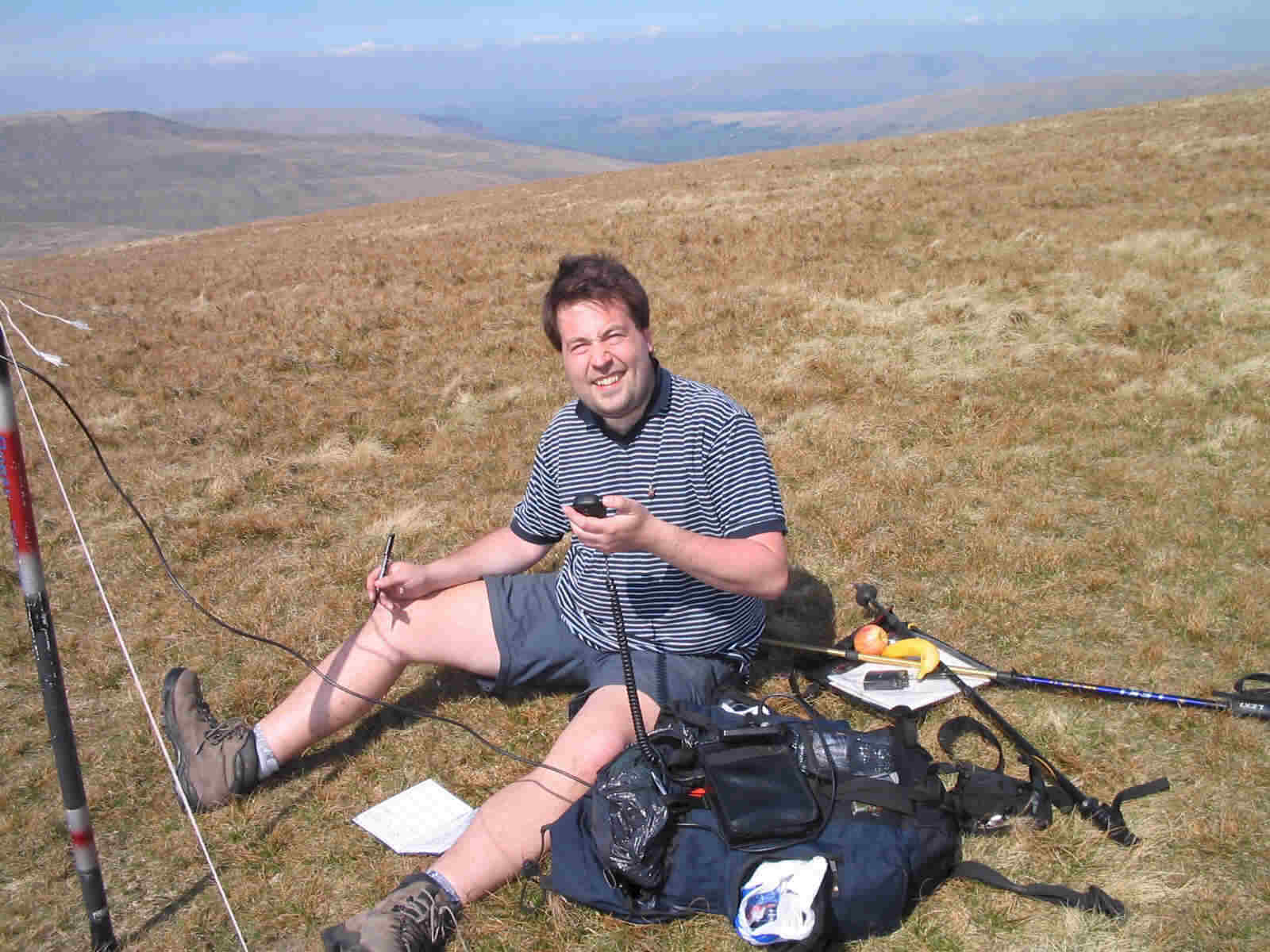 The highlight of this activation was the fourth contact. That was always going to be the golden one, as it would have qualified this, my 100th SOTA activation. After working three contacts, I hesitated. I knew Steve M0SGB, Sam and Riley were ready to work me, but Rob G4RQJ/P appeared on Helvellyn G/LD003. It was too good an opportunity to miss to crown the 100th activation in this manner, and so there was a period of 6 minutes where no-one got to work me while I waited in the queue for Rob! The golden moment happened at 1208 UTC, following which I worked my own pile-up of patient chasers! It was a beautiful day, time was, as usual, progressing at its standard rate, and so the decision was taken to enjoy this summit activation and not try to get to another summit on this day.

SWL points were claimed through hearing but not contacting Rick GW7VYI/P on Great Orme GW/NW-070 and Rob G4RQJ/P on Helvellyn, but over on SSB. Many other stations called in, and these were M1EYO/M, M0SGB/M, M0SJJ, M/KB8PPG/M (at the bottom of the hill near our car at this point), G0LWU, G0OXV/M and G6DDQ/M at Tor Dyke, G0NES/M, GW4BVE, G1TAG, G4OWG/M, G4BLH/M, G1BQQ/M, G0VOF/M, G4FQW and G4JNN. It was 2.50pm local, and we wanted to descend and get to the Pen-y-ghent Cafe in Horton to collect our Three Peaks signing in and out card. However, Steve G1INK insisted that Shirley would be close to her second summit, and so we waited. Sure enough, at 1507 BST, we worked Shirley on Lovely Seat G/NP-030 for 4 chaser points and our last logged QSO of the weekend.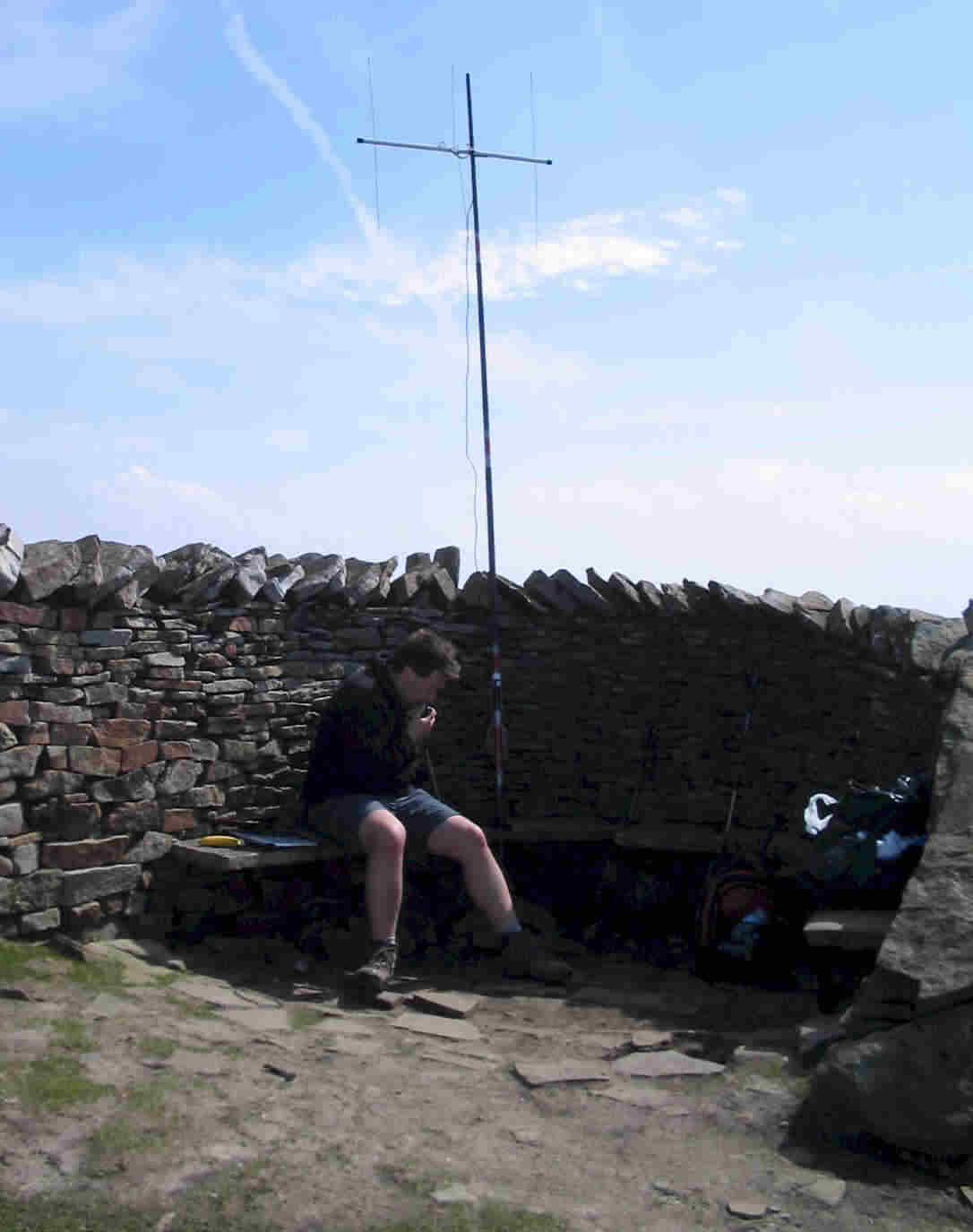 This time, we followed the correct path back down, and the stepped sections in the steep bits would have certainly made things easier going up, although we generally made good time today. Riley was still on the road at the bottom, and I struck up a QSO with him using the handy, where we had a chinwag about the weekend's activities. We completed the descent in just over 1 hour, and Riley gave us a lift up the short distance to where we had left the car. The next stop was Horton again, and the Pen-y-ghent Cafe. It was still open, and we collected our 3 Peaks tickets and stamped the "Time in" boxes on them. Our 32 hour completion of the 3 Peaks won't set any records, or indeed qualify us for membership of the 3 Peaks Club, but we still had to get those tickets stamped! We arrived home in Macclesfield at about 7.50pm BST, and enjoyed a take-away curry before Jimmy went to bed. I was not too long after him either!
Thanks to the following stations, all worked on 2m FM with 500 milliwatts down to G0LWU, thereafter 1 watt:
| | | |
| --- | --- | --- |
| G1INK/P | Buckden Pike G/NP-009 | Steve |
| MW0DEV/P | Moel Siabod GW/NW-010 | Mark |
| M1EYO/M | descending Ingleborough G/NP-005 | Alan |
| G4RQJ/P | Helvellyn G/LD-003 | Rob |
| M0SGB/M | Top of Leach | Steve |
| M0SJJ | Barrow-in-Furness | Sam |
| M/KB8PPG/M | Swere Gill Bridge SD78 | Riley |
| G0LWU | Overton | Andrew |
| M0COP/P | Long Mynd - Pole Bank G/WB-005 | Pete |
| G0OXV/M | Tor Dyke | Keith |
| G6DDQ/M | Tor Dyke | Myke |
| G0NES/M | Long Mynd | Don |
| GW4BVE | Pool Quay | John |
| G1TAG | Osmotherley | John |
| G4OWG/M | | Roger |
| G4BLH/M | Nelson | Mike |
| G1BQQ/M | Ribblehead Viaduct | John |
| G0VOF/M | Edgeworth | Mark |
| G4FQW | Accrington | Brian |
| G4JNN | Bradford | Paul |
| G4FBC/P | Seat Sandal G/LD-022 | Ron |
| M0YLS/P | Lovely Seat G/NP-030 | Shirley |