Jump ship to:
As the summer of 1999 approached, the UK News section in Communication was starting to look very interesting again. This time, there were to be no fewer than three stations to take in, with Radio Caroline, Radio England and Radio Northsea International all broadcasting under restrictive service licences in August. Advanced negotiations were held with "She Who Must Be Obeyed" and permission to hold another "Tom & Jimmy Radio Trip" was secured. Travel plans had to be carefully coordinated, as the first day we could set off coincided with the last day of Radio England's broadcasting, and the Hove meeting of the British DX Club which, somewhat ambitiously, I had also decided to try and make! This time the ultimate sacrifice was made, and Macclesfield Town's Division 3 encounter with Northampton Town was dropped in favour of 'Swinging Radio England'.
Setting off from Macclesfield around 0900 BST on Saturday 14th August 1999, Jimmy (now 6) and myself headed south down the M6, this time in a Fiat Cinquecento. Our first port of call was to be the Radio England RSL in Cheshunt, Hertfordshire. As we navigated through the Birmingham area, ten unlisted stations were heard on the FM band of the Philips DC342 car radio, with niche programmes of reggae, gospel, r&b, soul, dance, techno, hardcore or drums+bass music. An Asian service was also noted. The slogans noted were Unity, PCRL, Skyline, Kiss, Kool, Underground, Love, Sting, Sangam and Wax, and most probably represented unlicensed stations.
Upon making further progress southwards, we listened for a while to BBC Hereford & Worcester on 738 kHz MW, which was putting out recordings of the old offshore Wonderful Radio London jingles and commercials. Of course, the date – 14th August – is significant in radio as it was on this date in 1967 that the Marine Offences Act became law, silencing all the offshore stations, apart from Caroline. It is quite common to hear offshore nostalgia on this date each year, on both independent and BBC local radio stations.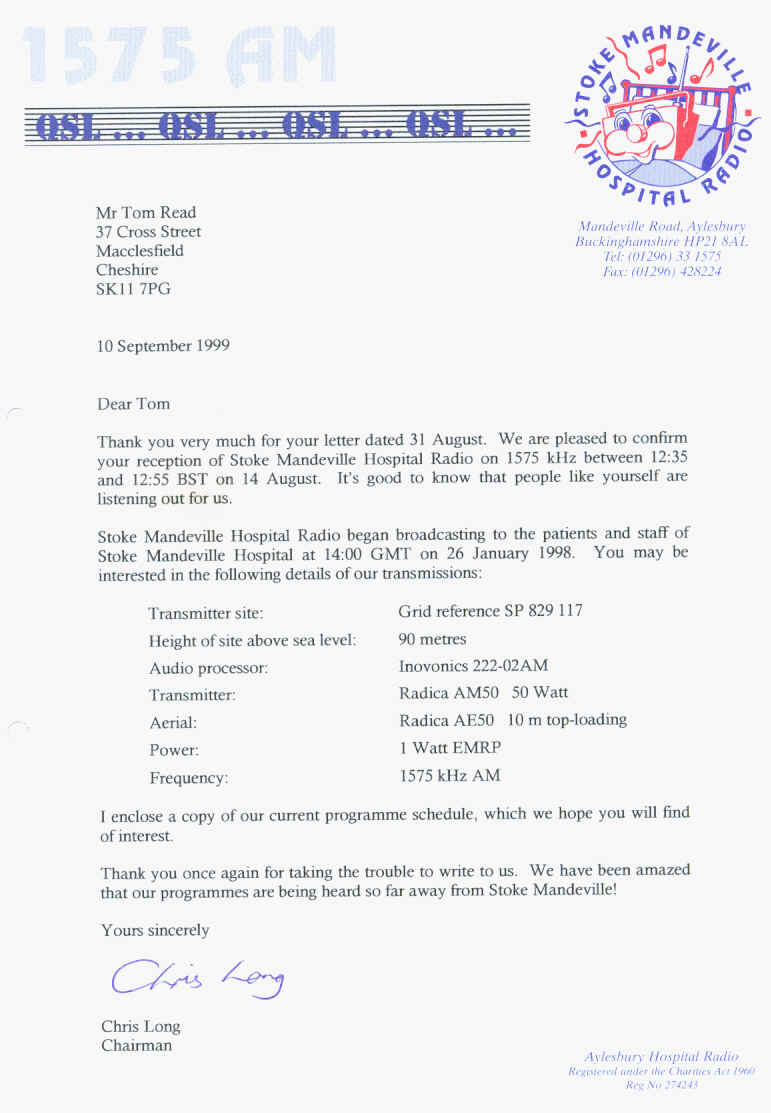 A significant development for DXers in recent years has been the Radio Authority's Low Power AM (LPAM) scheme, where institutions may broadcast continuously to a small area with up to 1 watt of power. I suspected that a long driving run such as this may briefly bring in audible LPAM stations, and sure enough once in Buckinghamshire, Stoke Mandeville Hospital Radio came through very well on 1575 kHz MW.
As we transferred from the M1 to the M25, a flick of a car radio preset on 1566 kHz, and the RSL Radio England was there. Debs presented 60s music interspersed with the famous Radio England jingles - "Remember, these golden classics,… Swinging Radio England!", "The fastest thing in the air, Swinging Radio England", and advertisements for Cheshunt businesses and Radio England T-shirts. I had already contacted the station and was told that I would be welcome to visit, so once in Cheshunt, I asked for directions and arrived shortly thereafter.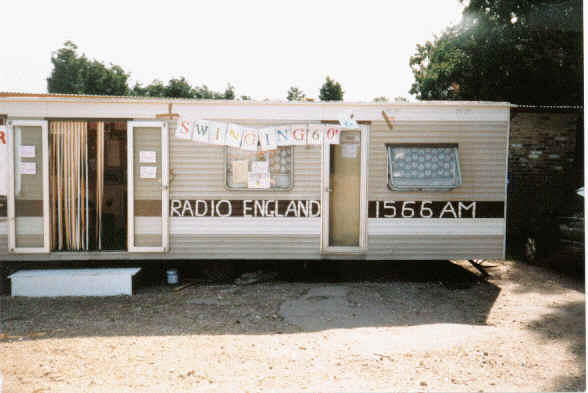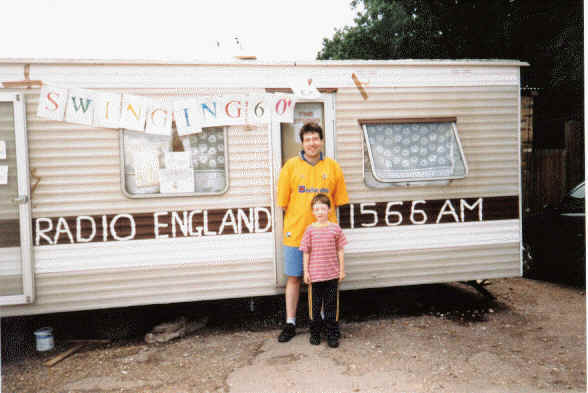 The Radio England operation was housed in a static caravan outside Animal Fayre on Rags Lane. The studio and DJ were in the right-hand end of the caravan, with the other members of the team in lounge and kitchen areas getting through plenty of cigarettes and coffee! We met Debs, to whom we had just been listening, and also Mike Stevens, Steve James, Alec Hilton and Anthony Rogers.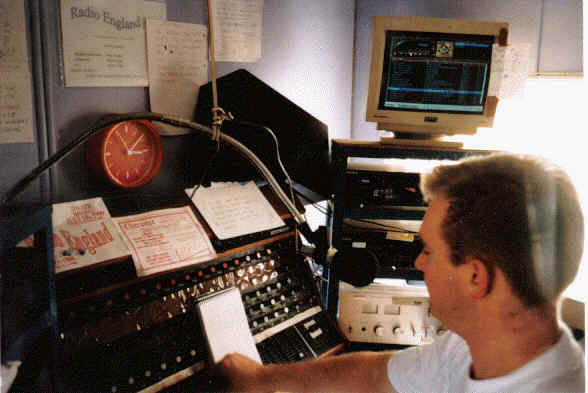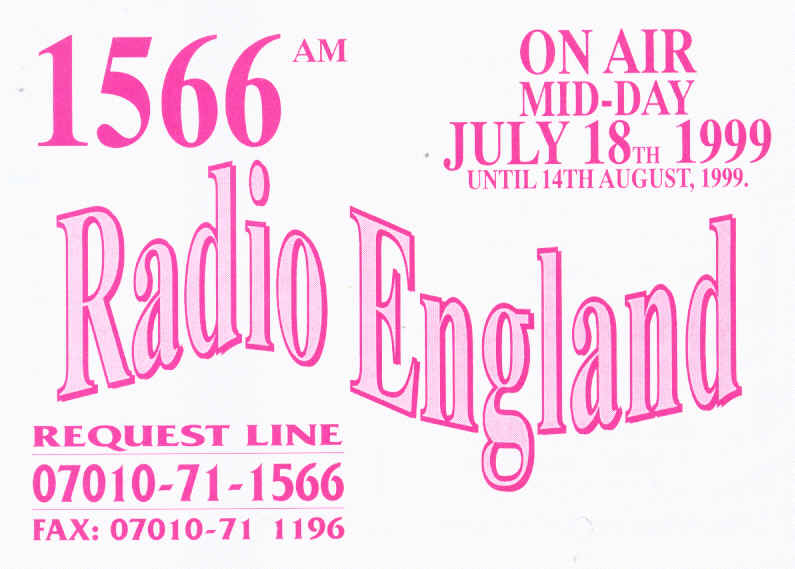 After leaving SRE, we parked up at the top of the driveway, as lots of FM and MW stations were coming in, especially from London, and it was a good opportunity to compile some reception reports. On medium wave 1584 kHz, there was London Turkish Radio, while on FM, Active FM (Romford) on 107.5 MHz and London Greek Radio on 103.3 MHz were putting in strong stereo signals. There was also an incredible number of other, possibly pirate radio stations across the whole FM band. Announcements heard included Touch, Fat, Shine, Time, Scene, Power, Kool, CFM, SLR, Upfront, Rinse, Skyline, Freak, Erotica, Vibes, De-ja-vu, Taste, Passion, Mission, Vogue, Station, Vine and Ice! Furthermore, there were also unlisted transmissions on 89.4, 90.2, 92.1, 92.3, 94.3, 95.2, 101.5, 102.5, 104.0, 105.15, 107.0 and 108.0 MHz. Programme formats on these stations included reggae, drums 'n' bass, hardcore, techno, rock, Indian, African, pop, garage, rap, soul and dance music, 'shouts' for listeners, promotional messages for nightclub events, and advertisements for local shops. It was tempting to stick around and investigate these fascinating signals further, but if they were indeed pirates, then it would be illegal to do so, and time was marching on if we were to try to get to the BDXC meeting in Hove.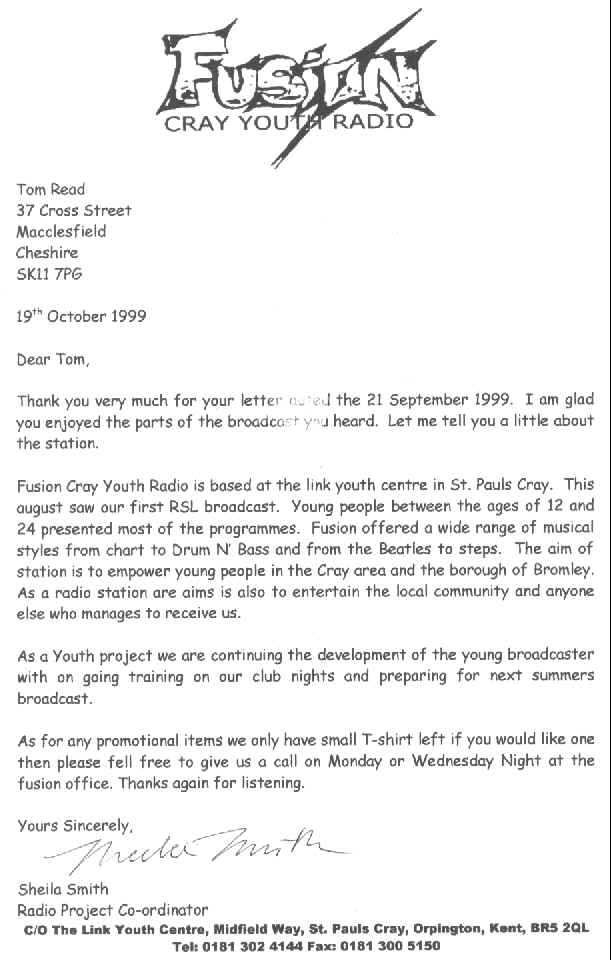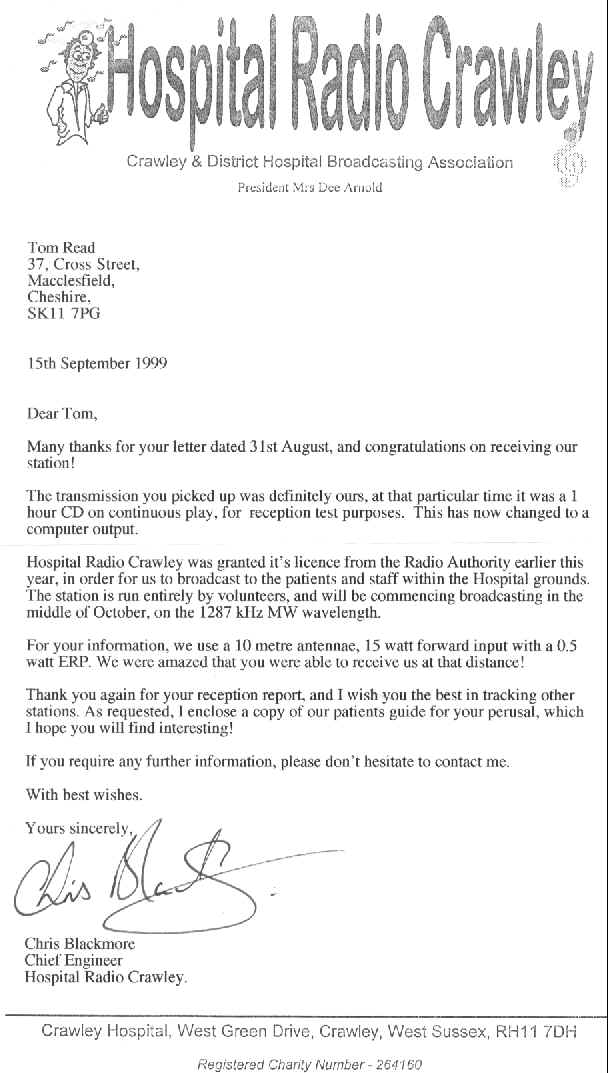 We followed the M25 orbital around the East of London, noting RSL station Fusion FM on 87.7 MHz while on the Orpington by-pass. I was later to discover that it actually came from Orpington, with a full title of Fusion Cray Youth Radio. This in mind, it was all the more surprising to hear the comment "Here's a spliff, take a puff!" on air. South of London, the M25 started to jam, possibly due to weight of traffic heading into Gatwick Airport. Shortly we were able to head due south towards Brighton on the M23, and pick up another LPAM station, Hospital Radio Crawley on 1287 kHz. This was carrying test transmissions with a mix of 60s to 80s music and announcements about the WVRS shop in the hospital foyer.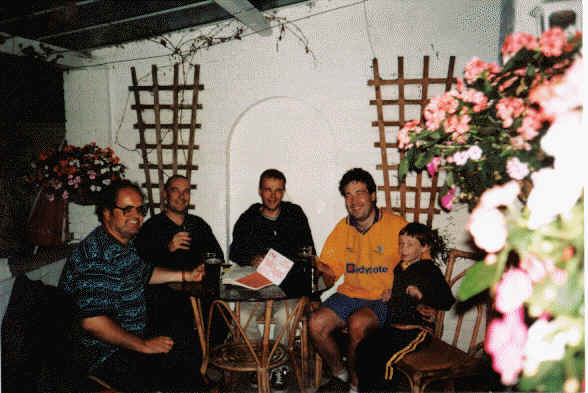 (BDXC Hove meeting: L-R: Mark Savage, Dave Kenny, Alan Pennington, Tom Read, Jimmy Read)
With the time already later than the advertised start time of the Hove BDXC get-together, Jimmy and I checked into the Downsview Caravan Park near Woodmancote, hurriedly pitched the tent and even more hurriedly showered and changed. Then it was down to Hove, and the Hove Place pub on 2nd Avenue, where we arrived only two hours late at 9pm! Fortunately, the weather was fine and we were able to remain outdoors throughout the evening, in the beautiful Italianate beer garden behind the bar. I very much enjoyed meeting up with long standing British DX Club board members and section editors Mark Savage, Dave Kenny and Alan Pennington. Dave is the founder of the BDXC, and he brought along items including the first ever edition of 'Communication' – the club journal. I brought in a portable tape cassette player and played back my recordings of Radio England 1566 from earlier that same day. At closing time, we made our separate ways, the idea being that Jimmy and myself would make the short walk to a couple of streets away where I had earlier parked the car. Problem was, I thought I had remembered where I had parked it, but in fact hadn't! After pacing up and down the Hove streets for over an hour, with the background noise of the breaking waves getting ever eerier, I began to fear the worst; that the car had been stolen. Fortunately, we then stumbled across it, much to our relief! As we drove back over the South Downs, the car radio gave us Surf 107.2, a fairly new station for Brighton, and the nine year old Isle of Wight Radio, but now newly on FM, on 107.0 MHz. We eventually got down to sleep in the tent at 0110 hours BST, although Jimmy had got a bit of a head start by sleeping in the car from Hove. No staying power these youngsters!!!