Jump ship to:
The weather was good, so we decided to have another trek down to Southend and have a more detailed look at Radio Caroline. Famous last words indeed. As we drove down the A130, a thunderstorm and huge downpour started. We had the car radio tuned to Caroline on 1503 kHz, but this disappeared simultaneously with a streak of forked lightning on the southern horizon. I was to later learn that this lightning had indeed struck the transmitter on the Ross Revenge, and also that the Mebo 3 had been hit around the same time. So temporarily, both stations were forced off the air.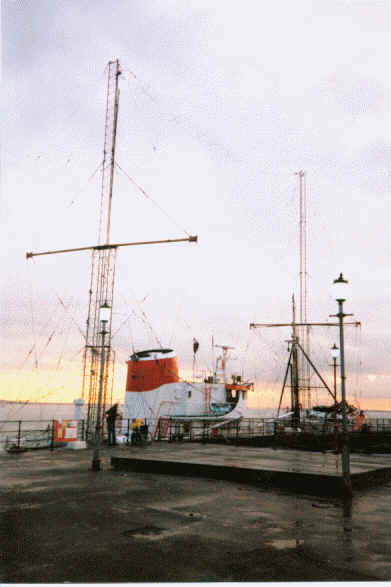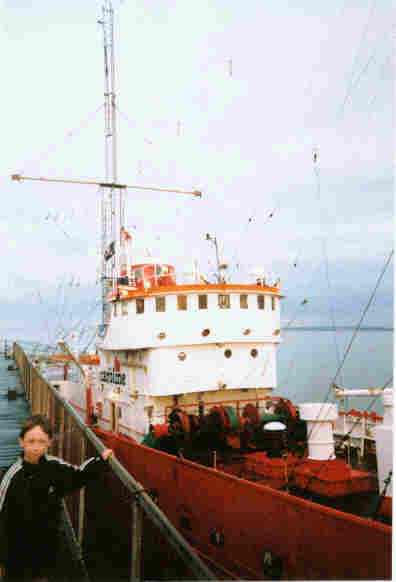 (views of Radio Caroline / Ross Revenge from Southend Pier)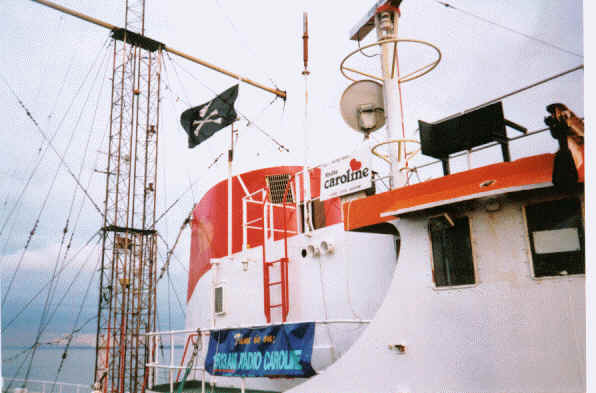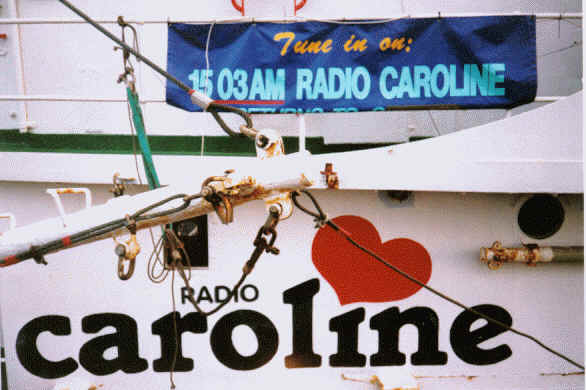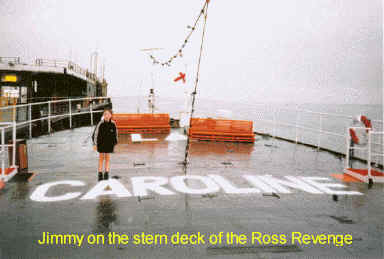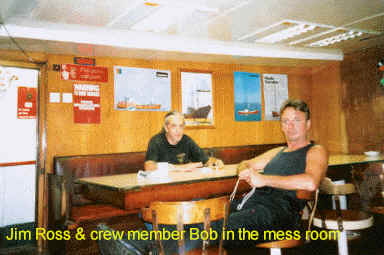 By the time we arrived at the end of Southend Pier, Caroline was again up and running. Jimmy and I stepped off the pier onto the Ross Revenge and followed the signs down to the mess room. We were met by presenter Jim Ross and crew member Bob. We had an informal chat and were made to feel very welcome. Jim explained that he originally was a Caroline supporter, an increasingly active member of the Ross Revenge Support Group and ultimately now presenting the 'graveyard shift' on the Ross itself. The charge for coming onto the Radio Caroline ship was just £3, with the crew refusing to take anything for Jimmy. Quite a difference to the £20 shelled out on RNI earlier in the day, although that was contributing to RNLI funds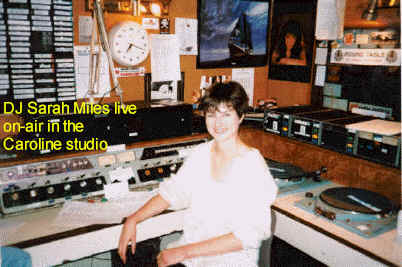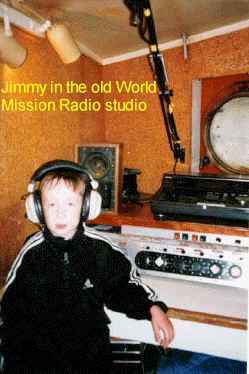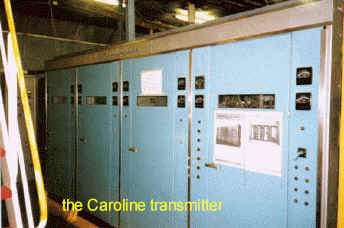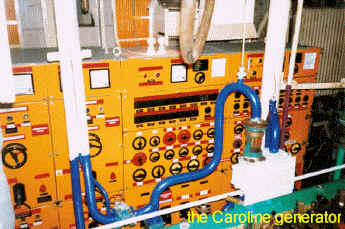 Jimmy and myself were the only 'punters' on board at this time, and so the tour of the ship was both lengthy and detailed. Jim showed us around the transmitter, generator, engine room, galley, bridge, decks and modulator, all fascinating stuff. We then got to view the famous Caroline record library and the studios. There were three studios, with the first being occupied by DJ Sarah Miles who was on air at that time, playing Alice Cooper and other similar hard rock music. The second studio, adjacent to the first, looked to be similarly equipped and of a comparable size. This was the standby, back-up and link studio. This was my chance to have myself photographed in a Caroline studio on the Ross! A third and much smaller studio was pointed out, and Jimmy quickly entered it and posed for the camera! The religious programmes of World Mission Radio used to be played from here. I recall hearing the World Mission Radio output during daytimes on 6215 kHz short wave back in 1989. After midnight, this HF channel then used to put out three hours of Radio Caroline programmes.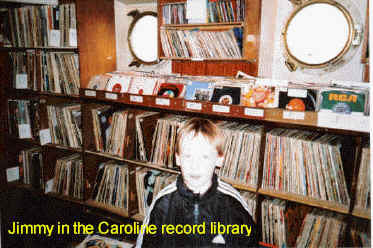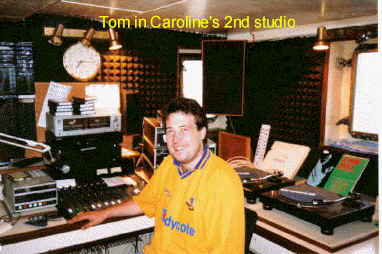 After buying a few stickers from the on-board souvenir shop, it was time to thank Jim for his hospitality and bid farewell. I have to say that I was touched by the warmth of the welcome by all the Caroline staff. I felt that I left the ship with a greater understanding of Radio Caroline's ethos and 'Loving Awareness'.
(the Caroline mast)
About halfway back from Southend to Bradfield, another new station for me was caught on the car radio – Ten 17 from Harlow, on 101.7 MHz. Back at the tent the portable was tuned to BBC Eastern Counties Radio, which was networked at night across BBC Radios Norfolk, Suffolk, Essex and Cambridgeshire. I understand that the current evening network is less local still, as BBC Midlands & East. Anyway, so what was the draw of BBC Eastern Counties networked programmes, especially for an offshore, RSL and short wave DX fan like myself? The answer was the presenter – Keith Skues. Keith found fame as a presenter on the original Radio London in the sixties, and is more recently noted as the author of the superb book "Pop Went The Pirates", which is one of the most complete, detailed and entertaining references of the watery wireless days you could find. Keith's distinctive 'sergeant major' presentation style made for very enjoyable late night listening, as he mixed four or five decades worth of music with listeners' letters and "parish notices". I listened through until 0100 while in my sleeping bag, while Jimmy slept in his!
With all our premeditated radio appointments complete, Tuesday was set aside for a day on the beach. The landscape of Walton-on-the-Naze was dramatically altered with our buckets and spades, before the tide came in to restore the original profile. The accompanying tranny provided the aural entertainment for the workmen with what else but Radio Northsea International. Back at the tent that evening, a surprise was hearing the RSL station Ipswich Community Radio (ICR) on 105.1 MHz FM.
A summary of all the stations heard during our 2nd Essex holiday and journeys is as follows (excluding possible FM pirate radio stations from London and Birmingham):
MW
738 BBC Hereford & Worcester
819 Radio Free London
1251 Classic Gold Amber, Bury
1287 Hospital Radio Crawley
1404 University Radio Essex
1503 Radio Caroline
1566 Swinging Radio England
1575 Stoke Mandeville Hospital Radio
1575 Radio Northsea International
1584 London Turkish Radio
FM
87.7 Fusion FM, Orpington
97.2 Connect FM, Wellingborough
100.2 Dream 100, Colchester
101.7 Ten 17, Harlow
102.7 Hereward FM, Peterborough
103.3 London Greek Radio
103.5 BBC Eastern Counties
104.0 BBC Eastern Counties
105.1 Ipswich Community Radio
106.0 CTFM, Canterbury
106.5 Variety FM, Sutton Coldfield
106.6 Corby Radio
106.8 Lite FM, Peterborough
107.0 Isle of Wight Radio
107.2 Surf FM, Brighton
107.2 TLR, Margate
107.5 Active FM, Romford
107.7 Chelmer FM, Chelmsford
107.9 Cambridge Red Radio
The above lists include further stations that were noted on our return journey to Macclesfield. These were Cambridge Red 107.9, 102.7 Hereward Radio (Peterborough), Lite FM (Peterborough – then RSL, now full-time), Corby Radio (RSL), Connect FM (Wellingborough) and Variety FM (RSL – Sutton Coldfield). Similarly to the return journey two years previous, Radio Caroline and Radio Northsea International were both audible until fade-out on the A14 near Huntingdon! We returned to Macclesfield 102 hours after our departure, having driven a total of 1076 miles and hearing no fewer than 80 different radio stations.