Pirate BBC Essex –
this could be the last time?
By Tom Read M1EYP, G-20843, BDXC-1040
(this article originally appeared in the October 2007 edition of Radio User magazine)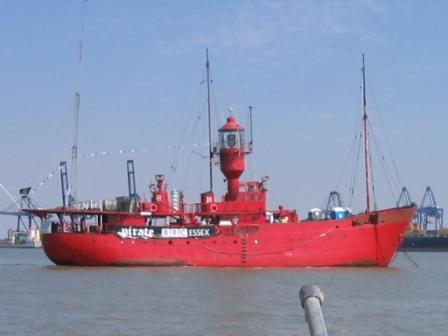 It is with some surprise that I see, when looking back, it is a full five years since my last "Radio Trip to Essex", and ten years (where did it go?) since my first. A "Radio Trip to Essex" is what I call a camping holiday with my sons, deliberately scheduled to coincide with a major offshore radio commemoration broadcast, of which there have been numerous in that part of the country over the past decade. I have been to the favoured Strangers Home campsite in the village of Bradfield for a camping holiday with the lads three times since (we grew to like the area on its own merits, radio aside!), but the last radio event in the area coincidental with the camping was the Radio Mi Amigo RSL 2002.

That was from the LV18 in Harwich Harbour, the home of the recent, and previous Pirate BBC Essex broadcasts. In April 2004, the first Pirate BBC Essex event commemorated 40 years since the start of offshore pirate radio around the UK. The concept was that of BBC Essex presenter Steve Scruton, himself a nostaligic pirate radio fan, or "anorak". The latest broadcast, in August 2007, accordingly marked the 40th anniversary of the Marine Offences Act and closedown of (most) offshore pirate radio on 14th August 1967.

Similarly, this broadcast closed at 3pm on August 14th, mirroring the closedown time of the most celebrated offshore station that switched off on that day in 1967, Radio London, or "Big L".

Our first "Radio Trip to Essex" was to see a Radio London RSL in 1997, on the MV Yeomen Rose, anchored off Frinton-on-Sea. This was broadcast organised by Ray Anderson, of East Anglian Productions in Frinton-on-Sea, who is now the man behind the current 'Big L 1395' Radio London that broadcasts 24 hours a day over the internet, Sky channel 0190 and over the powerful Trintelhaven transmitter in the Netherlands on 1395kHz. We have since been to see Radio England (Cheshunt 1999), Radio Caroline (Ross Revenge, Southend Pier 1999), Radio Northsea International (LV18, off Holland-on-Sea 1999), Radio London (Clacton Pier 2001) and Radio Mi Amigo (LV18, Harwich Harbour 2002). These have all taken place under Restricted Service Licences, of mostly 28 days' duration.

Details and photographs of these visits were originally published in PW Publishing's former title "Radio Active", and can be viewed on my website http://tomread.co.uk - navigate via the links in the table above.

I was happy to discover that Pirate BBC Essex was broadcasting 9th to 14th August 2007, coinciding with my camping trip, as I had been most impressed when listening online to the previous Pirate BBC Essex in 2004. The 'Pirate BBC Essex' was scheduled to be carried primarily on the BBC Essex medium-wave frequencies of 729kHz, 765kHz and 1530kHz, and streaming live on the internet via the BBC Essex section within http://www.bbc.co.uk The usual BBC Essex service would continue on its FM frequencies.

Driving down on Friday 10th August, the second day of the broadcast, I thought I would try one of the station's frequencies once on the A14 near Kettering. It was already comfortably audible on 765kHz, so I made a mental note to see how far I could listen on the journey back. Jimmy telephoned my mum, and he told his Nanna about how she could listen online. Some time later, an email from her was read out, and Jimmy, Liam and myself were namechecked on air. It was fascinating to observe how quickly my sons latched onto the jingles, specially recorded for Pirate BBC Essex in authentic 'PAMS' style. The main jingles were actually reworkings of the Swinging Radio England jingle - "Remember, these golden classics - Swinging Radio England". Now, it was "Remember, the pirate stations - Pirate BBC Essex". My youngest son Liam, aged 10, was singing it enthusiastically by the time we passed through Manningtree and closing in on the campsite. The fact that a ten year old had learned the words and the tune, and was sufficiently motivated to sing loudly along each time it was played, and all inside the space of a couple of hours listening, was surely testament to the awesome effectiveness of this classic genre of radio jingle, first unleashed on the British listening public in the mid 1960s.

The Strangers Home pub and campsite in the little village of Bradfield, North-East Essex seemed to have had quite a makeover since my last visit two years ago and the bar, restaurant, play area, beer garden and site were all looking very smart. The meals were excellent if a little pricy, and the staff were friendly and helpful.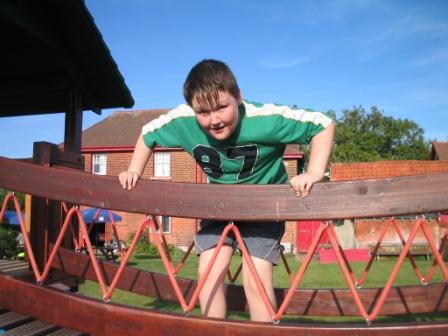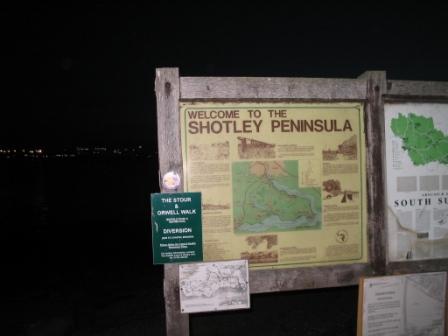 On the Friday night we first took a meal at the excellent 'Mogul' Indian restaurant in Manningtree, then drove around to Shotley to participate in the 'flashing' during Johnnie Walker's programme. It was Johnnie Walker himself who used to coordinate the famous "Frinton Flashing" during his 9 to midnight Radio Caroline show in the offshore era. This was good fun, and it seemed scores were parked up around Shotley, Felixstowe and Harwich for the flashing! In this part of Essex, 729kHz was easily the best frequency for both day and night reception. 765kHz was also usable with a little noise, but 1530 offered barely a squeak. In fact, sometime between 2100 and 2130BST on the Saturday night, 1530kHz contained a strong signal from a religious programme in English, but with other languages at other times. I suspect that this was Vatican Radio.

At around 2110BST on Friday, the signal was suddenly lost, with all MW frequencies carrying 'normal' BBC Essex, ie the same as the FM frequencies. This persisted until 2117BST, when Pirate BBC Essex suddenly cut back in on all three frequencies. This was not acknowledged on air, and appeared to be a manual switching error by the engineer. I was also quite busy at this time tuning around the FM band. Town 102 from Ipswich was a new one for me, and there was also a significant atmospheric lift on with many strong stations, complete with RDS identification booming across from Belgium and Holland. On 87.5MHz was a pirate called 'Mystery' complete with RDS, and a signal strength suggesting it was from the Ipswich area.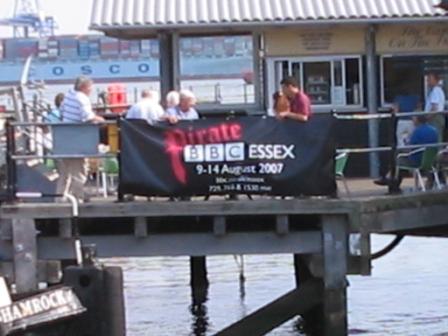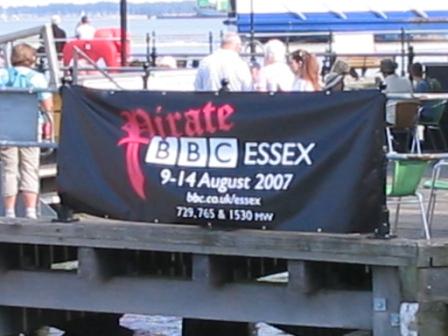 The following contact details were mentioned on air:
Website: http://www.bbc.co.uk/essex/local_radio/pirate_bbc_essex/

Email: essex.pirate@bbc.co.uk
Text number: 07786 200765

Additional frequencies were announced on air, with BBC Radio Norfolk's 855 and 873kHz carrying the programmes on the Friday evening. 855kHz was just audible under strong European QRM at my location; a Pirate BBC Essex signal on 873kHz was not detectable.
Johnnie Walker mentioned a request from "Mike in Bournemouth" – I assumed that this was my friend and fellow BDXC member Mike Terry, who I knew was planning to drive across to Harwich for the last day of the broadcast on 14th August. It was rather peculiar to hear dedications and requests coming in from all over the UK, Europe and even USA, Canada and Australia on a BBC local radio station. Some 'flashing' resumed later with Johnnie Walker and co-presenter back out on deck and soliciting votes for the 'Record of the Week'. On the voice-over station identification announcements, the line "This could be the last time", taken from the Rolling Stones track "The Last Time", was often heard.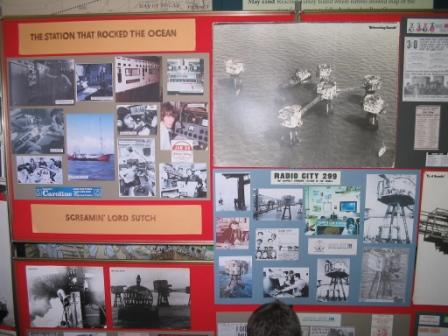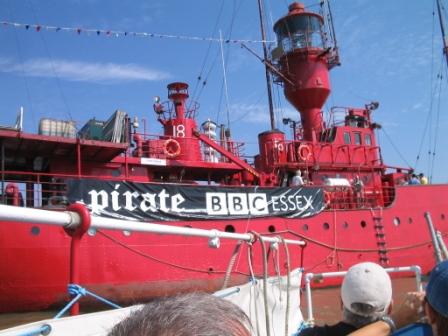 On Saturday morning, we visited Ha'penny Pier in Harwich to view the exhibition of offshore memorabilia from a previously rarely seen collection. In addition, I bought a Pirate BBC Essex T-shirt for son Liam (he loves anything with a TV ident logo on it!) and a Pirate BBC Essex mug as a present to bring back for my wife, Marianne (she loves coffee!). Later on, Roger 'Twiggy' Day and Dave Cash were in the exhibition hall chatting and posing for photographs. Admission to this excellent exhibition was free.
Other events were taking place at the famous Electric Palace theatre in Harwich. On at least three of the broadcast days, there was a late afternoon "Meet The Pirates" session hosted by one or more of the Pirate BBC Essex presenters. There was an admission charge for this event.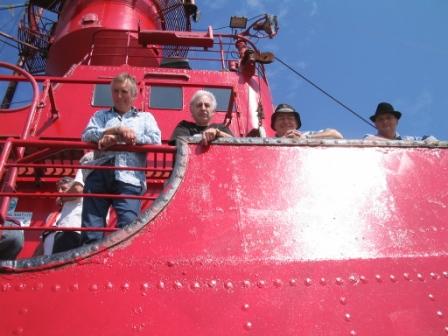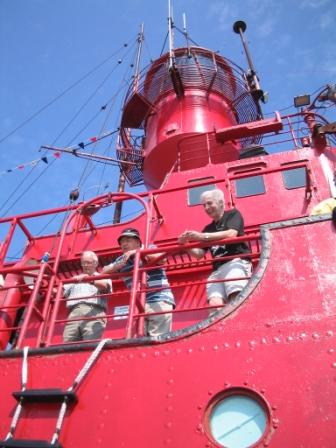 We booked on the 11am foot ferry out to the LV18. The tender moored up alongside the lightship, and reamined there for half-an-hour or so to allow those on board to chat with the presenters, all of whom were out on deck leaning over, chatting, exchanging banter, and signing books that were passed up to them. These included Roger 'Twiggy' Day in his trademark 'Growing old disgracefully' T-shirt, Dave Cash and Keith Skues amongst others. A large old-fashioned portable radio was on the deck of the foot ferry, providing the Pirate BBC Essex output as a soundtrack to our visit. An amusing moment arrived with the station jingle. My ten year old son Liam leapt to his feet and sang loudly to it, word and note perfect. At the end, he was greeted with a loud cheer and applause from the presenters, crew and trippers! Click on any of the photographs of the radioship to see a short video.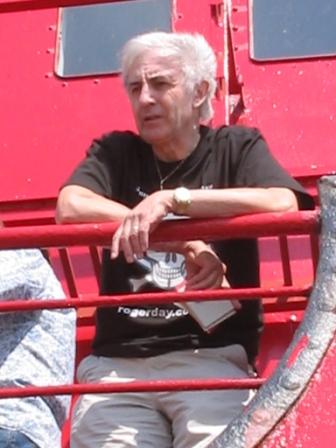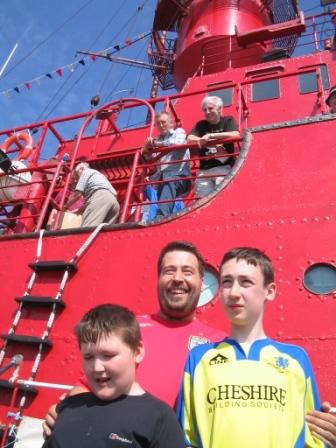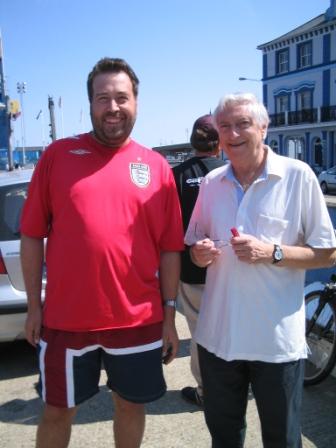 Back on the pier after the trip, some of the said presenters had also come ashore and were unhurriedly chatting with enthusiasts. I got my photo taken with Keith Skues, the author of my favourite ever book - "Pop Went The Pirates", and well-known for many years as the "Voice of the BBC in the Eastern Counties" for his popular late evening networked programme. Inspired by the holiday, Jimmy had lots of questions about the offshore era. (No sooner had he got out of the car and greeted his mum upon returning home, he swapped the bookmark from his recently finished 'Harry Potter and the Deathly Hallows' over to my prized Keith Skues volume).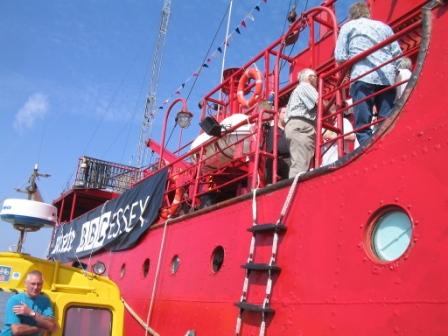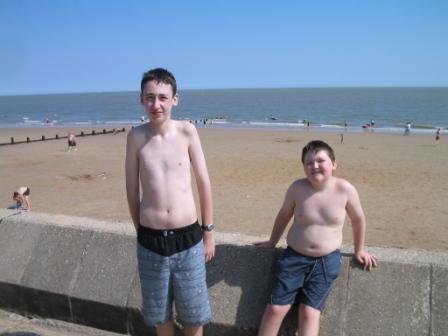 It had turned out that Dave Cash's 6pm to 9pm show on the Saturday had been networked on all FM and MW frequencies. This explains why I picked it up around 8pm on BBC Radio Kent's 104.2MHz in Harwich, ahead of another Johnnie Walker 'flashing' session. The programming included The Big L Fab 40 and several (granted) requests for famous theme tune, knows as either "Big Lil" or the Big L Sonowaltz.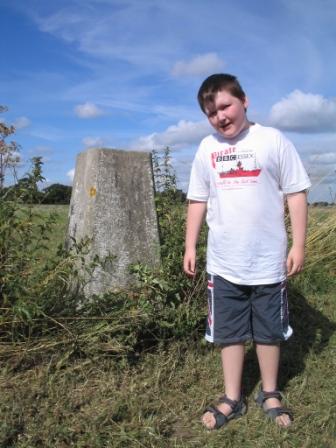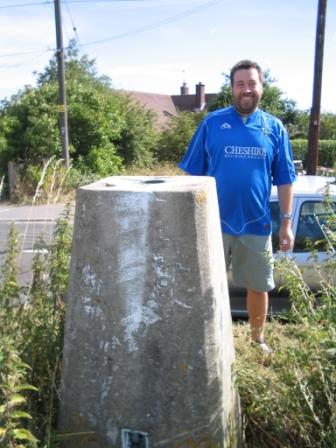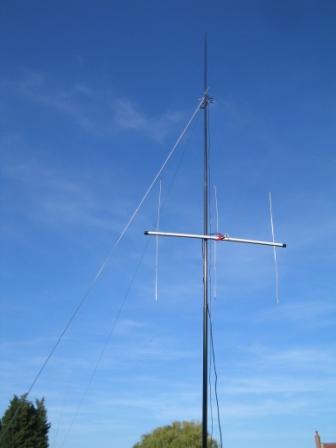 Sunday saw more casual listening, in the car on the way to and from the beach, and in the tent at night. This remarkable corner of the UK maintained it's extraordinary record of exceptionally good weather for my holidays there, and the only times we weren't in T-shirts and sandals was when we were swimming in the sea at Walton or Frinton! I had a resonant halfwave dipole for 40m strung up at the campsite, and took some slack time in the afternoon to practice my morse. Stations from Scotland, Sweden, Germany, Switzerland and Latvia were worked easily with 5 watts. CW is a great mode for low power - no-one ever hears my calls on SSB with the microphone!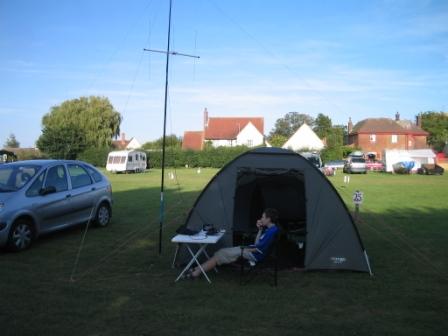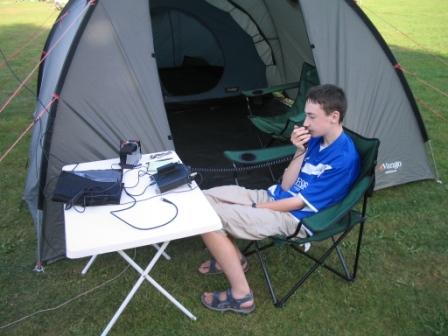 A pleasant interlude during the Sunday afternoon was a presenter on Pirate BBC Essex selecting more easy listening music in the style of the old Thames Estuary fort-based Radio 390.

The journey home on Monday 13th August provided a great opportunity for some real in-depth programme listening to Pirate BBC Essex, away from the distractions of tents, day trips, ships, exhibitions, meals, piers, beaches, amusements, pubs and amateur radio! After Dave Cash, was Graham 'Spider' Webb. Gary Walker was a special guest, recounting his own music career before and after The Walker Brothers, and his time as a news anchorman on the offshore stations and more recently in San Diego. When Steve Scruton opened his show at 1pm, he announced that the BBC Essex frequencies of 95.3 and 102.5MHz were now also carrying Pirate BBC Essex. Some way along the A14, 765kHz replaced 729kHz as the best frequency, and this enabled monitoring all the way along the A14, M1 and A50 to the Derby area!

Several music tracks were repeated several times over the few days, despite the presenters expressing their enjoyment of their freedom to play whatever they wanted. Recurrent were "I Fought The Law" – Bobby Fuller Four, "River Deep Mountain High" – Ike & Tina Turner, "Itchycoo Park" – Small Faces, "Excerpt From A Teenage Opera" – Keith West, "Carrie Anne" – The Hollies and lots of 1964 to 1967 Beatles songs! A 'novelty' record that was brought aboard by one of the presenters was James, Hold The Ladder Steady" by Sue Thompson. Obviously, its infectious amusement value reached the whole team, for it got played more and more regularly as the days of the broadcast went on. Indeed, "amusement" was clearly what the veteran team were enjoying, with the programmes increasingly being sat in on by one, two or three 'unscheduled' presenters, with lots of laughs and jokes being shared.
I listened to one Johnnie Walker show where his wife Tiggy sat in the studio with him. Johnnie and the crew were later collapsed in hysterical laughter as they realised that his "goodbye kiss" with Tiggy before she returned on the tender to land, had been caught on the webcam, and was being shown around the world on the internet!
Between the records of the era, the classic jingles, and the occasional recordings of actual output from 1964-1967, the presenters told stories and shared memories of the events and people in the original offshore era. A fascinating tale was revealed in an on-air chat about the Hollies famous record "Carrie Anne", which was heavily played by the pirates in the 1960s. The presenters told how it was originally "Marianne", and was about Marianne Faithful, but record producers and managers involved at the time suggested that Mick Jagger may not be too impressed, and advised the subtle change to the title of the song!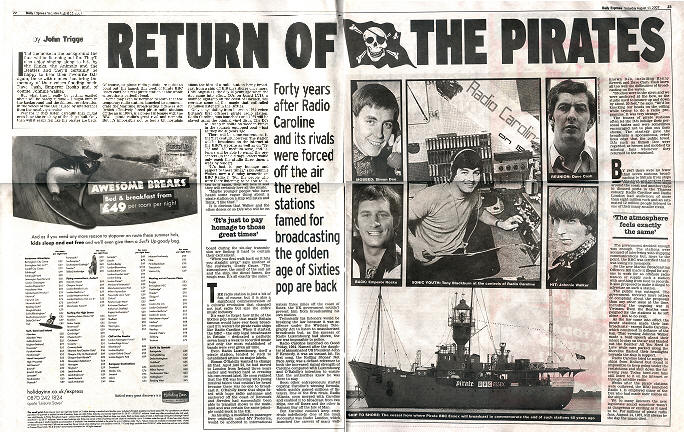 The one aspect missing from the overall authenticity of the 'watery wireless' sound was the advertisements, which of course are not carried on the BBC! However, some of the famous commercials were remembered by the presenters in their chats, and one or two recordings were played.

The schedule for the final day - Tuesday 14th August – promised much. I was back at home in Macclesfield, Cheshire by then, but spent most of the morning and early afternoon listening online. For the last two hours of the event, my son Jimmy dragged in an extra chair and crowded the shack so that he could listen too. The final day's daytime schedule was as follows:

9am - 11am Dave Cash
11am - 1pm Johnnie Walker and friends - Tom Edwards + Keith Hampshire + Keith Skues + Dave Cash + Ed Stewart
1pm - 3pm Steve Scruton and Ed Stewart
3pm - 3.30pm What Happened Next -The story of how Radio Caroline stayed on the air and Radio 1 was born.
3.30pm - 4pm The Pirates come ashore - live from the Ha'penny Pier in Harwich.
The party atmosphere, with anecdotes, laughs and silliness prevailed in the Johnny Walker and Friends programme, culminating in the whole packed studio of presenters singing loudly along to "James, Hold The Ladder Steady"! A more poignant and reflective tone was restored as Johnnie recounted the moment at which Radio Caroline was, once again, alone in the North Sea, after having considerable company (and competition) for most of the previous two years.
Ed Stewart was himself 'in the chair' to closedown Radio London at 3pm on 14th August 1967. Here he was, exactly 40 years later charged with the task of doing the same for Pirate BBC Essex. In a faithful reproduction of the Big L closedown sequence of four decades earlier, the Big L Sonowaltz 'Big Lil' was followed by "A Day In The Life" by the Beatles, and the announcement "It's 3pm, and Pirate BBC Essex is closing down", chanted in unison by all on board. However, it wasn't quite the end, with a half-hour documentary about the events and changes in radio in 1967 and the outside broadcast from Ha'penny Pier, Harwich to follow.
The documentary covered the campaign by the Wilson government to silence the pirates, and how with English companies banned from advertising on the offshore stations, and English launches banned from tendering them, that all but one took the decision to close. The one that continued was Radio Caroline, with Johnnie Walker making the famous midnight announcement:
"Radio Caroline would like to thank Mr Harold Wilson and his Labour government for at last recognising this station's legality, its right to exist, its right to be here and its right to provide you with entertainment, because we belong to you, and we love you. Caroline continues."
This was followed by the Beatles "All You Need Is Love" as Caroline attempted to survive in a new fugitive era.
Interviews were held on Ha'penny Pier, Harwich, as roving reporters from BBC Essex grabbed words with the 'Pirate' presenters as they were returned to land by the foot ferry. Eventually, at 4pm, a more formal and less excited voice offered "It's 4 o'clock – BBC Essex News…", and it really was all over. I felt a little sad it had finished, for I had enjoyed the fun so much. I was born in 1970, and can hardly imagine the sadness felt by around 20 million listeners at the time of the original switch off on 14th August 1967.
I doubt I am alone in the opinion that commercial pop music radio has become bland and uninteresting. It is splendidly ironic that an antidote in the form of lively, stimulating and fun radio has been provided – by the BBC! More or less, the opposite of what happened at Easter 1964!
The full team of presenters that contributed to Pirate BBC Essex, and a list some of the other stations (offshore pirates underlined) in their illustrious careers, is as follows:
Mike Ahern – Caroline North, Caroline South, BBC Radio 1, Capital Gold
Pete Brady – Radio London, Radio Jamaica, BBC Radio 1, Radio Luxembourg
Dave Cash – Radio London, BBC Radio 1, Radio Monte Carlo, Capital Radio, BBC Radio Kent, Radio Luxembourg, Invicta Radio
Ray Clark – Radio Caroline, Invicta Radio, Breeze AM, BBC Essex
Graham Cooke – BBC Radio Kent
Gord Cruise – Caroline South, Caroline North
Ian Damon – 2RG, 2LF, Radio London, BBC Radio 2, KFM, County Sound
Roger "Twiggy" Day – Swinging Radio England, Britain Radio, Radio Caroline, Radio Andorra, Radio Luxembourg, Radio Northsea International, Piccadilly Radio, BRMB, Invicta Sound, Pirate 102, Jazz FM, BBC Radio Kent, Canalside Radio
Tom Edwards – Radio City, Radio Caroline, BBC Radio Norfolk, BBC Radio 2
Tim Gillett – Essex Radio, Breeze AM, BBC Essex
Guy Hamilton – Radio Essex, Britain's Better Music Station, Radio 270, Wiltshire Radio
Keith Hampshire – Radio Caroline, CKFH Toronto
Alison Hartley – BBC Essex
John Kerr – 2PK, 2DU, 2CA, Radio Scotland, 2UE
Keith Martin – Radio Atlanta, Radio Caroline, Radio 390, BFBN
Emperor Rosko – Radio Caroline, Radio Luxembourg, BBC Radio 1, Classic Gold
Steve Scruton – Essex Radio, BBC Essex
Keith Skues – BFBN, Radio Caroline, Radio Luxembourg, Radio London, BBC Radio 1, BBC Radio 2, Radio Hallam, BBC Eastern Counties
Glenn Speller – BBC Essex
Norman St John – 3UZ, 3CS, Radio City, Radio Caroline, Radio London, Radio Luxembourg
Ed Stewart – Radio London, BBC Radio 1, BBC Radio 2, Radio Mercury
Johnnie Walker – Swinging Radio England, Radio Caroline, BBC Radio 1, KSAN, BBC Wiltshire Sound, BBC World Service, GLR, BBC Radio 5, Talk Radio UK, BBC Radio 2
Graham "Spider" Webb – Radio Monte Carlo, Radio Norway, Voice of Germany, Radio Caroline, BBC Radio 2, 2SM
Mark Wesley – Radio Essex, Britain's Better Music Station, Radio 270, Radio Scotland, Radio Northsea International, Radio Luxembourg, Radio Orwell, Radio Nova International, Capital Gold
Ian Wyatt – BBC Essex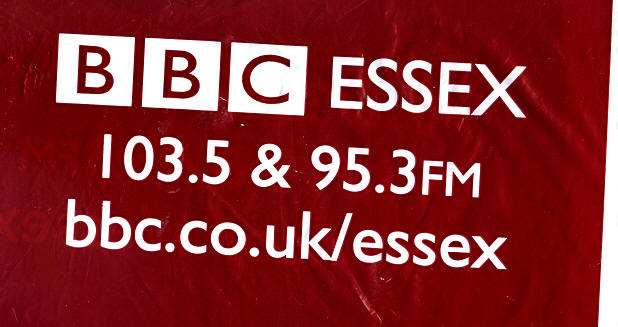 At the time of writing, there is still no progress in the planned longwave station from the Isle of Man. Isle of Man International Broadcasting - IoMIB, founded by Paul Ruisling, has the licence to broadcast on 279kHz, but none of the plans to base the transmitters on a specially constructed offshore platform, or even from a ship have come to fruition. The project is named "MusicMann 279", although there is speculation that the on-air name - if it ever gets on air - could be something more like Caroline 279 or even a resurrection of the Radio Nova name! However, continued lack of development or plan to site the transmitters, together with Paul Ruisling leaving IoMIB, leaves the prospect of the Isle of Man commercial longwave station looking ever more distant.