Wild Boar Fell, G/NP-007 - 708m ASL - SD 758 988 - OS Explorer OL19 - 6 SOTA points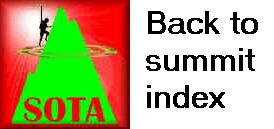 After activating The Cloud G/SP-015 early doors, and refuelling (breakfast and diesel) at Sandbach, we headed north on the M6 for the NP Fun Day. We were aware that some activators would be doing a first early summit, so we were monitoring S20 as we drove. As we travelled near to Garstang, we heard, and then succesively worked Mike G4BLH/P on Pendle Hill G/SP-005. Shortly after was Scott 2E0RCS/P on Whernside G/NP-004, and after exiting the M6 at J37, Gerald G4OIG/P on Great Coum G/NP-011. This little lot took Jimmy M3EYP/P to 996 chaser points in the SOTA programme, and the certainty that he would achieve Shack Sloth by way of a S2S QSO, coincidentally, just as his father did in a NP group event back in 2004.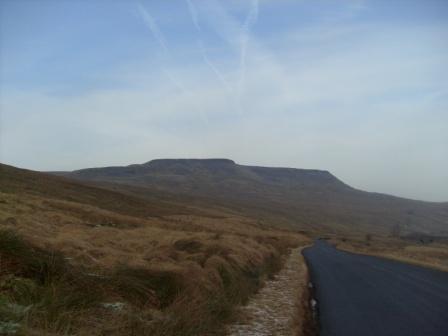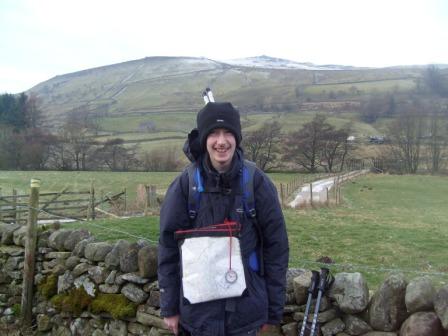 We parked by the entrance to Hazelgill Farm, SD782997, on the B6259. After a brief photo call, Jimmy and I walked down through the farmyard along the bridleway, and then up towards the Settle-Carlisle railway track. The underpass took us to the open fell, of Mallerstang Common, and a steep quad bike track to get onto the higher level. There were frozen streams featuring frozen waterfalls to cross with care, and one or two areas of sheer ice to negotiate.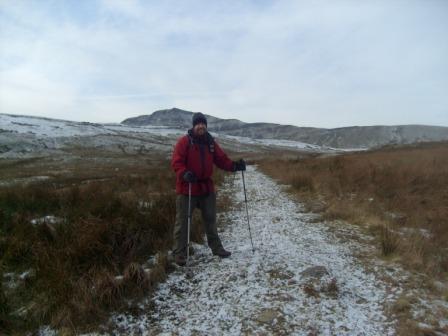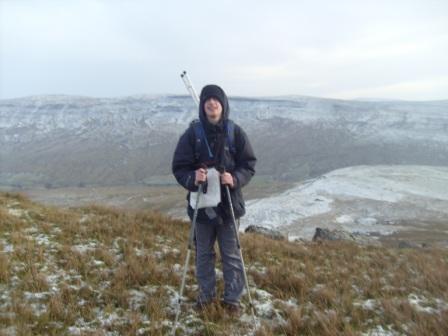 Mainly though, it was good pleasant easy walking along the frozen moor with a light covering of powdery snow down. At NY765000, we were at the end of the ridge turning south to the summit. This was another fine feature of an increasingly exhilarating walk. The path followed close to the edge of the steep drop to the left (East) as it climbed up to The Nab on the East end of the summit plateau.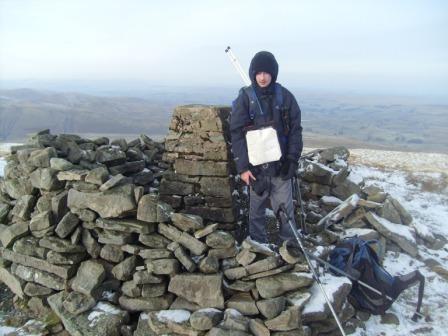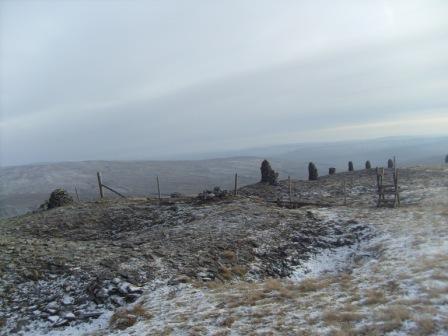 This is a large activation zone, but purists that we are, we then walked the half mile or so across to the trig point and shelter at the true summit. I set up the SOTA Beam with horizonatal polarisation and made a start on 2m CW, while Jimmy went to explore the fell with the camera. He visited the other 708m top, while I qualified the summit on 2m CW with 5 contacts.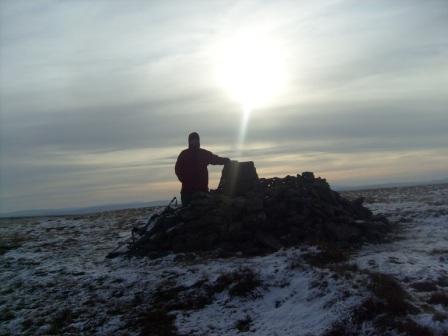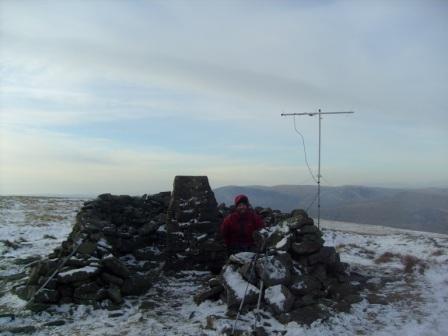 While waiting for Jimmy to return, I worked Rick M0RCP/P and Thomas M3OOL/P on Great Shunner Fell G/NP-006 on 2m SSB. Jimmy would catch Thomas later on 2m FM. We then worked a few chasers on 2m FM before the S2S started to come in thick and fast. We both worked Simon M1AVV/P on Lord's Seat G/LD-033 and then Jimmy worked Phil G1OPV/P on Boulsworth Hill G/SP-008 for the two points that made him a Shack Sloth. I worked Roy G0HDX/P on the same summit, following which we each worked both Gerald G4OIG/P on Great Knoutberry Hill G/NP-015 and Steve 2E0KPO/P on Fountains Fell G/NP-017.

Jimmy then worked a few chasers on 2m FM before Steve G1INK/P appeared from Great Whernside G/NP-008. The S2S were now coming thick and fast with Geoff G6MZX/P on Cracoe Fell G/NP-032, Chris 2E0FSR/P on Whernside G/NP-004, Billy 2E0WJC/P on the same hill, Ron GW4EVX/P on Foel Fenlli GW/NW-051, Amanda 2E0MND/P and Jordan M3TMX/P on Great Coum G/NP-011, Lee M0LMP/P on Pen-y-ghent G/NP-010 and Phil G4OBK/P on Hoove G/NP-024.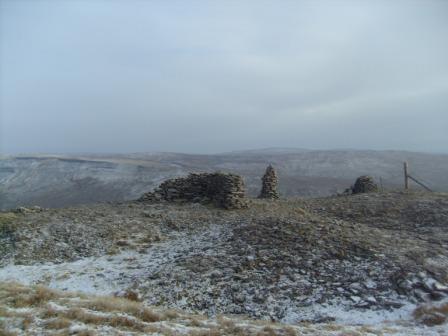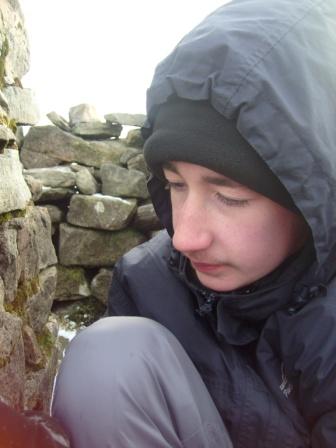 Jimmy worked a couple more chasers on 2m FM, and then it was yet another big block of S2S contacts. Steve G3WGU/P was on Harter Fell G/LD-028, Scott 2E0RCS/P on Ingleborough G/NP-005, Rob G4RQJ/P on Great Mell Fell G/LD-035, Mike G0DSP/P and Geoff G4CPA/P on Rombalds Moor G/NP-028 and Dave G7SKR/P on Winter Hill G/SP-010. Phew!

I worked a few more on 2m FM, and then we both worked Richard G1JTD/P, one of the last ones we hadn't worked, on Great Whernside G/NP-008. Only one not-worked station remained, and that was Timothy 2E0KEA/P on Sharp Haw G/NP-029. But he had gone QRT by then, so I had to be content with the SWL point from when I heard him in QSO with another station.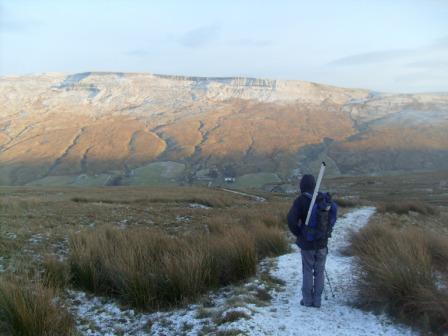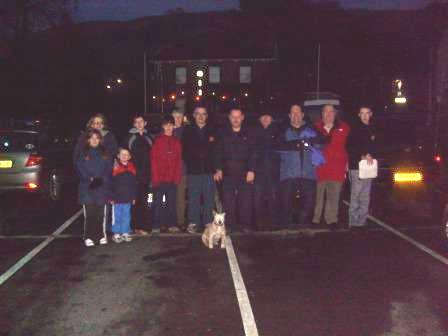 In the end, after 54 QSOs between us, we went QRT. The lentil & pancetta soup, shared during the last half hour on summit, was hot, tasty and welcome. We had probably stayed on the very cold summit too long really, for we were very cold while packing away and for the first 15 minutes of the descent. However, once we were descending the ridge down from The Nab, we were warming up and able to feel our fingers inside our gloves. From this point, it was a very enjoyable hour's descent on this beautiful fell with crisp winter conditions and amazing views illuminated by the low sun.

At the car at 3.30pm, my aim was to be in Settle for 4.30pm, and that's what happened give or take a couple of minutes. Jimmy directed the route down through Hawes, Ribblehead and Horton, and we met the rest of the gang on the car park opposite the Fisherman Inn chippy.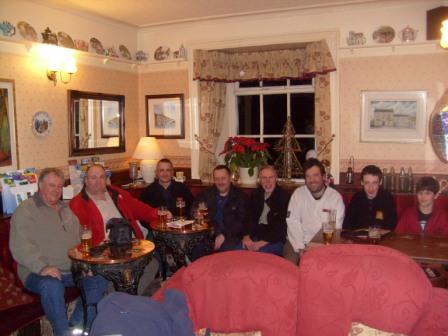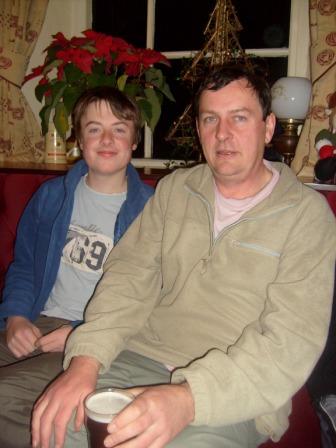 The haddock and chips, eaten from the paper in the car park, was a joy, and every bit as good as Lee promised. We then adjourned to the Harts Head Hotel in Giggleswick for an excellent pint of Copper Dragon Golden Pippin ale and a social meet with many of the participants. Over fish & chips outside, or over a pint in the pub, we met Lee M0LMP, Mick M0PVA, Steve 2E0KPO, Amanda 2E0MND, Jordan M3TMX, Rick M0RCP, Thomas M3OOL, Timothy 2E0KEA, Steve G1INK, Geoff G4CPA, Mike GW0DSP and Gerald G4OIG.

It was a splendid day out, enhanced by the wonderful surprise that was Wild Boar Fell. That is one I would definitely revisit. The drive home took exactly two hours, accompanied by the latest John Shuttleworth CD "The Dolby Decades". Thanks to Chris 2E0FSR for conceiving and organising the event, and to all participants for making it happen. Thanks to all also, for the warm and friendly welcome extended to Jimmy, and myself. The following QSOs were all conducted on 2m with 5 watts:
| | | | | |
| --- | --- | --- | --- | --- |
| G0TDM | Penrith | John | CW | T |
| G7GQL | Penrith | John | CW | T |
| GX0ANT | Penrith | John | CW | T |
| G3CWI | Macclesfield | Richard | CW | T |
| G4BLH | Brierfield | Mike | CW | T |
| M0RCP/P | Great Shunner Fell NP-006 | Rick | SSB | T |
| M3OOL/P | Great Shunner Fell NP-006 | Thomas | SSB | T |
| G4BLH | Brierfield | Mike | FM | T, J |
| G7EGQ | Dalton-in-Furness | Ian | FM | T |
| G4WHA | Penrith | Geoff | FM | T |
| M1AVV/P | Lord's Seat LD-033 | Simon | FM | T, J |
| G1OPV/P | Boulsworth Hill SP-008 | Phil | FM | J |
| G0HDX/P | Boulsworth Hill SP-008 | Roy | FM | T |
| G4OIG/P | Great Knoutberry Hill NP-015 | Gerald | FM | T, J |
| 2E0KPO/P | Fountains Fell NP-017 | Steve | FM | T, J |
| G0TDM | Penrith | John | FM | J |
| G7GQL | Penrith | John | FM | J |
| GX0ANT | Penrith | John | FM | J |
| G1INK/P | Great Whernside NP-008 | Steve | FM | T, J |
| M3OOL/P | Great Shunner Fell NP-006 | Thomas | FM | J |
| G6MZX/P | Cracoe Fell NP-032 | Geoff | FM | T, J |
| 2E0FSR/P | Whernside NP-004 | Chris | FM | J |
| 2E0WJC/P | Whernside NP-004 | Billy | FM | T |
| GW4EVX/P | Foel Fenlli NW-051 | Ron | FM | T, J |
| 2E0MND/P | Great Coum NP-011 | Amanda | FM | T |
| M0LMP/P | Pen-y-ghent NP-010 | Lee | FM | T, J |
| G4OBK/P | Hoove NP-024 | Phil | FM | T, J |
| G3CWI | Macclesfield | Richard | FM | J |
| G7THI/M | A66 Penrith | Frank | FM | J |
| G3WGU/P | Harter Fell NP-028 | Steve | FM | T, J |
| 2E0RCS/P | Ingleborough NP-005 | Scott | FM | T, J |
| M3TMX/P | Great Coum NP-011 | Jordan | FM | J |
| G4RQJ/P | Great Mell Fell LD-035 | Rob | FM | T, J |
| G0DSP/P | Rombalds Moor NP-028 | Mike | FM | T, J |
| G4CPA/P | Rombalds Moor NP-028 | Geoff | FM | J |
| G7SKR/P | Winter Hill NP-010 | Dave | FM | T, J |
| M0GGR | Ryke | Andrew | FM | T |
| M1DHA | Barnoldswick | Alan | FM | T |
| M3LIU | Burnley | Iain | FM | T |
| G1JTD/P | Great Whernside NP-008 | Richard | FM | T, J |